Taiwan: Practitioners Remind One Another to Practice Cultivation With Greater Diligence at Annual Falun Dafa Experience Sharing Conference
Dec. 12, 2020 | By Minghui correspondents in Taiwan
(Minghui.org) Falun Dafa practitioners in Taiwan held their annual experience sharing conference on December 6, 2020 at the National Taiwan University Sports Center. Attendees said they felt incredibly honored to be Falun Dafa practitioners. They will treasure this hard to come by opportunity even more, and do well on the final leg of their cultivation journey.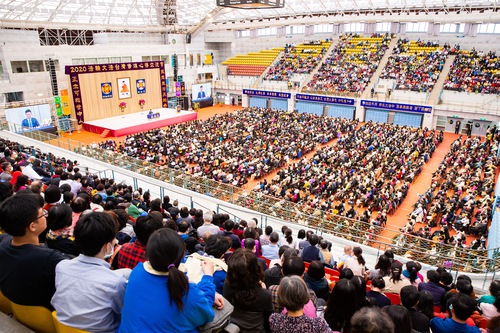 An estimated 6,500 practitioners attended the 2020 experience sharing conference, held at the National Taiwan University Sport Center in Taipei.
"It Is Wonderful to Practice Cultivation"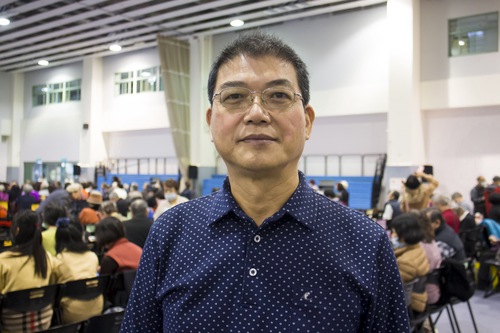 Mr. Cao, a practitioner from Taichung, attends an experience sharing conference for the first time. He felt the magnificence of Dafa, and said practicing cultivation was a wonderful thing.
Mr. Cao and his wife, who live in Taichung, took the first high speed rail early in the morning to attend the 2020 Falun Dafa experience sharing conference. It is the first time they have attended such a conference.
Mr. Cao, who is a supervisor in a construction company, said: "I gained a lot today after listening to fellow practitioners. I was very touched by what every practitioner went through. The first person talked about how her whole family who practices Dafa learned to get along. She incurred huge debts while practicing a different cultivation school. She miraculously found a buyer for the temple after she obtained the Fa and repaid all her debts. Her experience made me believe that one's life would take a turn for the better after practicing Dafa. I felt the mighty virtue of Dafa, and how wonderful it is to practice cultivation."
Another practitioner used to suffer aches and pains in her body due to menopause. She sought treatments provided by Western and Chinese medicine, but without success. She went through a complete transformation after practicing Dafa, and was cured of all of her illnesses.
Mr. Cao was touched by the personal accounts of health improvement through practicing Dafa.
"Master is remarkable," he said. "He has helped so many practitioners around the world improve their physical and mental well being. I have great admiration for every speaker."
Becoming Aware of the Great Responsibility and Urgency of Saving People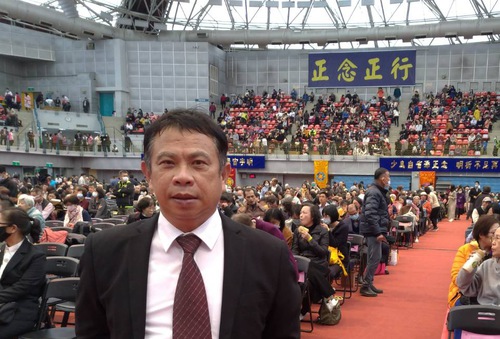 Mr. Lin realized the importance and urgency of awakening the conscience of people after listening to practitioners' cultivation experiences. He hopes to work harder in fulfilling the mission of Dafa practitioners.
Mr. Lin, who lives in Yilan, began to practice Dafa in 1997. Back then, he had been searching everywhere for the meaning of one's existence. He finally found a goal and direction in life after someone introduced him to Falun Dafa.
"I found the answers to all the questions I had," he said, "after attending the nine day class. I recovered from depression and severe constipation soon after I began the practice. I became more relaxed and jovial." he said.
When asked about his thoughts about this year's conference, he said with tears in his eyes: "The whole atmosphere was filled with compassion. I could not stop crying while listening to the speakers share their cultivation experience. When I heard the greeting Master sent, I realized the importance and urgency of awakening the conscience of people. I must do more to clarify the truth to people and work hard in fulfilling the mission of Dafa practitioners."
Rediscovering the Initial Enthusiasm for Practicing Cultivation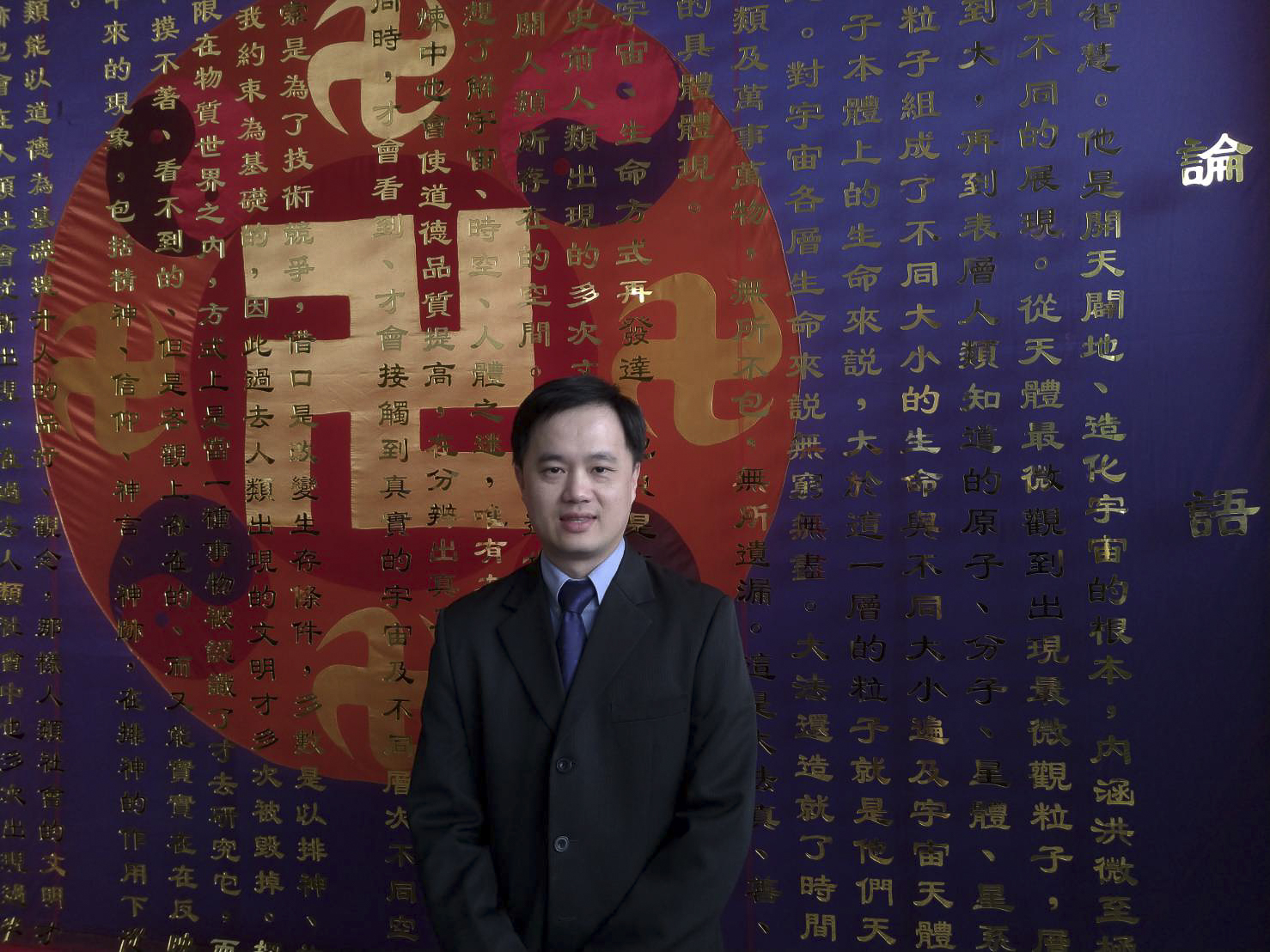 Listening to practitioners prompted Mr. Huang to inspect his thoughts and find the enthusiasm he had when he first began to practice Dafa.
Mr. Huang, who is a bank manager, was amazed by Master's message. He understood how important and pressing it is for Dafa practitioners to clarify the truth to people at the present stage.
"Listening to practitioners talk about their cultivation journey, the joy they felt when they found Dafa, how they interpreted the teachings, and applied the principles in daily lives made me feel as if I went through the same things too. Looking at the cultivation path I walked, I rekindled the enthusiasm I had when I first began the practice. and the will to move forward diligently. I also regained my determination to expose the persecution and tell people how wonderful the practice is. I am grateful to practitioners for sharing their experiences selflessly." he said.
Deeper Understanding of Truthfulness, Compassion, Forbearance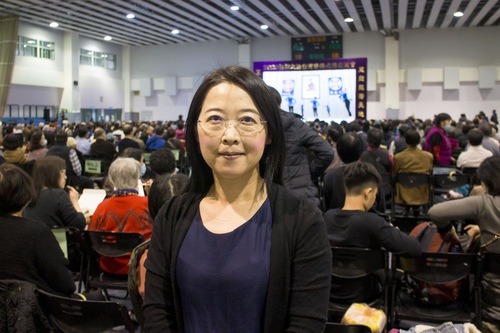 Ms. Sui, employed in a government department, was deeply touched by a practitioner who said that "Compassion comes from a person's cultivation, and it's not something that's acted out."
Ms. Sui feels especially honored and grateful that the conference went ahead despite the CCP virus. She said: "I was motivated by the practitioners' sharing. A practitioner mentioned a phrase that we are all very familiar with and have read before. But, hearing the phrase today moved me deep in my heart. Compassion comes from one's cultivation and it's not something that's acted out. Dafa is extremely simple and easy, but cultivation is not that effortless. One must truly cultivate in order to obtain the way. Whenever things don't go smoothly at work or in everyday life, I may appear to take it in my stride, but actually I didn't reach the standard of 'forbearance' as required by Master. Hearing this phrase today helped me gain a deeper understanding."
"I've been practicing cultivation for over a decade. Practitioners' speeches made me realize the deeper meaning of Truthfulness, Compassion, and Forbearance. These principles are very profound. We should strive to put it into practice every day. Although there was a slight drizzle during activities over the past two days, it felt warm. There was a peaceful and sacred atmosphere," she said.
Persistence and Truly Cultivating Will Enable One to Save More People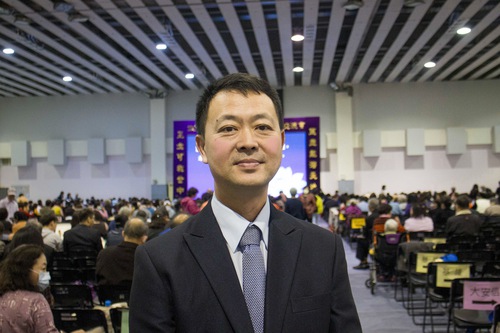 Mr. Li, who lives in Kaohsiung and works at the Epoch Times media company, was motivated by practitioner's sharing.
Upon hearing Master Li's message, Mr. Li reflected deeply on the meaning of these words.
"How can we do better and form a stronger one body so as to save more people?" he wondered. "I was most motivated by practitioners' sharing on persistence and truly practicing cultivation. We should persevere in clarifying the truth and look within in order to get good results. When working as a team, we should first cultivate our xinxing and refrain from blaming others. Only then will we achieve the best results as a group."
Inspired to Practice Cultivation More Diligently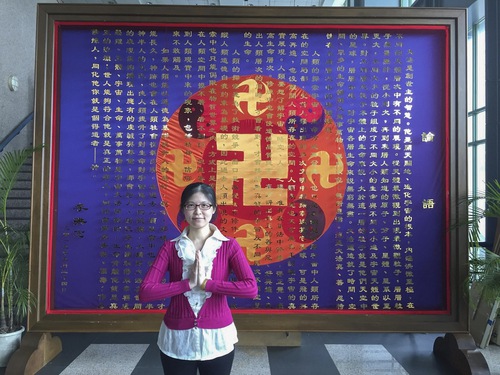 Ms. Wang hopes to practice cultivation more diligently, so as not to let Master Li down.
Ms. Wang, a patent engineer, said that she was very inspired by the practitioners' sharing. "I was encouraged to memorize the Fa after hearing a practitioner's experience on learning Master's teachings by heart. Another practitioner spoke about making phone calls to China. The other party kept hanging up, but she persisted. Finally after making the 6th call, the person agreed to quit the CCP (Chinese Communist Party). I was so moved that I cried. In that instant, I realized that awakening the conscience of sentient beings is such a sacred thing." she said.
Hearing a practitioner talk about going to Hong Kong to raise awareness of the persecution, Ms. Wang was reminded of performing in Hong Kong as a member of the Tian Guo marching band in the past. "It was a truly wonderful and glorious period of time. In cultivation, it's now or never. Things have changed tremendously in Hong Kong, especially after the CCP passed the national security law." Ms. Wang said in conclusion that attending the conference helped her find the feeling she had when she first started to practice Dafa. She hopes to practice cultivation more diligently, so as not to let Master Li down.