Pennsylvania Senate Hearing Defends Law and Justice for the Election
Nov. 29, 2020 | By Shi Kai and Yan Ming
(Minghui.org) On November 25, 2020, the day before Thanksgiving, at the request of Pennsylvania State Senator Doug Mastriano, the Pennsylvania Republican Senate Policy Committee held a hearing in Gettysburg to hear witness accounts of the voter fraud in the 2020 election. This is the first public hearing that has taken place since the Trump campaign filed complaints and lawsuits alleging massive voter fraud and irregularities, after the election.
People from around the world paid close attention to the hearing and were eager to find out what evidence Trump's legal team would present.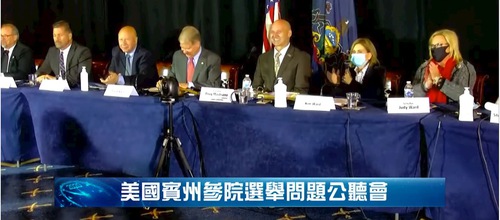 The Pennsylvania Republican Senate Policy Committee held a hearing about the 2020 election on November 25, 2020
Phil Waldron, a retired Army Colonel with 30 years of service and an expert in information warfare, said that "the voting systems in the U.S. and in Pennsylvania were built to be manipulated." He estimated that "up to 1.2 million Pennsylvania votes could have been altered or fraudulent."
Meanwhile, Trump's lawyer Rudy Giuliani pointed out that while 1,823,148 ballots were sent out, a total of 2,589,242 were counted. Waldron confirmed that just hours before the hearing took place, the "2.5 million number" disappeared from the Pennsylvania Secretary of State's website, where his cyber team had been gathering data for the past 22 days.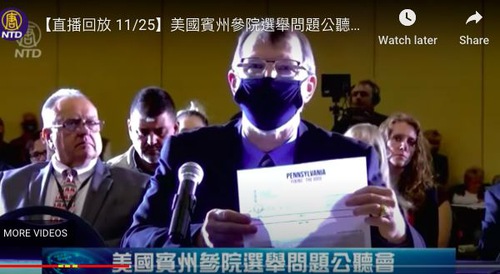 Retired Army Colonel Phil Waldron showing data analysis at the Pennsylvania State Senate hearing on November 25, 2020
Waldron also confirmed that they observed spikes of 604,000 votes in 90 minutes, and 570,000 of them were counted for Biden and 3,200 were for Trump.
At the time of the hearing, Biden was leading Trump by 81,660 votes, and Giuliani estimated that 672,770 votes counted for Biden weren't inspected by anyone before being put into the ballot box.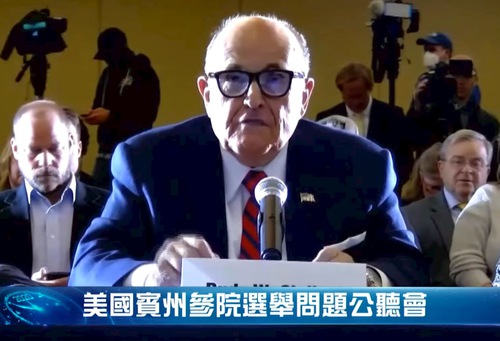 Trump's lawyer Giuliani testifying in the hearing
Gregory Stenstrom, a Republican poll watcher and a forensic computer scientist, said he noticed 47 USB cards with ballots data missing. He also saw the voting machine warehouse supervisor uploading the votes himself without being observed, for 24 times. "And he's walking in with baggies, which we have pictures of, and it was submitted in our affidavits," Stenstrom said.
Pennsylvania State Senator Doug Mastriano, who organized the hearing, asked, "Why are elections in Afghanistan more secure than in Pennsylvania?" "We are here today to try to find out what happened in the election," he said.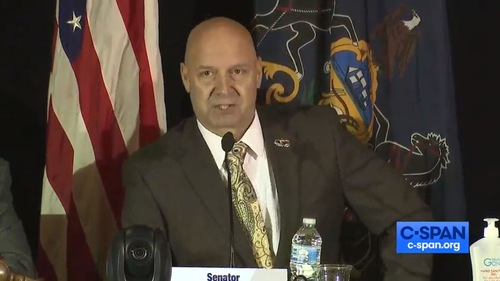 Pennsylvania State Senator Doug Mastriano
Senator Mastriano compared the hearing with the Battle of Gettysburg in 1863, which was a turning point in the civil war and American history. "So on this day, history is changing for our country and state back at Gettysburg once again," he said.
Indeed, the United States of America is facing an unprecedented battle between good and evil.
On the day of the hearing, Senator Mastriano's Twitter account was shut down, as was Sidney Powell's, another hard fighter seeking justice for the election and the American people. Jenna Ellis, Trump's legal adviser, said she has received hundreds of emails and messages to threaten her. In spite of all the threats and censorship, people with the sense of justice weren't intimidated and are still fighting hard for what is right.
Netizens' Cheers about the Voter Fraud Evidence Being Exposed
With the enormous evidence of voter fraud being exposed in the hearing, many Trump supporters felt excited and said it's their best Thanksgiving gifts.
SWANGOOSEMUSIC said, "I watched the entire hearing. I felt very inspired with their closing remarks. They have shown their determination to save the American Constitution and possibly make history by using state houses to determine the electors for the Electoral College. As long as Pennsylvania takes this step, the other swing states will follow suit."
Many netizens were touched by the courage of the dozens of witnesses who came forward to testify. One person said, "I cried. I don't mind who wins the election, but I want a fair and just election. I was shocked and deeply touched to see so many witnesses who came forward, despite the threats of losing their jobs, or their families being intimidated. This hearing will be recorded in American history and it will be the turning point of light and darkness in human history."
Another netizen stated, "In the United States, people all testify under oath and it's a felony for people to make false statements. So the witnesses' accounts are very credible. If the claims are eventually verified, then the fraud involved in the election is a total crime, period. If we allow such crime to happen, then we no longer have democracy in the U.S."
Netizen jialingzhou added that the most important thing right now is to protect the witnesses, many of whom he was concerned were facing threats and danger.
Giraffe Voice commented that he read attorney Powell's 104-page lawsuit in Georgia and it was amazing for her team to collect and put together so many pieces of evidence in such a short period of time.
Fighting for Our Future
The 73 million votes Trump got this year have already broken the record, so have Biden's 80 million votes. However, for many people, it's simply impossible for both candidates to break the record. Some netizens pointed out that with the 153 million votes combined, it's 10 million more votes than voters.
Many people have realized that this U.S. election will have lasting and profound influence on the future of the country and everyone living here. For many Trump voters, they understand that they aren't only fighting for Trump, but also for the country, for themselves, and their future generations.
Netizen Kaichen Zhang said, "For those of us who are in the U.S., we don't want our valuables to be stolen and cash being robbed during violent protests; we don't want illegal immigrants to enter the country at will; we don't want murderers or arsonists to be spared punishment; we don't want to pay high taxes; we don't want to see the society plagued with drug abuses, promiscuity, and pedophiles; we don't want colleges to admit students solely based on non-academic factors; we also don't like political correctness when someone can vote without their ID. To resist the adoption of socialism, we have to resist Trump's opponent."
Another netizen Shi Jin commented that Trump's opponent wasn't the democratic candidate, but he was fighting the Clintons, Obama, Soros, CNN, NBC, ABC, NPR, BLM and ANTIFA. He said that such "vested interest ecosystem" spreads across all countries on the six continents and have permeated all professions. What Trump is fighting could be a huge global network of businessmen and politicians and the millions of billions of assets they represent.
Lau Huo commented, "We should focus on the Constitution and election law. It's no longer the issue of who wins the election, but the fundamental issues of democracy, law, and national security."
Urgency to Eliminate the Communism Toxins
The unprecedented obstacles Trump has encountered showed us how deeply communism has infiltrated the U.S. and how corrupt morality has become in the society.
Just a few days ago, California's governor ordered to close all "non-essential" facilities to curb the spread of the pandemic. The "non-essentials" included churches and restaurants. But his "essentials" that were exempt from the lockdowns included strip clubs, abortion clinics, and marijuana shops. "This is insane!" said pastor Rob McCoy.
On November 25, one leader of the Antifa group openly threatened President Trump, warning that if "he does not concede by Sunday noon, we will begin blocking roads in conservative areas. His supporters will not be able to go to work or go to the supermarket to feed their families. We are armed and will retaliate for attempted vehicular homicide."
Netizen Li Qicheng said, "The tumor of communism has on a large scale attached to the U.S. central and local governments. Even the justice department wasn't spared. President Trump is working hard to remove these red tumors. But the process will be long and intensive, and sharp pain can't be avoided. Go, President Trump! Go, the American People!"
Dongjian Han said, "If the U.S. is handed to the democratic candidate, it's the same as handing Taiwan to the Chinese Communist Party. What's happening in Hong Kong now will be Taiwan's future."
Jiangang Wu commented, "I'm from mainland China. I support Trump and the Republican Party. I'm longing for freedom and democracy in the U.S. I'm looking forward to the day when the sky in China will be lighting up!"
This U.S. election makes us think about many things, including what we should be pursuing and believing in.
Lin Wood, one of the lawyers on Trump's legal team, said on his Twitter account, "For years, I failed to ask the most important question of my life, 'Is God real?' As a lawyer, I demanded evidence. I did not find an answer with evidence, I found it by faith. Once I accepted by faith that God is real, evidence was everywhere, like in the sunset tonight."
Only people with faith in the divine will be protected by the divine. Trump, a deeply devoted believer, said at the Commencement of Liberty University in June 2017, "America is better when people put their faith into action. As long as I am your president, no one is ever going to stop you from practicing your faith or from preaching what's in your heart. We will always stand up for the right of all Americans to pray to God and to follow his teachings."
Note: Senator Douglas Mastriano's Biography
Doug Mastriano is a combat veteran and the son of a career U.S. Navy man. He was commissioned in the U.S. Army for 31 years. While serving on the Iron Curtain with the 2nd Armored Cavalry Regiment in West Germany, he witnessed the end of the Cold War and thereafter deployed to Iraq for Operation Desert Storm (1991) to liberate Kuwait. His regiment led the attack against Saddam's elite Republican Guard forces. He also served four years as the director of NATO's Joint Intelligence Center in Afghanistan. He completed his career as a professor of the U.S. Army War College (PAWC), Carlisle, PA, and taught Strategic Studies at the master degree level to the next generation of senior leaders.
Mastriano is a Doctor of History (Ph.D.) and has four master's degrees: Strategy, Strategic Intelligence, Military Operations, and Airpower. He earned a BA from Eastern University in St. Davids, Pennsylvania, and was the alumnus of the year in 2009. He published 30 articles on strategy and historic topics and authored the book Alvin York: A New Biography of the Hero of the Argonne which received four awards. His new book, Thunder in the Argonne is the first to tell the complete story of America's largest battle, the 1918 Meuse-Argonne Campaign. His next book, Pershing's Lieutenants, will be published in 2020 and is an edited work that focuses on the leadership style of American officers in the First World War.