Australia: Three Families Enjoy Health and Happiness after Practicing Falun Dafa
Oct. 7, 2020 | By Minghui correspondents in Melbourne
(Minghui.org) A large number of greetings were submitted to the Minghui website recently to celebrate the Mid-Autumn Festival (also known as the Moon Festival) and express gratitude to Mr. Li Hongzhi, the founder of Falun Dafa. Many of the greetings were sent in from the Southern Hemisphere. 
Below are the stories of three families in Melbourne. Practicing Falun Dafa not only improved their health and resolved family issues, but also gave them so much more. 
Grateful Mother and Son
Born in Hong Kong, Amos grew up in New Zealand and moved with his family to Australia in 2009. His entire family is thankful for their positive changes after they began practicing Falun Dafa. 
In 2002, Amos's mother Ms. Leung suffered a herniated disc in her lower back. In extreme pain, she could not move and needed constant help from her husband and son. After numerous treatments, including Chinese and Western medicines, she was still in acute pain whenever she stood up or got out of bed. "With your situation, there is a high chance of paralysis after surgery," a medical expert told her. 
A relative suggested she try Falun Dafa and sent her a copy of Zhuan Falun along with a video of the exercises. As Leung continued to watch the video and read Zhuan Falun, she was gradually able to regain control of her legs and stand up.
Within two weeks, Ms. Leung had fully recovered without any treatment. She no longer needed her husband's or son's help and she became healthy and energetic. 
His mother's startling changes inspired Amos to find out more about Falun Dafa. "Falun Dafa's principles of Truthfulness-Compassion-Forbearance are so profound and they guide me through every aspect of my life," he explained. 
Amos has worked as a nurse for the past eight years and is considerate of every patient. He tries to help reduce their pain and stress. "Some patients are curious and ask why I'm so kind. I tell them it's because I practice Falun Dafa," he said.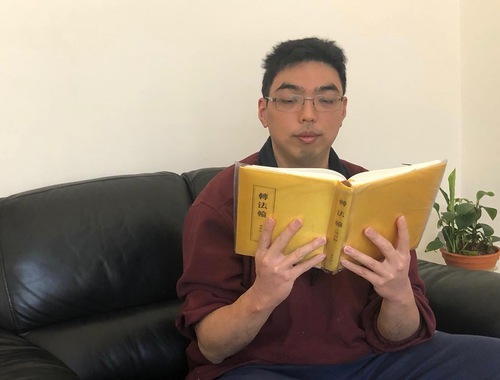 Amos says that both he and his mother are grateful for Falun Dafa.
An elderly patient's relative once came to visit while Amos was on duty. He suddenly became so dizzy that he had to lie down. Amos told him about the health benefits of Falun Dafa. He also mentioned that many people have received blessings for supporting practitioners in China. The relative said he would remember Amos's words and say, "Falun Dafa is good" and "Truthfulness-Compassion-Forbearance is good."
The next day, the relative told Amos that he felt much better. "No wonder so many people practice Falun Dafa—Falun Dafa is indeed remarkable!" he exclaimed.
Amos said that Falun Dafa encourages people to follow the principles of Truthfulness-Compassion-Forbearance in everything they do. "If everyone practiced Falun Dafa, there would be no wars, fights, or robberies," he said. "The practice truly benefits people." 
Businesswoman: Truly Serving the Community
Emma was 19 in May 1998 when she first heard about Falun Dafa. "My mother and I saw people doing the exercises in a park in Melbourne," she recalled. "We enjoyed watching the practitioners and we noticed the strong energy field. We learned the exercises that day."
Impressed by the improvement in her health and her improved outlook on life, Emma continued practicing. Practicing Falun Dafa has now become part of her life. She later got married and had children.
Emma owns a business that specializes in marketing and business strategies, and said that there are lots of day-to-day challenges. As a Dafa practitioner, however, she understands she needs to be a responsible person by being honest and hard working. Over time, her clients increasingly trusted her and many of them became loyal customers.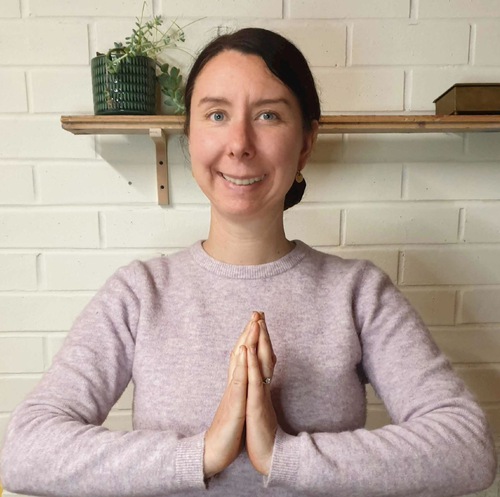 Businesswoman Emma
Maintaining a higher ethical standard is not easy, Emma said. When her peers oversell certain products or services for more profit, she knows she should follow Falun Dafa's principles of Truthfulness, Compassion, and Forbearance. "After all, the end goal is to benefit our community."
Even when there's a difficult client who asks for more than is specified in the contract, Emma remains calm and treats them with compassion as a Dafa practitioner should. She says that by following these principles, she's avoided conflicts and has actually created more business opportunities. 
All of her efforts have paid off. Despite the slow economy during the pandemic, Emma now has more clients.
Emma said she could not have achieved success without the guidance of Falun Dafa and Dafa's founder Master Li. "I am fortunate to be a Falun Dafa practitioner and I hope everything I do qualifies me for such an honor," she said. 
Business Owners: A Long Journey to Freedom
Mr. Liu and Ms. Wu, husband and wife and business owners, have come a long way from being persecuted in China to enjoying freedom in Australia. 
In the summer of 1994, 26-year-old Liu was diagnosed with a rare disease. He often had chest pains which felt as if he was being pressed by a large rock. He struggled to breathe. He also had a severe stomachache—he ate little and survived on intravenous nutrition. He became emaciated as his weight dropped from 60 kilos (132 pounds) to 45 kilos (99 pounds). 
After undergoing all kinds of examinations and tests, the doctors were not able to help him. "I lived in pain and misery every day, waiting to die," he recalled. 
In 1995, a friend suggested he try Falun Dafa. Within one week, his health improved dramatically. His condition was resolved—he could eat normally, and even do physical labor. Amazed by these dramatic changes, his wife also began practicing. 
Mr. Liu said his character and morals improved significantly as a result of the practice. His wife noticed that he no longer had a hot temper and his coworkers said he was more responsible at work. One time, he won a contract bid for a hotel. Although this brought one and a half million yuan in revenue to his company, he did not receive his commission. However, instead of fighting for the money, he just brushed it off and moved on. 
Ms. Wu, who owned a restaurant, often found items her customers had forgotten–from cellphones to money. One time, she found a bag containing 10,000 yuan in cash. She was able to find the customer shopping next door and returned the money. 
Mr. Liu's brother also had a hot temper and often fought with his wife. After observing Liu's positive changes, his brother read Zhuan Falun. He told Mr. Liu, "I now understand what it means to be a good person." The family now lives in harmony. 
After the Chinese Communist Party (CCP) began to persecute Falun Dafa in July 1999, Mr. Liu went to Beijing to appeal and was sent to a labor camp with an 18-month term. After suffering tremendously for their belief, the couple fled China and arrived in Australia in August 2013. That day was also Ms. Wu's birthday. 
While managing their cleaning company, the couple tells everyone they meet about Falun Dafa and how it's persecuted in China. "In China, millions of families like ours benefited from Dafa," Ms. Wu explained. "However, for the past 21 years, the CCP has replaced their happiness with sorrow. We cannot let it continue."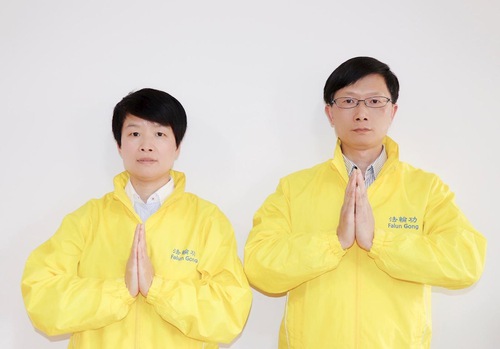 Mr. Liu and Ms. Wu, husband and wife, are grateful for Falun Dafa.