San Francisco: Practitioners Share the Beauty of Dafa with People and Express Gratitude to Master Li During Mid-Autumn Festival Celebrations
Oct. 2, 2020 | By a Minghui correspondent in San Francisco
(Minghui.org) Falun Dafa practitioners in San Francisco gathered near the Ferry Building on September 26, 2020, to celebrate the Mid-Autumn Festival. They did the exercises, told people how wonderful the practice is, and wished the founder, Master Li Hongzhi, a happy Mid-Autumn Festival.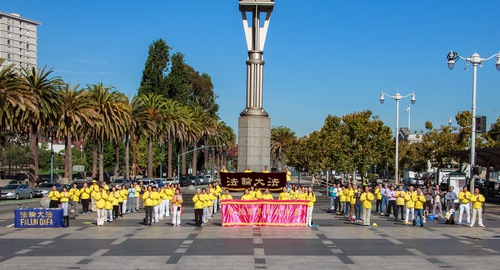 Practitioners in San Francisco wish Master Li a Happy Mid-Autumn Festival.
It was a beautiful day. Although there were not as many tourists due to the coronavirus, many locals were taking walks, cycling, or shopping. Some snapped photos of practitioners doing the exercises with their cell phones, and several people stopped to learn more about the meditation practice. Practitioners gave out brochures and talked to people about the ongoing persecution in China.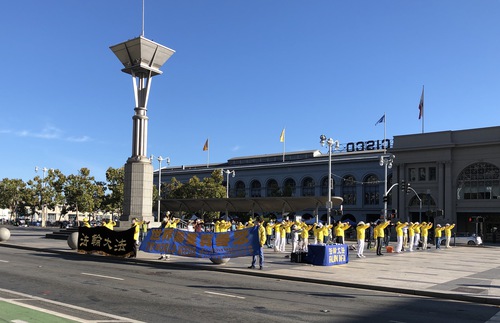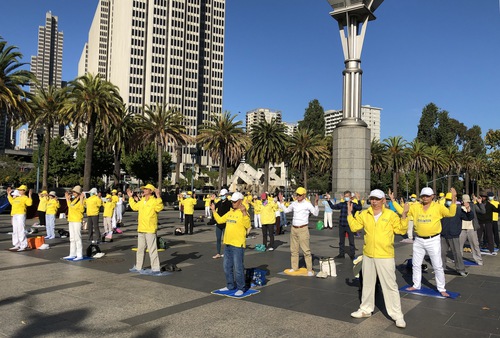 Practitioners in San Francisco gathered outside the Ferry Building on September 26 to do the exercises.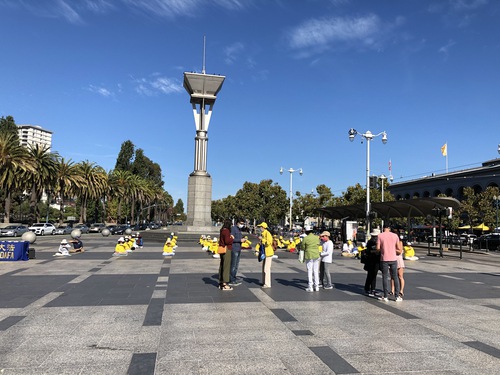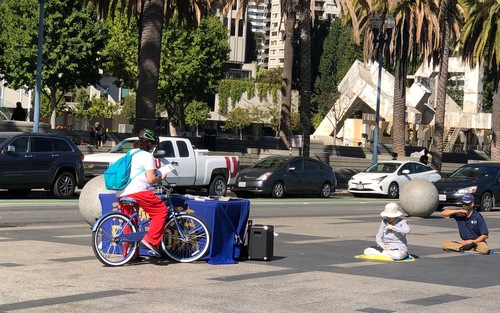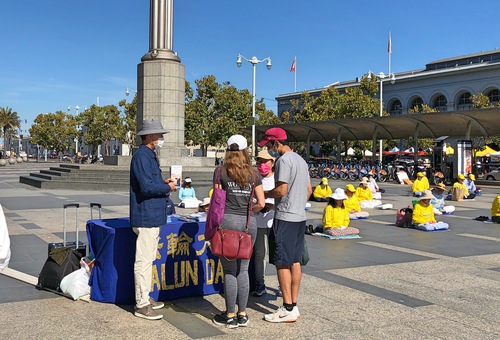 Drawn by the practitioners' graceful exercise movements and the peaceful atmosphere, several passersby stopped to learn more about the spiritual discipline.
Korean Practitioner Hopes to Share the Benefits of Practicing Falun Dafa with Others
Matthew Kang, a Korean practitioner, gave out information to passersby. In 2002 a friend in San Francisco phoned and told him about Falun Dafa. He and another friend read two books, Falun Gong and Zhuan Falun, and they learned the exercises. After reading the books, Matthew felt an affinity with the principles taught by Master Li, "Truthfulness, Compassion, Forbearance," and he decided to practice. He said that his health and temperament were transformed after he began practicing.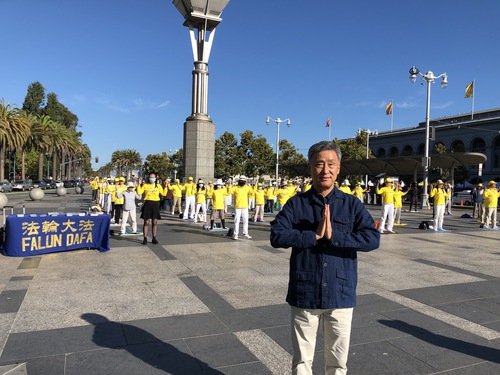 Matthew Kang wished Master Li a Happy Mid-Autumn Festival.
Matthew is cheerful and always smiling. He said he wasn't happy before he began practicing Falun Dafa. He used to get upset easily and was quick-tempered. If someone said something he didn't like, he would immediately be unhappy. After he became a practitioner, he always reminded himself to live by the principles of Truthfulness, Compassion, Forbearance. He suppressed his impatience and improved his character. He also recovered from stomach illnesses which had plagued him for many years.
He said his biggest joy is finding inner happiness and he hopes to share the beauty of Dafa with others.
General Manager Sends Master Li Festive Greetings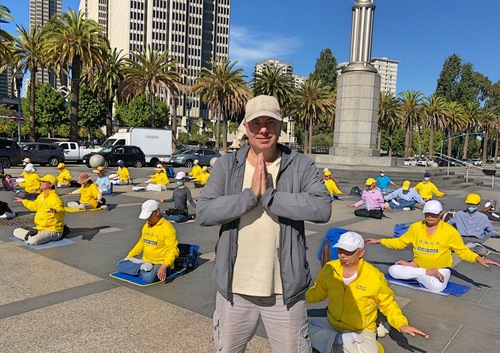 Jason Blair, general manager of an outdoor advertising company, wishes Master Li a Happy Mid-Autumn Festival.
Jason Blair is a general manager at an outdoor advertising business. Many years ago, he received a brochure about Falun Dafa. His girlfriend's mother is a practitioner and told him more about the practice. When he received a brochure again at the end of 2013, he decided to begin practicing.
Jason recalled that the first time he watched the video of Master demonstrating the exercises, he instantly felt a strong energy field. After he began reading the teachings and doing the exercises, his body felt a lightness like never before. His knee pain disappeared and he was able to do sports, which he hadn't been able to do for a long time.
But the most important thing that prompted him to become a practitioner was the emphasis on improving one's moral character. Dafa's profound teachings and everything mentioned in the books were unlike anything he had heard before. Another major factor that made him decide to practice Falun Dafa is that Dafa stresses that one is mindful of one's main consciousness and practices cultivation in everyday life. He feels that he is truly making improvements and becoming a better person. He often participates in events to introduce the practice and shares information about it on his social media pages.
New Practitioner Thanks Master Li for Teaching Dafa
Gerett Burl began practicing Falun Dafa two months ago. He read about Western practitioners' cultivation experiences on the internet and he was deeply impressed. He was saddened to read about the brutalities taking place in China. Two months ago, he noticed practitioners doing the exercises at Golden Gate Park and he began learning them.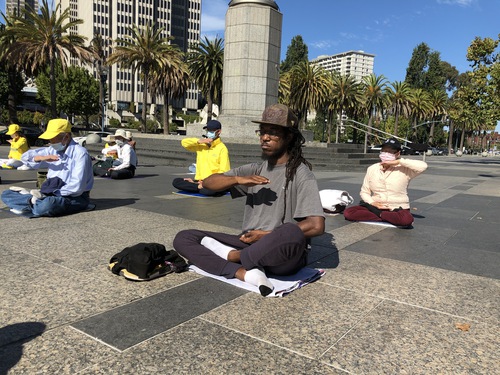 Gerett Burl began practicing Falun Dafa two months ago.
He experienced a huge transformation after taking up the practice. He was a scholarship football player at Colorado University. Even though he did a lot of sports, his health was poor, and he was hospitalized several times. He has only practiced Falun Dafa for two months, but many of his ailments disappeared. For example, many fires broke out in California this year, affecting the air quality. In the past, he would not be able to sleep at night due to asthma. But this year, he didn't feel any discomfort and was able to breathe normally. This was something he had never experienced before.
Gerett says that he's also able to focus on self-cultivation through studying the Fa. He finds that his thoughts are clearer.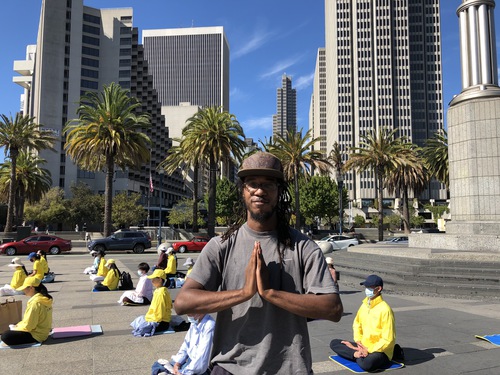 Gerett Burl thanks Master Li for introducing Falun Dafa to the world.
Gerett is grateful to Master Li for introducing the practice to the public. He said: "There is a lot of information and so-called truths in today's world, and it is difficult to tell what is true or fake. Master Li taught the Fa in public and Westerners are able to practice this ancient cultivation method that originated from China. This was unimaginable a few centuries ago. In these challenging times filled with problems, Dafa has given human souls a path." He thanks Master Li for saving sentient beings.
All articles, graphics, and content published on Minghui.org are copyrighted. Non-commercial reproduction is allowed but requires attribution with the article title and a link to the original article.
Category: Parades & Other Community Events