Young Falun Dafa Practitioners Wish Master Li a Happy Mid-Autumn Festival (19 Greetings)
Oct. 2, 2020 | By a Minghui correspondent
(Minghui.org) For the Mid-Autumn Festival, Falun Dafa practitioners in China have sent their heartfelt greetings to the founder of the practice, Master Li Hongzhi, to wish him a happy holiday.
The Moon Festival is one of the most celebrated holidays in Asian cultures. It's a time for families to gather and enjoy good food together, including the traditional mooncakes.
This holiday falls on the fifteenth day of the eighth lunar month, which was the 1st of October this year.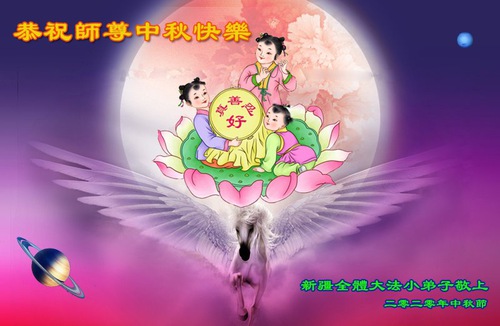 Among the well-wishers are several young practitioners who made their greetings cards with the help of their parents. They wanted to express their gratitude to Master Li and send him their most sincere greetings.
These young Falun Dafa practitioners come from:
Xinbin Manchu Autonomous County, Liaoning ProvinceNing'an, Jixi, Shuangyashan, Jiamusi and Harbin, Heilongjiang ProvinceNanchong, Sichuan ProvinceChangchun, Jilin ProvinceLianyungang, Jiangsu ProvinceShanghaiXinjiang Autonomous RegionXiuyan Manchu Autonomous County, Liaoning ProvinceQingdao, Yantai and Xinnan County, Shandong ProvinceFoshan City, Guangdong ProvinceDalian City, Liaoning ProvinceFinancial system in Liaocheng, Shandong Province