Falun Dafa Practitioners in Differnt Professions Respectfully Wish Master Li Hongzhi a Happy Mid-Autumn Festival (36 Greetings)
(Minghui.org) Falun Dafa practitioners in China have sent their heartfelt greetings to the founder of the practice, Master Li Hongzhi, to wish him a Happy Moon Festival, also known as the Mid-Autumn Festival.
The Moon Festival is one of the most important holidays in Asian cultures. On this special holiday, many practitioners express their gratitude for Master Li for guiding them on their spiritual journey and renewing their lives.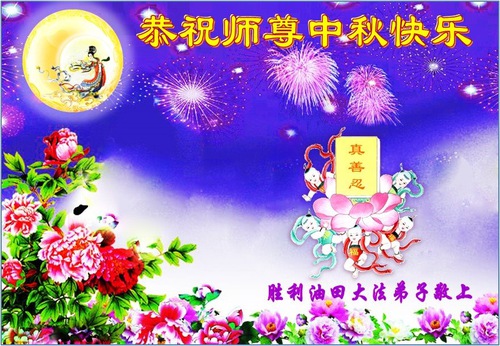 Greetings presented in this report come from practitioners in the following industries:
Real estate in Shantou, Guangdong ProvincePostal service in Liaoning ProvinceCivil servant in Heilongjiang ProvinceZhongyuan Oilfield in Henan ProvinceChangchun automobile factories in Jilin ProvinceForestry Bureau in Jiamusi, Heilongjiang ProvinceYankuang Group in Shandong ProvinceHealth care system in Changchun, Jilin ProvinceDaqing OilfieldCITIC GroupWater conservationShengli OilfieldAerospace system in BeijingJidong OilfieldOilfields in Henan ProvinceTelecommunication profession in Heilongjiang ProvinceMedical system in Jinan, Shandong ProvinceChina Post CorporationFinancial and auditing systems in Heilongjiang ProvinceHealth care system in northeast ChinaConstruction profession in Hebei ProvinceChina South Industries Group CorporationForestry Bureau in Wudalianchi, Heilongjiang ProvinceRailroad system in Jiamusi, Heilongjiang ProvinceMining profession in Hunan ProvinceCity management in Liaoning ProvineBusiness enterprisesHospitals in Shijiazhuang, Hebei ProvinceHydrologic survey profession