11 Falun Gong Practitioners in Custody in Beijing Die from Unknown Drugs
January 07, 2020 | By a Minghui correspondent in Beijing, China
(Minghui.org) Former Communist Party leader Jiang Zemin launched a nationwide campaign against Falun Gong in July 1999. Following his order to "ruin Falun Gong practitioners' reputations, bankrupt them, and destroy them physically," a systematic genocide has been carried out in China. Over 100 forms of torture are used on detained Falun Gong practitioners to try to force them to renounce their belief.
Administering toxic drugs to Falun Gong practitioners to destroy their nervous system and internal organs is one of the extreme and insidious tactics the Chinese Communist Party (CCP) law enforcement agencies use. The victims of these drugs suffer tremendously for days or even months before they die.
According to the Minghui website, 128 practitioners from the Beijing Metropolitan area had been tortured to death as of November 25, 2019. A minimum of 11 are known to have died from being administered unknown drugs.
Mr. Li Shouqiang Interrogated and Tortured
After the persecution of Falun Gong began, Mr. Li Shouqiang went to the appeals office in Beijing multiple times to appeal for the right to practice his belief. When the CCP National People's Congress was in session on March 8, 2000, he went to tell the representatives the truth about Falun Gong. He was arrested.
The police raided his apartment and confiscated his Falun Gong books, audiotapes, and videotapes. He was taken to the Changping Detention Center outside Beijing, where he was repeatedly interrogated and tortured and given nothing to drink.
When the torture failed to shake Mr. Li's faith in Falun Gong, guards mixed a large dose of nerve-damaging drugs into a Coke and made him drink it.
Mr. Li's family was notified to pick him up 10 days later. His mother and brother saw him locked up in a cage in the detention center. Mr. Li muttered to his brother on their way home, "The guards didn't give me any water to drink, then forced me to drink a Coke after mixing some drug into it. They warned me that now I would die slowly. They want me to die at home so that they won't be held liable. You shouldn't take me home! I should have died there!"
After returning home, Mr. Li was often confused and disoriented. He did not eat or drink for two days. He died on March 20, 2000, after falling off the balcony. He was only 37 years old.
Excruciating Stomach Pain: Ms. Zhang Shuzhen Administered Drug Anally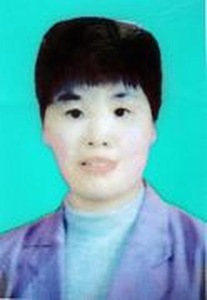 Ms. Zhang Shuzhen
Ms. Zhang Shuzhen, a middle school teacher, was arrested for handing out Falun Gong information in 2001 and taken to the Qinghe Forced Labor Camp. She was deprived of sleep for several days. The guards shocked her with electric batons and banged her head against the wall to make her tell them the names of other practitioners, but she never did. They then forced a dose of an unknown drug into her anus, which caused severe abdominal pain and swelling.
She was transferred to Tuanhe Forced Labor Camp, still in excruciating pain, to be held for a year and a half. To shirk responsibility for her condition, the labor camp notified her family to take her home. She died on October 9, 2002, at the age of 51.
Ms. Liu Lianfeng Paralyzed from Unknown Drug
After the persecution began, Ms. Liu Lianfeng often told people about Falun Gong and the persecution. She told government officials about the physical and spiritual benefits of Falun Gong. Because she refused to give in to the government's pressure to renounce her faith and continued to live by Truthfulness, Compassion, and Forbearance, she was arrested and incarcerated numerous times.
When Ms. Liu was once again detained in Chaoyang Detention Center in July 2000, the guards instigated prisoners to beat her. She was forced to do unpaid labor and was tortured by the guards.
When she fainted while being tortured, she was taken to the hospital and injected a drug that left her paralyzed. The labor camp notified her family to take her home and said that she would be "re-educated outside the labor camp." The police often went to her home to harass her and her family. After an extended period of mental and physical devastation, Ms. Liu died on October 20, 2001, at the age of 48.
Ms. Xu Xiuhong Affected Mentally and Physically by Unknown Drugs
After she started to practice Falun Gong in 1996, Ms. Xu Xiuhong's recovered from all her ailments but was persecuted for refusing to renounce Falun Gong after the onset of the persecution.
Soon after the 2001 Chinese New Year, the police broke into Ms. Xu's apartment and arrested her. After being held in the Fangshan Detention Center for a month, she was sentenced to five years. She was transferred to the Zhengding County Detention Center in Hebei Province and to the Shijiazhuang Second Women's Prison.
She refused to renounce Falun Gong, so guards hit the back of her head with rubber batons until she suffered a cerebral hemorrhage and passed out. She was taken to a hospital in Shijiazhuang City, where she remained for a month. While she was unconscious, doctors gave her drugs that caused vaginal bleeding for four months.
After Ms. Xu was released from prison, her legs were hugely swollen and her eyes were dull. She was very weak and couldn't sleep at night.
Both Ms. Xu and her husband were arrested again on January 21, 2016, and detained in the Tongzhou District Detention Center. Ms. Xu's blood pressure rose to 260, but the detention center refused to release her. Doctors forced her to take unknown pills and punished the prisoners in her cell if she didn't.
The detention center doctors often say to practitioners who refuse to be "transformed": "So you refuse to 'transform?' I'll give you a pill that will kill you!"
In detention, Ms. Xu began to have multiple symptoms: dizziness, insomnia, chest tightness, sweating, incontinence, hair loss, high blood pressure, and frequent panic attacks. These symptoms are similar to those experienced by Falun Gong practitioners who died from drugs that damaged their nervous systems and/or internal organs
After she was released, Ms. Xu's condition deteriorated. She passed away on April 2, 2017, at the age of 40.
Related report:
Beijing Woman Dies after Years of Abuse in Detention
Ms. Yu Huiqin Injected with Drugs Before Her Release
Ms. Yu Huiqin recovered from severe kidney disease after practicing Falun Gong. After witnessing her recovery, her husband also took up the practice.
The persecution of Falun Gong devastated her family when both Ms. Yu and her husband were arrested on the evening of January 12, 2002. Police officers ransacked their apartment and detained them in the Yanqing Detention Center.
Ms. Yu was arrested again at home on the morning of August 14, 2003. She was taken to the Daxing County Xin'an Forced Labor Camp in Beijing.
After she was released in November 4, 2004, her body was swollen, and she often passed out and vomited frequently. She told her family that she'd been injected with an unknown drug just before she was released. She passed away on April 16, 2005, at the age of 44.
Mr. Ji Shuxian Confused and Disoriented
Mr. Ji Shuxian went to appeal for justice Falun Gong three times after the persecution began. As a result, he was detained twice and fined large sums.
Police officers and government agents broke into Mr. Ji's house on May 17, 2001, but he was not there. To avoid being illegally persecuted, he left home and became destitute and homeless. A warrant was issued for his arrest, and his family and even remote relatives were repeatedly harassed.
He was arrested on December 13, 2001, and taken to the Beijing Tuanhe Forced Labor Camp for a year and a half. To force him to renounce Falun Gong, guards deprived him of sleep, shocked him with electric batons, slapped his face, and injected him with unknown drugs. In addition, he was not given enough to eat. Mr. Ji's blood pressure skyrocketed, his legs swelled, and he lost his ability to walk.
When Mr. Ji was released on June 13, 2003, he was often confused and appeared to be disoriented. He had a stroke a month later and became paralyzed on the left side. After suffering for over two years, Mr. Ji passed away on September 22, 2005, at the age of 66.
Ms. Qi Shilan Force-Fed
Ms. Qi Shilan went to Tiananmen Square nine times to appeal for the right to practice Falun Gong and was arrested and incarcerated multiple times.
When she was arrested on February 24, 2006, her house was ransacked. She was locked up in a small white building (near Beijing Re-education Relocation Center). More than 20 Falun Gong practitioners were detained there.
She was arrested again in February 2007 and detained in the Beijing Tuanhe Re-education Workers' Detention Center. She went on a hunger strike for more than eight months to protest her unlawful detention. She was tied to the death bed and repeatedly force-fed. She was injected with a carcinogen.
When Ms. Qi was released at the end of September 2007, she was very fragile and her legs were crippled. Her family took her to the hospital in May 2008 and learned that she had advanced-stage lung cancer. Ms. Qi Shilan passed away in February 2012.
Ms. Yan Yuhua Tortured
Ms. Yan Yuhua was arrested in August 2012 for practicing Falun Gong. A policewoman dragged her on the ground and broke her ribs. She was taken to the Public Security Hospital and given an injection. The nurse refused to tell her the name of the drug.
By the time Ms. Yan was released in late November 2012, she had lost the ability to take care of herself and had to move in with her mother. Even though the drug had damaged her health, officers from the local police station and detention center continued to harass her and her family. She passed away on March 18, 2013, at the age of 65.
Mr. Wang Chongjun Injected with Unknown Drugs
Mr. Wang Chongjun was arrested on April 14, 2008, and taken to Beijing Tuanhe Forced Labor Camp. He died four months later on August 23, 2008.
Members of the 610 Office broke into Mr. Wang's house at around 7 p.m. on April 14, 2008, and arrested him and his wife. They were detained in the Chaoyang District Detention Center and deprived of family visits.
Mr. Wang's family received a notice on June 20, 2008, from the Beijing Tuanhe Labor Camp that he had been given two years of forced labor on May 22 and that his wife had been given two and a half years of forced labor on May 20.
The labor camp injected him with unknown drugs and he lost a tremendous amount of weight. The labor camp released him when he was near death. His family noticed that he was all yellow, so they took him to the hospital. He passed away at the age of 65.
Ms. Wang Yaqing Injected with an Unknown Drug
Ms. Wang Yaqing was a well-known hairstylist, and many of her customers traveled long distances to have her cut their hair.
Ms. Wang was arrested in August 2006 while she was giving a haircut.
The Beijing Labor Relocation Dispatch Office notified her family two months later that she would be in a forced labor camp for two years. But the next day, an officer from the dispatch office told Ms. Wang's husband to come get her. The officers said that Ms. Wang had been ill and could be bailed out for medical reasons.
According to Ms. Wang, she was taken to the labor camp hospital, where the doctor extracted a tube of fluid from her back and then injected her with something. She felt groggy right away. The guards let her lie down and were told, "Watch her."
A few days later, Ms. Wang was released, but her physical condition deteriorated rapidly. Her vision was blurry, her memory was poor, and she became slow and sluggish. She also had symptoms of asthma and she was swollen. She passed away seven months later at the age of 46.
Right after Ms. Wang passed away, a woman who claimed to be from the Red Cross called and asked about her. When Ms. Wang's husband said that she had just passed away, the person hung up.
After Ms. Wang's death, someone from the dispatch office came to make out Ms. Wang's death certificate. He hurried away after giving her husband 70 yuan in cash.
Ms. Zhang Fengmei Traumatized Physically and Mentally
Ms. Zhang Fengmei
Ms. Zhang Fengmei was arrested for putting up posters with Falun Gong information. She was first held in the Miyun County Detention Center and then sent to the Xin'an Women's Forced Labor Camp in Tiantanghe, Daxing County, Beijing. She was severely tortured and traumatized physically and mentally. The guards injected her with unknown drugs that disabled her. She was released on medical bail in April 2002 and passed away three months later at the age of 31.