Berlin: German and Swiss Falun Dafa Practitioners Gather to Express Thanks and Wish Master Li a Happy New Year
Jan. 6, 2020 | By Dexiang, Minghui corespondent in Germany
(Minghui.org)
Shortly before the New Year, Falun Dafa practitioners of Germany and the German-speaking area of Switzerland gathered in Berlin to wish Master Li Hongzhi, the founder of Falun Dafa, a happy New Year.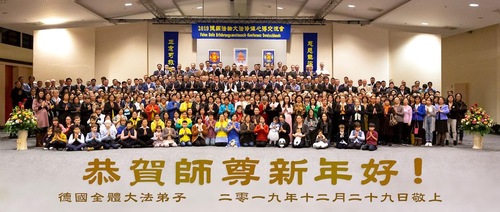 Falun Dafa practitioners from Germany and the German-speaking area of Switzerland wish Master Li Hongzhi a Happy New Year on December 29, 2019.
"Falun Dafa always awakens the good part of me"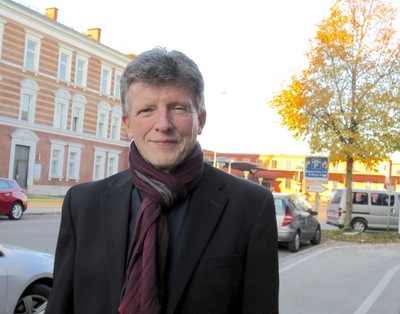 German Falun Dafa practitioner Joachim Dötsch
Joachim Dötsch from central Germany is a member of the Red Cross organization and has been a Falun Dafa practitioner for nearly a decade.
"I say Falun Dafa is good," he said, "because it always awakens the good side of me and wipes out bad substances within me. While eliminating a bad notion, I can see the bad substance clearly and know exactly what to do. Dafa always guides me to cultivate higher, and to pass the energy to others around me."
Mr. Dötsch said he realized that it was a predestined decision to be born in Germany, to fulfill a mission, and to save people by following Master Li.
He continued, "I wish I could thank Master Li in person, but I have not met him yet. Through reading the books and scriptures, I am improving my character every day. I am very thankful to Master for teaching me the Fa. I can't express my gratitude in mere human language."
"From combative to tender, Falun Dafa changed me completely"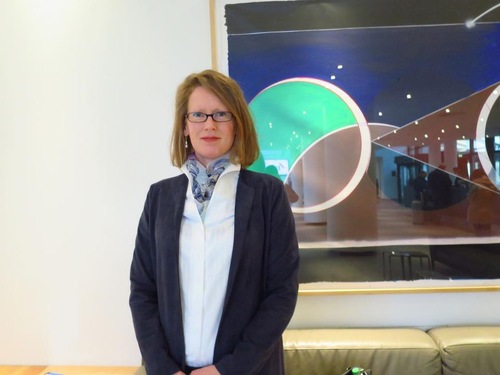 German Falun Dafa practitioner Bettina Schwarz
Librarian Bettina Schwarz said that ever since she was a young child, she used to wonder about the meaning of life, and was always curious to learn. She sensed that there must be something more than just working and making money. But no one could answer her questions.
"I found the answers to many questions of this kind in Falun Dafa, and I understood the meaning of life," Ms. Schwarz said. "Now I can better understand the relationship, and the cause and result between my life and my situation, so I can handle matters better and I can find peace in my heart."
Since practicing Falun Dafa, Ms. Schwarz met and married a fellow practitioner. "Dafa also helped me realize my own shortcomings in the marriage and correct myself. I was a loner before practicing Falun Dafa, had a short temper and was combative. For a long time, my health was so poor that I couldn't work and had difficulty supporting myself. From combative to tender, Falun Dafa changed me completely.
"Falun Dafa taught me that [being combative] was not a correct role for a woman. A woman should be tender, gentle and attain a harmonious life. I have improved a lot, though certainly there is more for me to improve. My family noticed my changes, too. I am more stable, peaceful, and calm. In their words, I am glowing from inside out."
Ms. Schwarz thanks Master for giving her a second life. "Falun Dafa gave me a second chance and completely changed me. Dafa is harmonious. I have experienced this in many aspects of my life."
"I Appreciate Master's bringing Dafa to the world; it changed my life"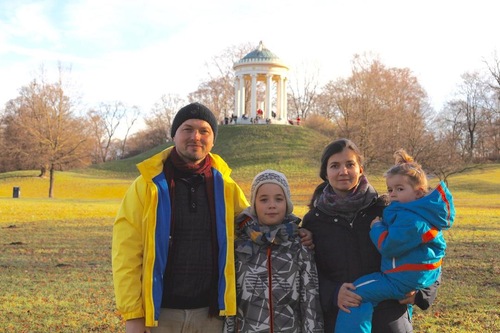 Ilya and his family are all Falun Dafa practitioners.
"When I was a teenager," Ilya said, "I wondered about the meaning of life. A person grows up, finds a job, makes some money, marries and raises a family. Then the person grows older and dies. I thought that a life like that was meaningless. I grew up in a former soviet-union country without religious belief. But, I had a wish to know what happens after death." Ilya is now an engineer in Germany, a father and a husband.
"Our entire family immigrated to the United States in 1999. I read a lot of books, but couldn't find any reasonable answers to my life's puzzles. A colleague recommended the book Zhuan Falun to me, even though he didn't practice Falun Dafa himself.
"I started reading from the middle of the book," Ilya said, "and soon put it down, because I couldn't understand anything. My colleague told me again, 'If you want to have energy, you must try to practice Falun Dafa.'"
Ilya continued, "So, I read the book again and this time I started from the beginning. Then, I couldn't put the book down. I read through it quickly and knew it was a great book. But I still didn't know how to practice Falun Dafa."
Ilya went to Germany and read Zhuan Falun for the second time and decided to practice Falun Dafa in 2002. "I was filled with energy and I was very healthy. But, college life was stressful, and I was depressed, so I stopped reading the book."
He returned to the United States and started reading the book again in 2003. "I read the book every day. My depression disappeared. The black substance surrounding my body disappeared. I was happy. I learned to practice the exercises by watching the teaching video online. The first time I practiced, I felt that energy filled me like an inflated balloon."
Later he returned to Germany to study towards a Master's degree and joined a Fa study and exercise group in Munich.
"Later I met and married Maria," Ilya said. "We had children. Everything became smooth and harmonious. My life is completely changed. I am very grateful to Master Li. He brought Falun Dafa to this world. He saved me and so many people."
Using his own experience of growing up in a communist country, Ilya wants to tell people in China not to believe the propaganda of the communist regime. "Look at both sides of a matter. Compare and make your own decision. Falun Dafa is very good. If you follow the principles of Truthfulness-Compassion-Forbearance, you will be a very good person. I am a Westerner, and I also follow these principles. They are values for the entire world."
"Master Li showed me the correct direction"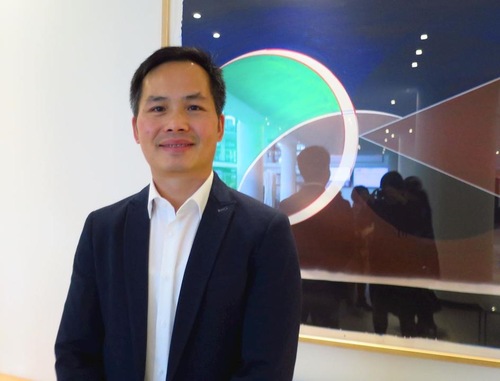 Falun Dafa practitioner Nguyen Viet Hoang
Nguyen Viet Hoang arrived in Germany when he was 18, and entered a German college. He had a difficult time both studying and working to support himself, and it took him 10 years to complete his college degree. During that time, he lost direction in his life.
A friend told him to read some books about spiritual practice, since he was searching for the meaning of life. Fortunately or predestined, the first book he picked up was Zhuan Falun.
"I immediately understood this was what I was looking for," Nguyen recalled. He read through all of the published Falun Dafa books and scriptures and decided to be a Falun Dafa practitioner.
He said, "I found my meaning in life. My life has completely changed since then. I found inner peace in my heart and let go of the competitive heart.
"Now, I can look at things with a positive prospect and focus on doing my job well. I appreciate that Master showed me the correct direction. It took me 10 years to find Falun Dafa. I am so thankful to Master!"
"My depression disappeared three weeks after reading Zhuan Falun"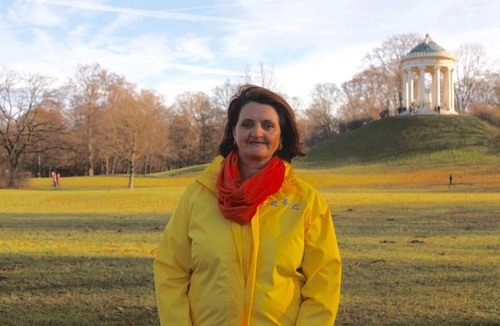 German practitioner Daniela Dascalu
Daniela Dascalu started practicing Falun Dafa in 2016. She said, "My depression disappeared within three weeks after I started reading Zhuan Falun. I had spent a lot of time trying to change my thinking habits but always seemed to return to my old ways. Falun Dafa changed my character and my heart in a very short time. The enlightenment I obtained from Dafa stayed in my heart. I became more considerate of others. I am kind, understanding and calm. I directly and indirectly change the people around me."
Ms. Dascalu continued, "In many respects, I became the role model for my children. They also embraced Dafa's principles of Truthfulness-Compassion-Forbearance into their lives. It is very important that we act as role models for our children, as they are the future. I am truly respectful of and grateful for Master's teachings."