Hong Kong: Falun Dafa Practitioners Send Greetings to Master Li on the First Day of the New Year
Jan. 29, 2020 | By Falun Dafa practitioners in Hong Kong
(Minghui.org) On the first day of the Lunar New Year, January 25, 2020, hundreds of Falun Dafa practitioners in Hong Kong gathered at Edinburgh Place in Central Hong Kong to send New Year greetings to Mr. Li Hongzhi, the founder of the meditation practice. They also celebrated with waist drum performances, chorus as well as musical and dance performances.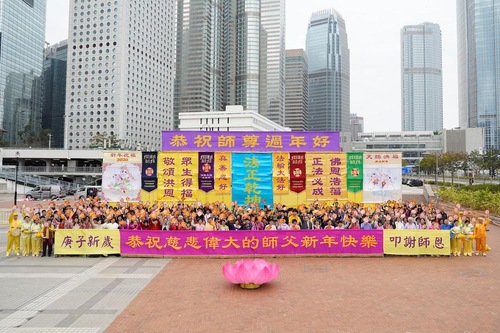 Falun Dafa practitioners in Hong Kong wish Master Li a Happy New Year on January 25, the first day of the Lunar New Year.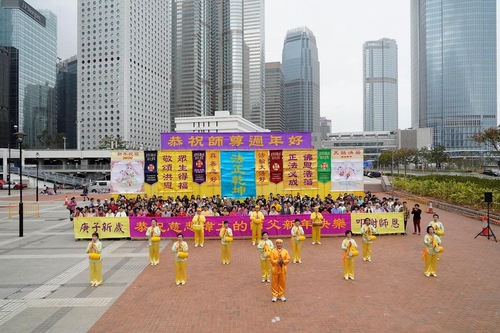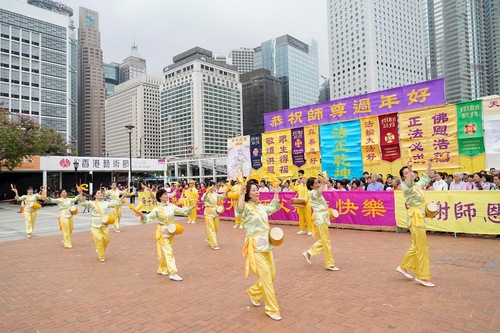 Practitioners celebrate the New Year with waist drum performances.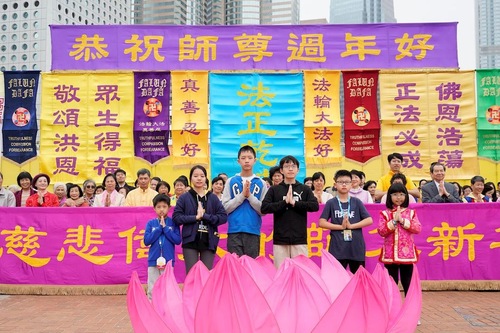 Young practitioners respectfully wish Master Li a Happy New Year.
This year marks the 28th year since Falun Dafa was first introduced to the public in China. Since then, over 100 million people in more than 100 countries and regions have taken up the practice. To celebrate the 2020 Chinese New Year, practitioners around the world held activities to thank Master Li and wish him a Happy New Year.
Artist: I'm a Better Person After Practicing Falun Dafa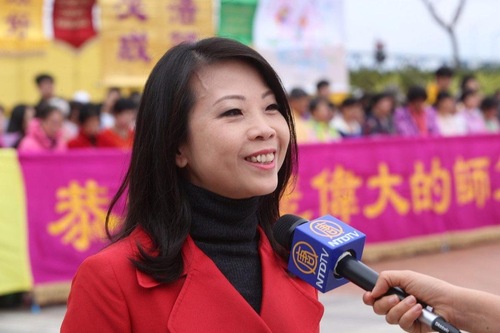 Falun Dafa practitioner Jessica
Jessica is an artist who studied in the U.S. She began to practice Falun Dafa at the end of 2006. After she started to apply the teachings of Truthfulness, Compassion and Forbearance in her daily life, her greatest improvement was the change in her temperament. She used to be picky, impatient and quick-tempered. She learned to reflect on her shortcomings when things went wrong as well as becoming considerate of others. Her friends all noticed that her bad temper improved.
She said, "Truthfulness, Compassion and Forbearance, these three words appear simple but it isn't easy to follow them. It's especially difficult to put forbearance into practice." "I know my faults but it's hard to change. After I began practicing Falun Dafa, I learned to control my temper. In the past, I couldn't let things go even if it was a small matter. But now I know I should try and change myself and improve my moral character."
She also shared another benefit - she used to drink coffee, but still felt tired even after drinking three cups. One month after she began practicing she felt energetic. Her complexion improved and she looked fresh.
Jessica said she also found a new direction in her art. She studied abstract art at school and her works were dark. After she became a practitioner, her paintings became bright. She is grateful to Master Li for her blessed life and plans to cultivate even more diligently.
Retired Government Officer: Falun Dafa Has Given Me a Whole New Life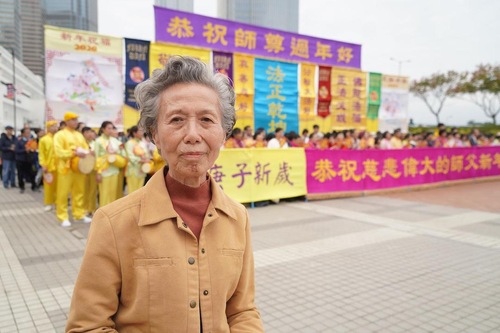 Falun Dafa practitioner, Liu Ding
"I'm extremely grateful to Master for giving me a whole new life," said Liu Ding. Ms. Liu used to work for a government department and is now nearly 80 years old. She looks healthy and has been practicing Falun Dafa for more than two decades.
She had all kinds of illnesses before she began practicing. She had severe insomnia and her whole body ached due to osteoporosis. She tried various qigong exercises but none of them helped. Her sickness disappeared within two months after she began practicing Dafa. By reading the teachings and applying the principles in her daily life, she understood the purpose of life.
Like many practitioners, Liu Ding often tells people about the persecution of Falun Dafa in China. She said that in the past, tourists from China were afraid to accept brochures from her. She's observed that more and more are changing their attitudes especially after the ongoing protest in Hong Kong against the extradition law. Young people are curious and have begun to accept Falun Dafa. "They realize that Falun Dafa practitioners are also being persecuted just like the Hong Kong people."