More People Awaken as Facts of Falun Dafa Reach Far and Wide
January 28, 2020 | By a Minghui correspondent in China
(Minghui.org) The Chinese Communist Party (CCP) has suppressed Falun Dafa with slanderous propaganda and violence over the past 20 years, leaving a large number of Chinese people misled and brainwashed.
During the recent Chinese New Year holiday season, the Minghui website received many greetings from China, some from practitioners and some from supporters. The greetings highlight that as more and more people learn the facts of Falun Dafa, they are choosing to support righteousness and quitting the CCP organizations.
Northern China: Plainclothes Police Officers Quit the CCP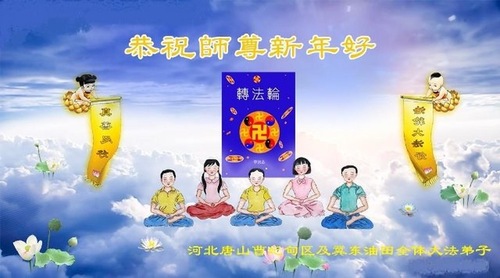 A greeting from Tangshan City of Hebei Province in northern China. Practitioners in that region cherish the principles of Truthfulness-Compassion-Forbearance and apply them in their daily lives. "No matter what kind of people we encounter, we always tell them what Falun Dafa is with patience and compassion, to save them," wrote the greeting.
As a practitioner was talking with someone about Falun Dafa at a farmer's market, that person said that he worked at a police station. Instead of fear, the practitioner smiled at him and said, "If so, we really have to talk because it is more urgent for police officers to learn the facts." The officer later agreed to separate himself from the CCP.
After another practitioner began talking with someone on the street next to a parked car, she learned that the person was a plainclothes police officer. The practitioner was not afraid and continued the conversation. In the end, the officer understood all of it and was delighted to quit the CCP organizations.
Southern China: Justice System Officials Repent and Stop Their Wrongdoings
Located in remote Guizhou Province in southern China, practitioners are able to remain diligent in their own cultivation practice while helping people learn what is really going on in the persecution.
"Many people we talked with renounced their CCP organization memberships and became supportive of Dafa," the greeting from Guiyang City wrote, "Coming from the police, court system, and the Procuratorate, they regretted what they had done in the past and said they would no longer participate in the persecution."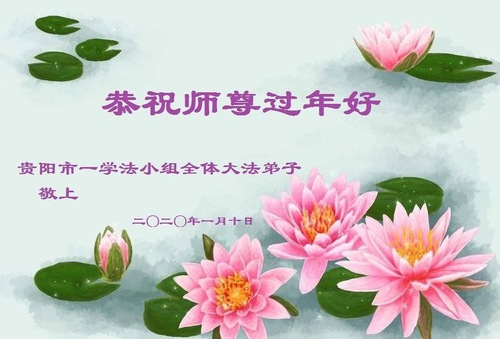 Another greeting from Guiyang City, Guizhou Province, said that practitioners were very grateful for Master's care in their cultivation. "Many people now know what Falun Dafa really is. Some of them, including some young intellectuals, have begun to practice as well," wrote the greeting.
Western China: Practitioners Praised at Workplaces and in Community
One greeting from Huining County, Gansu Province, said that Falun Dafa has purified tens of millions of practitioners, both physically and spiritually. Many of their family members and neighbors have also learned the greatness of the practice. "They no longer believe the defamatory propaganda from the CCP," wrote the greeting.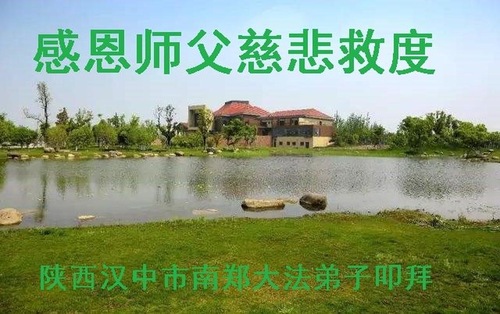 A similar situation also appeared in Shaanxi Province next to Gansu. One practitioner in Hanzhong City said that residents in nearby villages and towns have learned the real story of Falun Dafa. "Falun Dafa practitioners are praised at their workplace as well as in the communities," she wrote.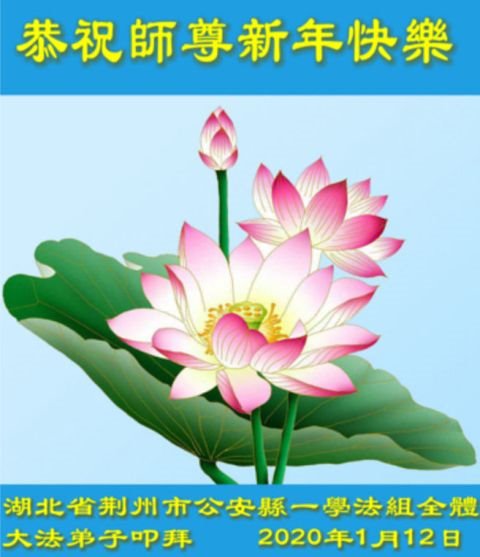 Adjacent to Shaanxi Province is Hubei Province, where more and more people have accepted information about Falun Dafa. "As a result, they have awakened and are glad to say no to the CCP," wrote the greeting.
Family Members: The Righteous Will Prevail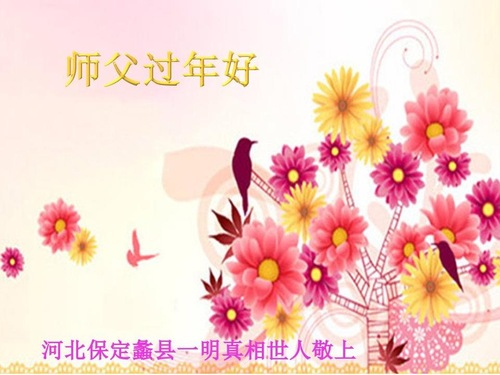 A man in Baoding City, Hebei Province, said that his wife is a Dafa practitioner. "During these years, I have seen her becoming a better and better person," he wrote. Realizing that it was due to her practice of Falun Dafa, he knew that the CCP was very vicious in persecuting innocent practitioners.
One day earlier this year, four police officers went to his home and ransacked it. "Because my wife was not at home, I first put away some Dafa materials and then dealt with the police officers," continued the greeting. The man defended his wife and said that practitioners are innocent.
As the police officers left in vain, the man wrote in the greeting, "Now I know that the righteous will prevail in the end." He hopes that Master Li can come back to China, and said he would learn the practice too.