Gratitude from New Falun Dafa Practitioners in 15 Provinces in China
January 28, 2020 | By a Minghui correspondent in China
(Minghui.org) "Living in misery and despair because of my incurable illness, I was fortunate to find out about Falun Dafa," wrote a woman in Shandong Province, "Because my health has continued to improve without medication, I know Falun Dafa is the best. I will forever believe in Dafa and practice it."
Above was a greeting received by Minghui during the Chinese New Year. Although the Chinese Communist Party (CCP) has suppressed the group for over 20 years, many people have learned the facts about the practice from practitioners. Inspired by similar experiences and the principles of Truthfulness-Compassion-Forbearance, some of them have begun to practice.
Here are greetings from new practitioners in 15 provinces or provincial-level cities in China.
Renewed Life of a Couple
A woman from Zhaoyuan City, Shandong Province, was diagnosed with a severe illness and hospitalized in February 2019. Doctors said she was incurable. Several major hospitals in Beijing confirmed this conclusion. "You don't have much time left. In the meantime, you have to take these drugs," the doctors told her.
After hearing about Falun Dafa from a friend, the woman began to practice it. "Impressed by the profound Dafa principles, I learned that my illnesses came from karma and that only cultivation could change my fate," she recalled. In the following months, she did not take any medications or go to a hospital, but her health continued to improve.
"Now I know a large percentage of Chinese people have been deceived by the CCP's slanderous propaganda. I am so fortunate I am no longer deceived by the lies and have started to practice," the woman wrote, "Falun Dafa is very profound and I will keep practicing it."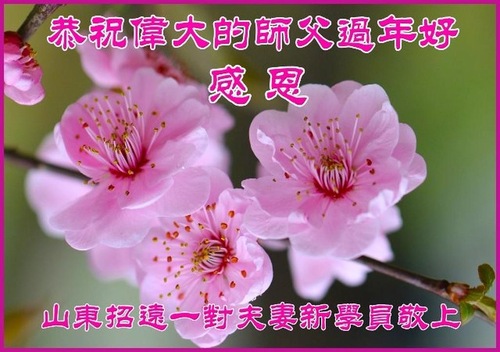 The woman's husband, a Buddhist, saw these changes and became a practitioner, too. "When I was sick, he was very stressed having to take care of our two children," the woman wrote. "Now he is relieved and his own health issues were also resolved. He knew only Dafa could help us and he often tells friends to stop listening to the CCP's lies and not to do things against Dafa."
Fully Recovered from Incurable Cancer in 10 Days
A man in Dalian City, Liaoning Province, was diagnosed with incurable cancer in September 2019.
The man was worried and did not know what to do when his friend shared her story of miraculous health improvement. The man listened to her advice and began to practice, too. He considered himself a genuine practitioner and was able to study the teachings and do the exercises every day.
Within 10 days, he completely recovered. "I was so thrilled that, just as other practitioners often say, 'Falun Dafa is good' and 'Truthfulness-Compassion-Forbearance is good,'" the man wrote. "Not only that, I want to tell everyone that Master Li [the founder of Falun Dafa] is great. Happy Chinese New Year, Master!"
Additional greetings were received from:Handan City, Hebei ProvinceDalian City, Liaoning ProvinceChengdu City, Sichuan ProvinceBeijing CityHuairong City, Beijing CityJixi City, Heilongjiang ProvinceTonghua City, Jilin ProvinceDandong City, Liaoning ProvinceDaqing City, Heilongjiang ProvinceJingmen City, Hubei ProvinceLangzhong City, Sichuan ProvinceZhuzhou City, Hunan ProvinceGuang'an City, Sichuan ProvinceKunming City, Yunnan ProvinceNanjing City, Jiangsu ProvinceLiuyang City, Hunan ProvinceQingdao City, Shandong ProvinceGuiyang City, Guizhou ProvinceYushu City, Jilin ProvinceFushun City, Liaoning ProvinceDaxing'anling, Heilongjiang ProvinceGuilin City, Guangxi ProvinceFangzheng Forestry Bureau, Heilongjiang ProvinceWeihai City, Shandong ProvinceWushan County, Chongqing CityBoli County, Heilongjiang ProvinceAnkang City, Shaanxi ProvinceTangyuan County, Heilongjiang ProvinceQitaihe City, Heilongjiang ProvinceXinjiang Province