Falun Dafa Practitioners of Different Ethnicities Wish Master Li a Happy Chinese New Year
January 27, 2020 | By a Minghui correspondent
(Minghui.org) China is home to 56 ethnic groups. Each one of them celebrates distinctive life and cultural styles. All together, they represent China's rich cultural heritage and traditions.
With Falun Dafa's wide spread in China, many people in these ethnic groups in cities, villages, mountainous terrain or flatlands, also took up the practice and assimilate to its universal values "Truthfulness, Compassion, Forbearance," which transcends the barriers of culture, language and geography.
On the occasion of the Chinese New Year, these practitioners also extended their warmest greetings to Master Li Hongzhi, the founder of the practice. They all express their deep gratitude for Master Li and vow to be more diligent in their daily cultivation.
One practitioner in Longde County, Ningxia Hui Autonomous Region, wrote: "Although we live in the remote mountains, there are people everywhere waiting for us to bring them information about Falun Dafa. And we know that Master is with us all the time."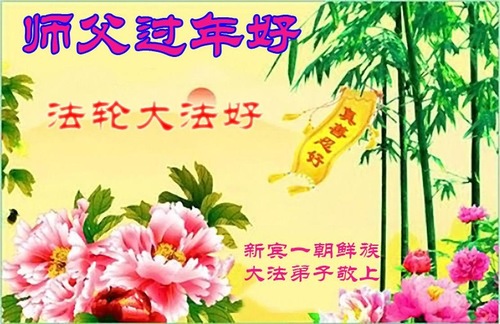 Other greetings hailed from:
Yi Ethnic Group in Guizhou ProvinceKorean Ethnic Groups in Jilin City, Jilin Province, Shenyang City and Xinbin County, Liaoning ProvinceGannan Tibetan Autonomous Prefecture, Gansu ProvinceXishuangbanna Dai Autonomous Prefecture, Yunnan ProvinceLiangshan Yi Autonomous Prefecture, Sichuan ProvinceYanbian Korean Autonomous Prefecture, Jilin ProvinceMongols in Inner MongoliaNingxia Hui Autonomous RegionQianxinan Buyei and Miao Autonomous Prefecture, Guizhou ProvinceBenxi Manchu Autonomous County, Liaoning ProvinceJiangcheng Hani and Yi Autonomous County, Yunnan Province