Supporting the Righteous Brings Blessings and Happiness
(Minghui.org) Falun Dafa, a self-cultivation system based on the principles of Truthfulness, Compassion, and Forbearance, represents traditional values and the common good. Despite the tremendous physical and spiritual benefits it has offered to practitioners as well as to society in general, it has been suppressed in China since July 1999.
Because of practitioners' consistent efforts, many people have learned the truth about the practice. As a result, these people have chosen to support the righteous and break away from the slanderous propaganda by the Chinese Communist Party (CCP). Having witnessed blessings themselves, these people are very grateful and they sent greetings to Minghui wishing Mr. Li Hongzhi, founder of Falun Dafa, a Happy New Year!
In Zhuan Falun, the main teaching of Falun Dafa, Mr. Li Hongzhi wrote:
"When people show the appropriate respect and reverence toward Dafa as it manifests here in this world, they, their race, or their nation will enjoy blessings or honor. It was Dafa—the Great Way of the universe—that created the cosmic body, the universe, life, and all of creation. Any life that turns away from Dafa is truly corrupt. Any person who can align with Dafa is truly a good person, and will be rewarded and blessed with health and happiness." (On Dafa, Zhuan Falun)
Below are some examples.
Retired Government Official Recovers
A retired government official was hospitalized several years ago for protrusion of a lumbar disc, osteogenesis, a fracture, and other health issues. Besides regular medical expenses, he had to pay an expensive caretaker fee. But he made little progress and could hardly speak because of the pain.
One day he remembered someone telling him about Falun Dafa and suggesting that he recite "Falun Dafa is good, Truthfulness-Compassion-Forbearance is good." He did—and he started to improve immediately.
"When my family came to see me the next day, even from the hallway they could hear me talking—but they couldn't believe it was me since I'd had difficulty speaking. When they saw it really was me, they were thrilled," he recalled.
His situation improved quickly and he was discharged from the hospital. Through Minghui, he wants to thank Falun Dafa and Master Li.
A Family of Four Generations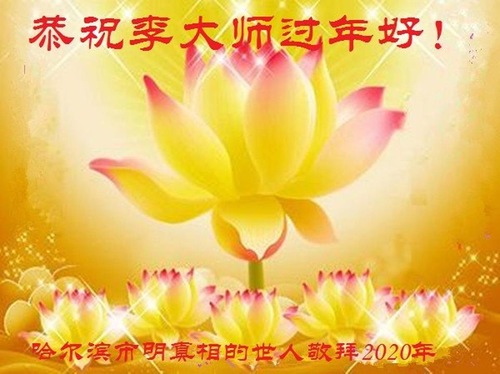 In Harbin City, Heilongjiang Province, 10 people in a family spanning four generations expressed their thanks to Master Li for introducing Falun Dafa to the public and wish him a Happy Chinese New Year.
"Many miracles have occurred in our family. They include quick recoveries from severe illnesses without treatment, extraordinary achievements at school, and remaining safe in major accidents," they wrote.
Everyone in the family knows that this is because some of them practice Falun Dafa and the others support them. They credit their healthy, happy lives to Falun Dafa and Master Li.
Young Woman's Brain Tumor Successfully Removed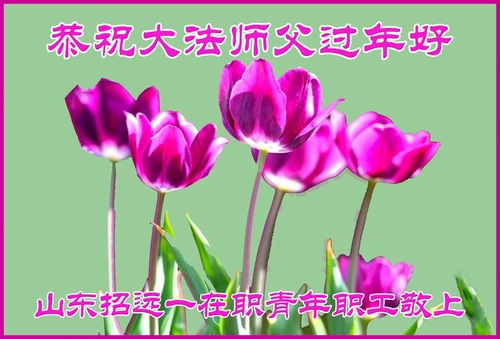 A young woman in Zhaoyuan City, Shandong Province, said she was diagnosed with a brain stem tumor about four years ago. The pain convinced her to have surgery. Throughout the operation, the family kept reciting "Falun Dafa is good, Truthfulness-Compassion-Forbearance is good."
"The operation went very well and the surgeons considered it a miracle," she wrote. It usually takes two weeks for patients who have this kind of surgery to regain consciousness. But her mind became clear as soon as she left the operating room.
She recovered well and has already been back at work for two years. She said she is now very healthy. "I am so grateful because Falun Dafa gave me a second life," she wrote.
A Veteran Recovers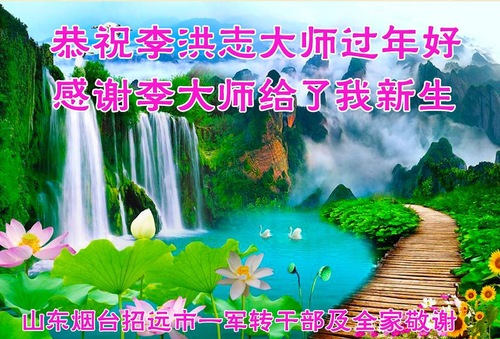 A retired military officer from Yantai City, Shandong Province, said he had surgery for gastric cancer five years ago. "It was so painful and I became so emaciated that I thought I would rather die," he wrote.
From his friends, he learned to recite, "Falun Dafa is good, Truthfulness-Compassion-Forbearance is good" and his health improved dramatically. In the past five years, he has no longer needed chemotherapy or any medication, which surprised all the doctors who knew about his health issues.
Recently this officer began to read Zhuan Falun and was impressed by the profound principles in the book. His entire family wishes Master Li a Happy Chinese New Year.
Surviving a Major Accident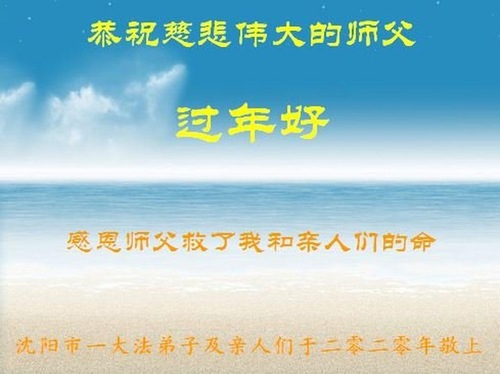 A woman in Shenyang City, Liaoning Province, recounted a terrible car accident she and her family survived in March 2019. "My husband, my niece, her husband, and I were hit by a truck carrying logs. The truck flipped over and our car was totaled," she wrote.
Her nephew, who was following them with other family members in another car, works as a driver and knew that few survived such accidents. Hearing that everyone was fine, he knew the family was blessed. "You were the only Falun Dafa practitioner in that car. If you were not there, all of them would have died," he said to her.
All 30 members of their family are thankful for Falun Dafa.
87-Year-Old Fully Recovered 11 Days after Cardio-cerebral Infarction
An 87-year-old man submitted greetings with his daughter from Yichun City, Heilongjiang Province. Out walking in the fall of 2019, he fell down and lost consciousness. In the emergency room, he was diagnosed with cardio-cerebral infarction. "My daughter, a Falun Dafa practitioner, asked Master Li for help when I was in the hospital. I was thus able to return home 11 days later," wrote the man. He is now very healthy and able to take care of himself.
With gratitude to Master Li and Falun Dafa, this man said he once learned Falun Dafa before it was suppressed in July 1999. "Because of fear, I stopped practicing," he wrote. "Now I know I was wrong because Master came here to save people, and all the slanderous propaganda about Dafa is wrong. Thank you, Master, for still taking care of me."
After resuming the practice, the man said he is happy and productive.
Children Are Blessed
A mother in Zhucheng City, Shandong Province, visited her friend three years ago. Seeing the mother was frustrated and not doing well, her friend asked what was wrong. "I'm pregnant again and vomit almost every day," the woman replied. "I also had a bad thought of not wanting this baby." Her friend told her about Falun Dafa and suggested she recite "Falun Dafa is good, Truthfulness-Compassion-Forbearance is good" every day.
"I followed the advice and stopped vomiting," the woman wrote. "Because my first child was a boy, I was hoping this would be a girl." It was an easy delivery and the baby girl made everyone in the family happy.
A young boy, whose mother is a practitioner, was blessed by Dafa. Following his mother's advice to live by the principles of Truthfulness, Compassion, and Forbearance, he was a good son and a good student. On his way home after school one day, a car came out of nowhere and ran over his feet. The driver took him to a nearby hospital. "To everyone's surprise, my son was just fine, with only some minor bruises on his foot," wrote the woman. "The driver could hardly believe it, and people who witnessed the incident were also very surprised."
The bruises disappeared in three days and the boy was totally fine. "We are all so happy. We know Falun Dafa protects us. Thank you, Master. We sincerely wish you a Happy Chinese New Year!" she wrote.
Additional greetings were received:Luoyang City, Henan ProvinceYantai City, Shandong ProvinceLongjiang County, Heilongjiang ProvincePingshan County, Hebei ProvinceZhaoyuan City, Shandong ProvinceDaqing City, Heilongjiang ProvinceSantai County, Sichuan ProvinceHuabei Oilfield, Hebei ProvinceFuzhou City, Fujian ProvinceChangtu County, Liaoning Province