Practitioners in New York Wish Master Li Happy Chinese New Year
January 21, 2020 | By Falun Dafa practitioners in New York
(Minghui.org) With Chinese New Year fast approaching, Falun Dafa practitioners gathered in Flushing on January 12, 2020 to celebrate the occasion and wish Faun Dafa's founder, Mr. Li Hongzhi, a happy new year.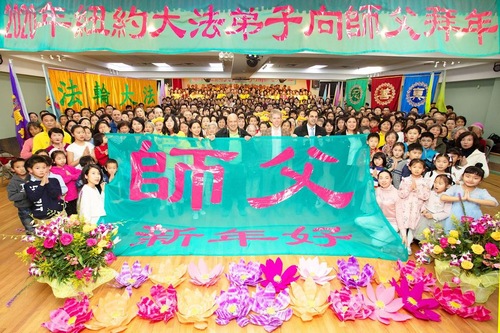 Falun Dafa practitioners in New York wish Master Li a happy Chinese New Year.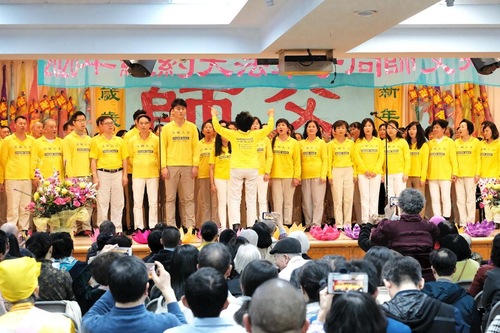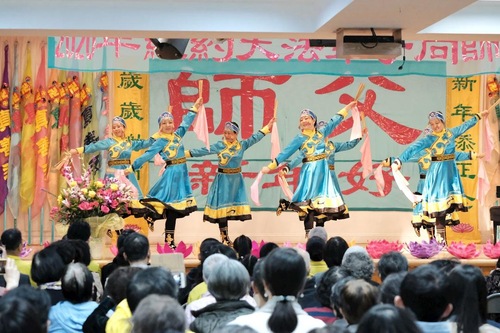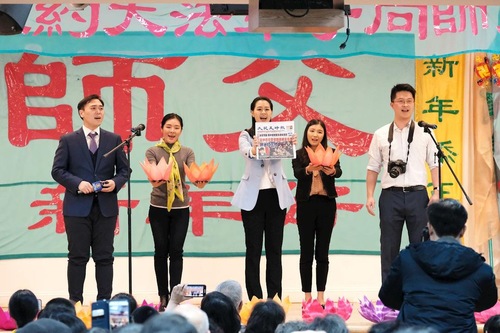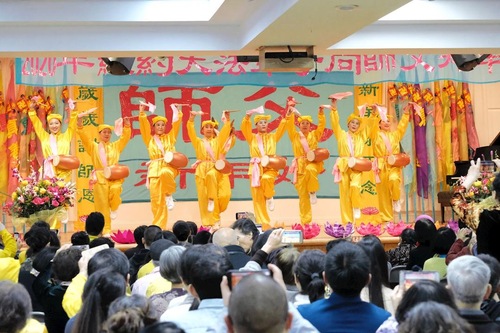 Practitioners expressed their heartfelt gratitude toward Master Li, the founder of Falun Dafa, through cultural performances. They hope more people can experience the benefits of practicing Falun Dafa.
Expressing Gratitude Through Music and Dance
Over 600 practitioners attended the celebration dressed in their best. Adorning the stage were banners reading "Falun Dafa Practitioners in New York Wish Master Happy Chinese New Year 2020." Passersby were treated to an array of entertainment arranged throughout the day, including dance, chorus, vocal solos, performances of traditional Chinese instruments such as Pipa, Erhu and flute performances, piano and violin recitals, Chinese waist drum dances, martial arts, and calligraphy. The celebration ended with practitioners wishing Master Li a happy new year in chorus.
Eight Western practitioners from different countries sang the piece, "Coming for You." They said, "Master, we want to let you know that Falun Dafa is loved by people from different ethnic groups and nationalities all over the world."
Zhang Xiaoli sang a song titled, "Plum Blossom." She explained, "The plum blossom symbolizes the unyielding spirit of the Chinese people. This song expresses the enduring hearts of Dafa disciples. Just like the plum blossom, their steadfast faith in Master and their determination to save sentient beings endure."
Zhao Yilian expressed her appreciation through her solo flute performance. She said, "I used to pursue the unconventional in fashion. Practicing Falun Dafa helped me return to tradition, the true Chinese culture that is my roots. Thank you, Master, for your guidance."
Benefits from Practicing Dafa
Yi Rong from New York said that Falun Dafa was first publicly taught by Master Li Hongzhi in Changchun City, China in 1992. The main book of teachings, Zhuan Falun, was published 25 years ago in 1995. To date, the book has been translated into more than 40 languages and has been read by hundreds of millions worldwide.
She said, "On May 13, World Falun Dafa Day, as well as traditional Chinese festivals such as the Mid-Autumn Festival and Lunar New Year, practitioners from all over the world celebrate the occasion and express their gratitude to Master Li."
Nicholas Zifcak from the U.S. said that practicing Dafa made him realize that returning to one's origin is the most important thing in one's life. "I stopped pursuing worldly fame and gain and found my childhood innocence."
Ji Lei from Xinjiang, China, who has practiced Falun Dafa for 25 years, said, "The teachings of Dafa are like a light guiding me, helping to differentiate between what's right and wrong. I found a greater purpose in life. As a practitioner, I have to be a morally upright person and become selfless."
Wang Huijuan had suffered from psoriasis for many years. She recovered from the disease a month after she and her husband began practicing Falun Dafa. Her husband's health improved as well. Several relatives, including their siblings, parents, and children began practicing when they saw their positive changes.