Taiwan: Practitioner Coordinators Encourage Diligence in Cultivation Through Group Study and Experience Sharing
January 20, 2020 | By a Minghui correspondent in Yunlin County, Taiwan
(Minghui.org) Falun Dafa practitioners who act as coordinators in five counties in central Taiwan gathered in Xiluo Town, Yunlin County, on January 11 and 12, 2020, to study the teachings together. They also discussed their understandings of different situations a coordinator might encounter, such as how to help practitioners cultivate diligently, how to improve one's character in cultivation, and how to form one body so as to more effectively raise awareness of the persecution in China.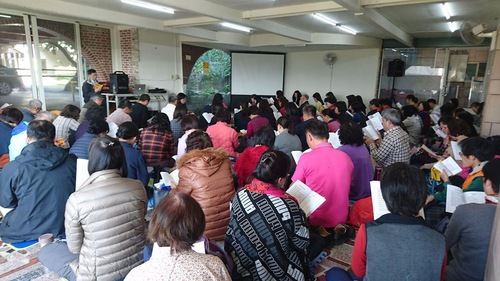 Practitioner coordinators from central Taiwan gather in Yunlin County to study the Falun Dafa teachings together and share cultivation experiences.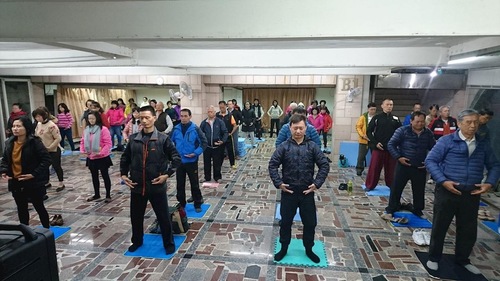 Practitioners do the exercises together in the morning.
Practitioners from Kaohsiung City were enthusiastic about participating in the event. They shared their valuable experiences in cultivation and their efforts to end the repression. Everyone was touched by the sharing.
Creating an Environment to Read the Teachings Together
Kai, who is a teacher, talked about how he resolved conflicts with co-workers who are also Falun Dafa practitioners. Everyone had conflicting ideas and it was difficult to come to an agreement. He realized that the only way to effectively resolve the conflicts was through studying the teachings together, so he decided to get everyone at work to read the Dafa books together. He also created opportunities for people to share their thoughts in a more relaxed environment, such as over a meal.
"The better we cultivate, the more effective our projects that help people know more about Falun Dafa and the persecution. Everyone benefits from reading together as a group, and we improve together," he said.
Huiling from Yunlin County shared an experience that made her realize the importance of studying the teachings. Many years ago while she was working in Taipei, she encountered a bottleneck in her cultivation and became very depressed. Fortunately, another practitioner encouraged her to study the teachings and accompanied her to a study group every day. Huiling overcame her mental obstacles about attending, such as thinking that the place was too far away, that it was a waste of time, and so on, and she didn't miss a day. Within a few months, she experienced a breakthrough.
She later returned to her hometown and knew she needed to continue to study the teachings regularly, but she could not find time because things were very busy at work. She wanted to set up a study group. She shared her thoughts with practitioners, and they were willing to help. It was not easy, though, because everyone had different ideas. It was a test for her.
"Practitioners would ask for my opinion on something, and every time I would say one thing but actually have something different in mind. At times I would disagree with a practitioner's suggestion and we would discuss things at length until a decision was made. I realized I had a strong attachment to self.
"When we finally held the first study session, I was overjoyed to see so many practitioners turn up. But the tests soon came, one after another. Many practitioners gave me all kinds of suggestions. Because I was selfish and reluctant to change my thinking, negative thoughts kept running through my mind. I was very touched by a practitioner who stayed by me the whole time and supported me," she said.
"It seemed impossible to find a time that suited everyone. But, because we were determined, we finally succeeded in setting up a group one night on the weekdays, and we read the main book Zhuan Falun at different times each Sunday. What's even more amazing is that the venue is free."
Finding Answers to Life's Questions
Professor Meiying from Sun Yat-sen University in Kaohsiung shared how she became a practitioner. She was a curious child and from a young age she had many questions about life. After reading Zhuan Falun, all of her questions were answered.
After she finished reading Zhuan Falun, she moved on to reading the other lectures and found even more answers. "Dafa is the most precious thing in my life and I truly enjoy reading the teachings," she said.
Looking Inward and Passing a Test
Wenying from Kaohsiung spoke about how she passed a test. She sprained her back and could not straighten it. It was very painful. She started to reflect on her shortcomings and realized she had been unkind to her son. When she got home she apologized to him. But her back still hurt terribly.
Practitioners later called her about an activity. She answered their questions patiently while enduring the pain in her back. She then got a call from a practitioner with whom she had a conflict. She let go of her misgivings and patiently answered the practitioner's questions. Imperceptibly, her back pain disappeared.
She discovered through that experience that she had neglected many small things in her cultivation. For example, she held onto conflicts with her son and practitioners and kept looking at other people's shortcomings. She passed the test when she let go of these attachments.
Practitioners Benefit from the Sharing
Ms. Li said her husband had benefited from the two-day event. For example, he had not paid enough attention to sending righteous thoughts, but after sharing with other practitioners, he told her to remind him to send righteous thoughts on time. "Sometimes he even reminds me to send righteous thoughts," she said.
She was also deeply inspired by the experience sharing. She realized how precious the Fa is and said she hopes to be more diligent in cultivation.
Mr. Wu, who is a coordinator, was very grateful to the practitioner who signed him up for the event. He said he gained a lot from other practitioners sharing their expeirences and has a clearer understanding of the teachings.