Nine-Day Falun Gong Exercise Workshop Held in Singapore
January 17, 2020 | By a Minghui correspondent in Singapore
(Minghui.org) A nine-day Falun Gong workshop was hosted by the Singapore Falun Buddha Society from December 28, 2019, to January 5, 2020. Attendees watched the video recordings of Master Li Hongzhi's nine lectures and learned the Falun Gong exercises. Several of the attendees started to experience some of the health benefits associated with the practice even before they completed the nine-day workshop.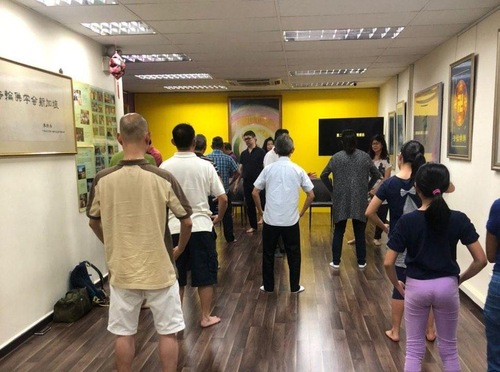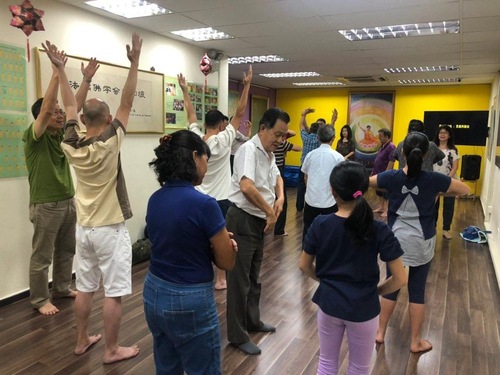 Exercise instruction at the January Falun Gong workshop in Singapore
One of the workshop participants, Mr. Tang used to have serious insomnia. He would wake up every two hours at night, and though he had tried countless methods to improve the quality of his sleep, nothing had helped. "Ever since I started practicing Falun Gong, it has improved a lot. I can sleep well for at least five hours," he said.
Mr. Tang was introduced to Falun Gong last May by one of his friends, who is a practitioner. "My friend visited me and brought me the book Zhuan Falun. I was very touched," he said. Mr. Tang said he has now read Zhuan Falun three times.
He shared that he had felt a little sick and had headaches for a few days before the workshop, but all of his symptoms were gone by the fifth day.
"It [Falun Gong] is truly amazing! It indeed helped me get rid of my health problems. A great success," he said, tears welling in his eyes. Veteran Falun Gong practitioners were happy for Mr. Tang and encouraged him to study the teachings well and work on letting go of attachments.
Another attendee, Mr. Shun said that he is normally an introverted person who rarely speaks, even at home. But now he wanted to share with everyone how he encountered Falun Gong.
"I found out about Falun Gong from YouTube. I felt I had a predestined relationship with Falun Gong," said Mr. Shun. "I had many questions though because I had read some negative reports before, so I downloaded the English version of Zhuan Falun and read it.
"I agreed with Master Li's teachings. They were very profound. I have never read such teachings anywhere else. Out of curiosity, I found the Facebook page for the Falun Gong Association in Singapore and learned about this workshop," he said.
"I have had a special experience over the past nine days. After three or four lectures, I had a feeling of not wanting to come, as if my karma was blocking me, just as described by Master Li, but I finally decided to continue ... I believe it was my destiny. I think [living according to] Truthfulness-Compassion-Forbearance seems easy, but it's actually very hard to follow. I'm both excited and concerned about whether I can accomplish it."
Another workshop attendee, Mr. Sun had come across the book Zhuan Falun more than 10 years ago but didn't read it then. He recently watched some programs from the NTD Television series Xiyu Rensheng ("Moments in Life"), where the host interviews Falun Gong practitioners. He was amazed by the stories these professionals shared about their different experiences.
Mr. Sun recalled one interview: "A well accomplished martial arts coach had given up his previous prestige in his field and started cultivating himself according to Falun Gong. He said Falun Gong was the most important and Zhuan Falun was superior."
Mr. Sun added, "After learning it myself, I think it's a great practice that can play a positive role in improving health and perspective."