Three Hebei Residents Face Heavy Sentences for Making Crafts Bearing the Words "Truthfulness, Compassion, and Forbearance"
January 10, 2020 | By a Minghui correspondent in Hebei Province, China
(Minghui.org) Three Baoding City, Hebei Province residents are facing heavy sentences for their faith in Falun Gong, a spiritual and meditation discipline with the core principles of "Truthfulness, Compassion, Forbearance" that has been persecuted by the Chinese communist regime since 1999.
Ms. Li Yanqiu, 67, Ms. Sun Liying, 41, and Mr. Han Junde, 72, were arrested on August 30, 2019 at an apartment they rented to make gourd carvings bearing messages about Falun Gong. Their gourd carving machine was confiscated. Later that day, the police also ransacked the practitioners' respective homes and confiscated their Falun Gong books, computers and printers.
Mr. Han fainted during his arrest and was hospitalized. His daughter was ordered to pay nearly 3,000 yuan in medical examination fee. He and Ms. Sun were sent to Baoding City Detention Center later that evening. The police rejected the bail requests by both of their families.
It's not clear whether Ms. Li was sent to the detention center or released on bail.
Ms. Sun and Ms. Li appeared in Gaoyang County Court on December 24, 2019.
Mr. Han was tried separately at an earlier date. More details about his hearing remain to be investigated.
Ms. Sun and Ms. Li's lawyers entered a not guilty plea for them. The lawyers argued that no law ever criminalized Falun Gong in China and that no evidence presented by the prosecutor could support the charge of "undermining law enforcement with a cult organization," which is a standard pretext used by the authorities to frame Falun Gong practitioners.
The lawyers also pointed out that all directives given by higher-ups to persecute Falun Gong were through oral communication, which belittled the formal, written laws and Constitutions.
Prosecutor Cai Ligong shouted at Ms. Sun and only allowed her to answer "yes" or "no" to his questions, without other comments. He was so indignant that even the judge had to remind him to calm down.
The judge later presented the prosecution evidence against the practitioners, which was a gourd carved with Falun Gong's principles, "Truthfulness, Compassion, Forbearance."
One of the lawyers questioned how such a beautiful gourd carving with these beautiful words could be considered a crime. He asked, "Isn't it an extraordinary thing that people all follow the three principles and improve their character?"
The judge and the prosecutor didn't respond.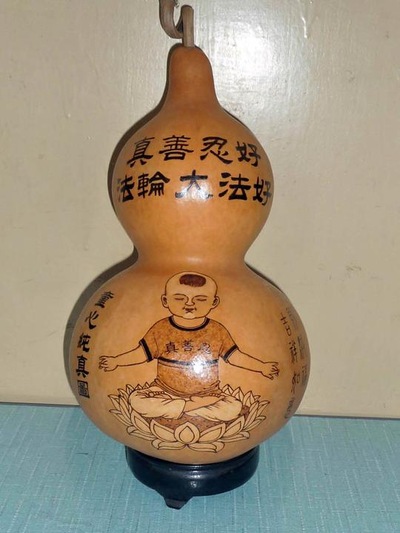 A gourd with "Truthfulness, Compassion, Forbearance is good; Falun Dafa is good" written at the top
Prosecutor Cai later suggested to sentence Mr. Han, who has already become incapacitated in the detention center, to 8.5 years in prison, and Ms. Sun and Ms. Li each to eight years.