Saskatchewan, Canada: Film Festival Attendees Moved by Film Based on Real Stories of Persecution
September 08, 2019 | By a Falun Gong practitioner in Canada
(Minghui.org) New Year Wishes, a film by New Century Films, screened at the Regina International Film Festival & Awards (RIFFA) in Saskatchewan, Canada, on August 16, 2019. Film industry experts and audience members noted the positive spiritual message in the film.
Film available online at http://www.minghui.org/mh/articles/2019/1/9/380154.html
Film Synopsis: Shen Guiyou, a man in his fifties, is preparing to spend Chinese New Year's Eve alone at home. His daughter, Shen Yu, was arrested for practicing Falun Gong and in a detention center waiting for her trial. Falun Gong practitioners who know Yu visit her father to keep him company. With the help of a lawyer, Yu is released and comes home on Chinese New Year Eve.
The lead actress Alyssa Zheng hoped to call attention to the persecution of Falun Gong in China through the film. "Under the pressure of everyday life, from work and from family, we tend to forget the true side of our hearts. I hope our movie will give people a moment of tranquility and experience the positive energy and power of compassion," she said.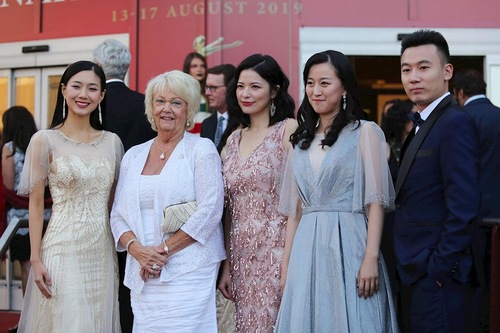 Former Lieutenant Governor of Saskatchewan and sponsor of RIFFA Vaughn Solomon Schofield (second from left) with three actresses and an actor from New Century Films. Vaughn Solomon Schofield says it was a great idea to raise the issue of Falun Gong practitioners' human rights in the film.
Mr. Steve Payne, the CEO of a film studio, watched the film with his girlfriend Michelle Labrie. He said he was touched by the film's content on Falun Gong. "We live in North America, but we know the freedom of belief and speech is deteriorating in China."
Ms. Labrie said that the film had successfully demonstrated the best of Chinese culture and the strong character of the Chinese people in the face of challenges. The ending gave her hope. She praised the film for inspiring strength and promoting the concept of staying firm in one's belief.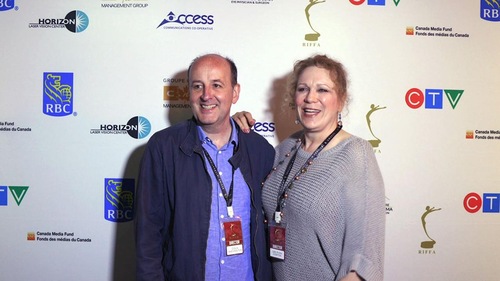 Mr. Colin Skevington (left), writer, producer, and director from the United Kingdom, said he felt love and compassion from New Year Wishes.
Mr. Colin Skevington, a writer, producer and director from the United Kingdom, appreciated the storyline of New Year Wishes. He said he was touched by the characters' steadfast belief in the face of persecution.
"I can feel the compassion and love from the movie. It's very important for people to support each other," he said.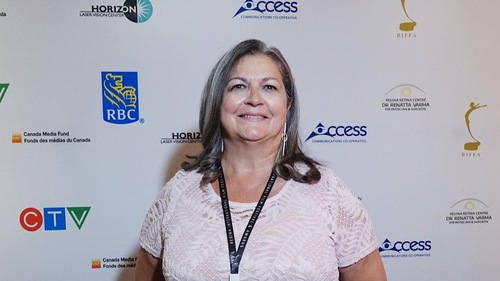 Ms. Wendy Dixon-Jewitt, Board Member of RIFFA
RIFFA board member Wendy Dixon-Jewitt had been moved to tears by the deeper meaning behind the film. She said it allowed her to hear the voice of the Chinese people and their thoughts. "The message is very critical," she said.
Ms. Dixon-Jewitt felt the compassionate nature of the characters in the film. "I realized that all of us are in a story. We are all a part of the fight against darkness. The world will change. Things will move forward. It's such an optimistic, helpful, and beautiful film! It made me cry. Very touching! Outstanding! I'm grateful it was screened in Saskatchewan," she said.
Ms. Linda Marlowe, who worked as an actress for 58 years, also found the film very moving.
"I'm heartbroken seeing the the father's pain and desperation," she said. "His innocent daughter was imprisoned and might not be able to see her family again. The moment the guests arrived was very heart-warming. I don't know much about Falun Gong, but I know they are good people with strong faith."
Ms. Marlowe said it was very important for people to know about human rights violations in other counties. "The whole world must see it and pay attention to these things," she said.