Australia: Practitioners Exchange Insights at Experience-Sharing Conference
September 30, 2019 | By Falun Dafa practitioners in Adelaide
(Minghui.org) Falun Dafa practitioners in Adelaide, South Australia, held an experience sharing conference on September 22, 2019. They talked about how they applied the principles of Truthfulness-Compassion-Forbearance in their daily lives and their experiences of explaining the facts of the persecution to people.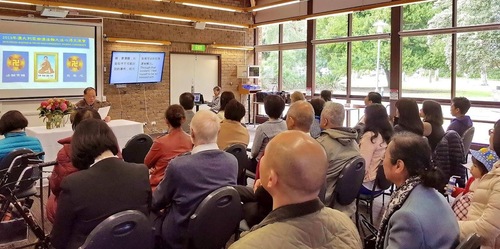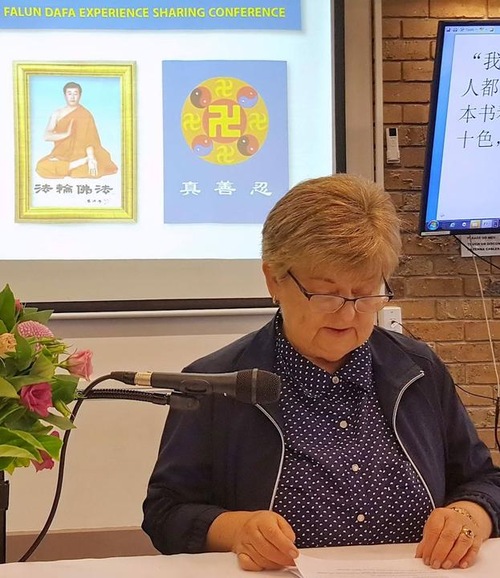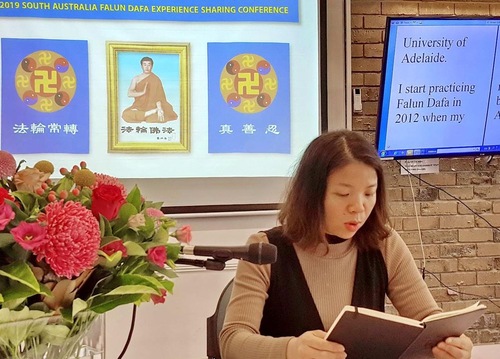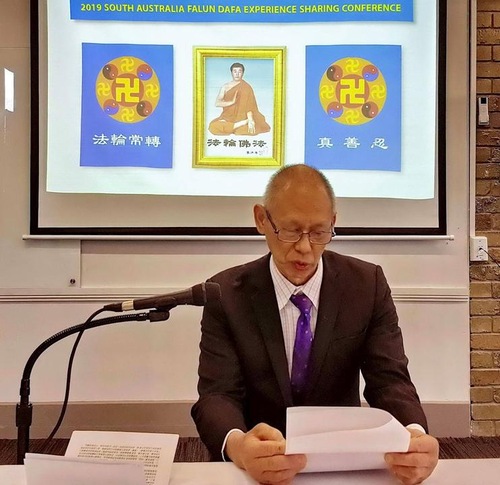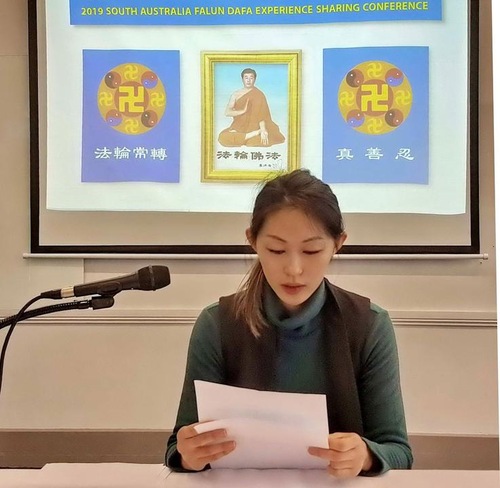 Practitioners share their understandings on how to do better in cultivation during the conference held in Adelaide, September 22, 2019.
Benefits of Studying the Teachings with a Quiet Mind
Several practitioners spoke about how they became better people through studying the teachings of Falun Dafa with a quiet mind.
Professor Zung Do is a researcher at Adelaide University. She had a serious stomach ulcer and was told not to get pregnant or her condition might worsen. After she began practicing Falun Dafa in 2012, her symptoms disappeared and she even gave birth to a second child. It used to bother her when others were successful. Through studying the teachings, she realized she should not be jealous, that she should be happy for them.
She went to work right after graduating. Two of her new co-workers had worked together for many years and were very close. Zung Do felt like an outsider. She reminded herself that as a practitioner she should treat everyone kindly. She shared with them her knowledge gained from years of research. They soon realized she was trustworthy and accepted her.
Zung introduced Falun Dafa to her friends and family. Her father recovered from cancer after he began practicing. Her children became more obedient after they began practicing Falun Dafa.
Barbara spent a lot of time taking care of her mother who is in her 90s and very frail. She felt that everything was a heavy burden and she struggled to study the Falun Dafa books with a focused mind. Once she tried to study the Fa while waiting for the company she hired to move her mother's belongings. She kept thinking, "I have read this many times, I already know this." She knew she should not think that way and forced herself to read the book with a calm mind. After reading one lecture, Barbara said that she felt as if a huge weight had been lifted off her shoulders and she felt energized. This experience taught her the importance of studying the Fa with a quiet mind.
Demonstrating the Beauty of Dafa at Work
Sveta, who conducts laboratory tests in a hospital, was asked to work fulltime last year. She was also taking four professional courses. She had to balance work, learning new skills, and finding the time to read the Fa. She credited Dafa for giving her the wisdom to learn new work skills in a short period of time.
Her manager and co-workers were impressed by her ability to handle stress so calmly. They knew she was a Falun Dafa practitioner and asked her about the persecution in China. Sveta said that on one occasion, everyone in the staff room listened quietly as she told them about Falun Dafa. They agreed with the principles of Dafa and said they wanted to learn the exercises.
Sveta also talked about how she told people about the persecution at shopping centers and collected signatures on the petition to end the persecution. She became friends with politicians, doctors, and co-workers on social media and told them about the atrocities taking place in China.
Anna started to work in a nursing home last year. Several co-workers could not finish their work on time and blamed her. The director of the home gave her three warnings in less than two months and told her she would be fired if they received another complaint. Anna calmly explained what happened and the director believed her. Anna reminded herself not to resent her co-workers. She worked hard and cooperated with them. Anna was given a permanent position and the director said her work performance far exceeded their expectations. Her co-workers accepted her, recognizing that she was kind and responsible and always willing to help.
Persisting in Raising Awareness
Peter owns a Chinese restaurant and has been practicing Falun Dafa for 20 years. Due to his long hours, he listens to recordings of the teachings whenever he has time and does the five exercises during his lunch break. Peter said practicing Dafa gives him energy and he is always in a good mood. His hair turned black and he treats his employees better.
Since the Communist regime began persecuting practitioners in China, Peter has been telling politicians and non-governmental organizations about the persecution.
Jenny began to practice Falun Dafa in China in 1997. She spoke about her experience making phone calls to China for the past three years. She studies at least two lectures in Zhuan Falun, the main teachings of Falun Dafa, every day. If she is diligent in studying the Fa, she finds that people are more receptive when she tells them about the persecution.