San Francisco, California: Rally at Chinese Consulate to Condemn CCP Thugs' Attack on Falun Gong Practitioner in Hong Kong
September 28, 2019 | By a Falun Gong practitioner in San Francisco
(Minghui.org) At a rally in front of the Chinese Consulate in San Francisco on September 25, 2019, Falun Gong practitioners condemned the Chinese Communist Party's (CCP) thugs in Hong Kong, who attacked practitioner Liao Qiulan in Lai Chi Kok, Hong Kong, on September 24. Both men were dressed in black and their faces were concealed by black masks. They attacked Ms. Liao with batons typically used by the police.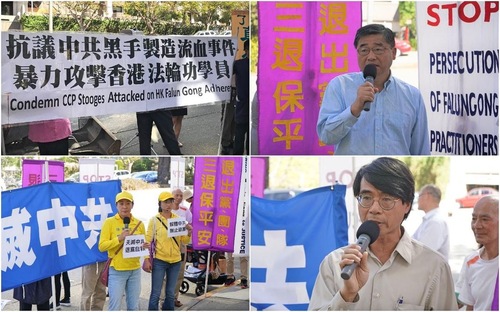 Falun Gong practitioners in the San Francisco Bay Area gather in front of the Chinese Consulate on September 25, 2019. They condemned the CCP's thugs in Hong Kong who attacked a practitioner.
Commentator Lan Shu said, "Ms. Liao was attacked in the afternoon after she visited the Cheung Sha Wan Police Station to apply for a permit to march on October 1, the CCP's National Day.
"Within three minutes after she left the police station, two thugs attacked her. Her head was repeatedly struck and she bled."
He said that Falun Gong practitioners in Hong Kong have held marches and rallies on October 1 every year for more than a decade. The people of Hong Kong know that practitioners' activities are peaceful.
Lan Shu explained that the purpose of these marches is to expose the CCP's cruel persecution of Falun Gong practitioners who practice Truthfulness, Compassion, and Forbearance and to call for an end to the persecution. He condemned the violent attack in Hong Kong.
Wu Junxiang, a Falun Gong practitioner from the San Francisco Bay Area, pointed out, "Falun Gong practitioners have peacefully protested the persecution for the past two decades. This bloody and violent attack on a Falun Gong practitioner in Hong Kong highlights the true nature of the CCP."
Rachel, a Falun Gong practitioner from Hong Kong, said, "I lived in Hong Kong for 16 years. Hong Kong is now completely different from before the CCP took control."
She said the CCP has infiltrated Hong Kong extensively. It has also infiltrated the entire world through the Internet and other aspects. She feels everyone should stand up and protest the CCP.