Auckland, New Zealand: Practitioners Learn from Each Other at Experience-Sharing Conference
September 25, 2019 | By a Minghui correspondent in New Zealand
(Minghui.org) The 2019 New Zealand Falun Dafa Experience-Sharing Conference took place on September 21 at the Mount Albert War Memorial Hall in Auckland. Seventeen practitioners talked about how they have followed the principles of Truthfulness-Compassion-Forbearance to improve themselves and become better citizens. They also discussed how they tell people the facts about Falun Dafa to debunk the Chinese Communist Party's (CCP) inflammatory propaganda.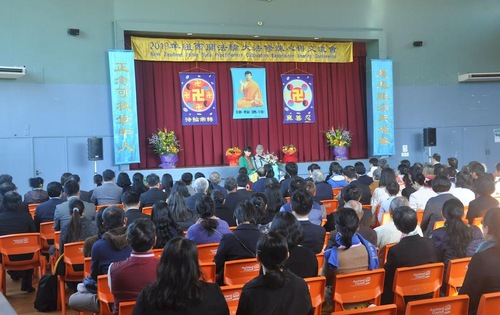 The 2019 New Zealand Falun Dafa Experience-Sharing Conference in Auckland
Seriousness of Cultivation Practice
Ms. Mai Shanshan spoke about how she had listened to Mr. Li Hongzhi's (the founder of Falun Dafa) lectures in 1998, but did not start to practice at that time. She was too heavily influenced by secular society and the CCP culture, so she continued to struggle for fame and material gain. Her family environment was also stressful.
However, Master Li did not abandon her. One day in the winter of 2013, she lost consciousness due to a severe cerebral hemorrhage and was rushed to the hospital. After she regained consciousness, the doctor said her memory would be fine, but she had suffered nerve damage on her right side that would very likely cause paralysis. Living in pain and counting the days, Ms. Mai did not know how long her suffering would last.
Fortunately, a practitioner got in touch with her and started teaching her the exercises and studying the Fa with her. She did the exercises every day and followed the principles of Truthfulness-Compassion-Forbearance to improve her xinxing. As time passed, her family relationships improved, and she found that she had recovered her health without really realizing it. Within one month, she could walk on her right leg again as it was no longer disabled. She was very grateful.
Ms. Mai also realized that cultivation practice is serious. Many issues may seem trivial, but if we ignore them, big problems can arise. One day at midnight, her husband, who is also a practitioner, was suddenly shaking with a pale face and fatigue. She sat down to send forth righteous thoughts and looked within. "He is leading a news media project. Have I supported him and cared for him all the time?" she asked herself. She sent forth strong righteous thoughts to clear out any interference.
Her husband later said that the interference was very strong and he felt a lot of pain. He also sent forth righteous thoughts and looked inward, while asking Master Li for help. He said that right after Ms. Mai began to send forth righteous thoughts for him, he felt much better. From this, they understood more deeply that cultivation practice is very serious and that one always needs to look within to improve him or herself in the process.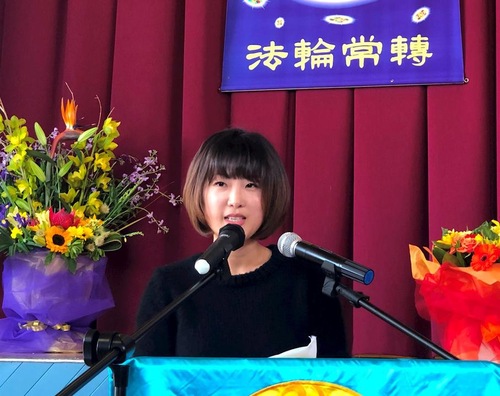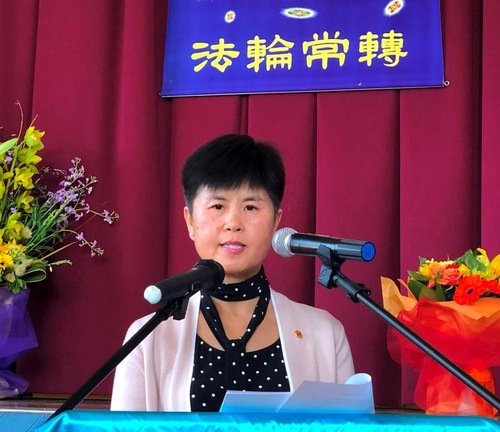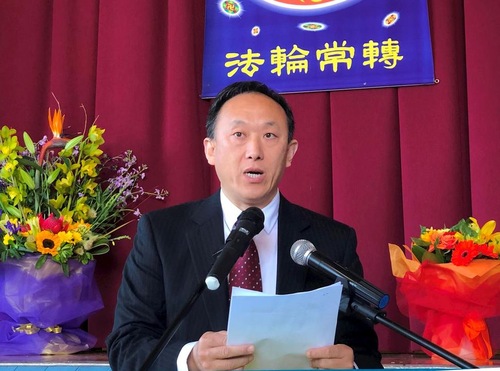 Practitioners share the benefits and joy they have received from Falun Dafa
Working Together to Validate the Fa
Weili's mother used to suffer from diabetes, high blood pressure, gallbladder problems, and eye diseases. After she began to practice Falun Dafa, all of her symptoms disappeared. Weili was impressed that her mother was now free of illness and also started to practice in 1997. Shortly after that, her heart disease, gynecological issues, and stomach problems also disappeared.
Weili often goes to a farmers' market in Auckland with other practitioners to tell Chinese people how the CCP has persecuted people during its numerous political campaigns. They also recommend quitting the CCP organizations. Regardless of the weather, these practitioners have maintained their presence and have worked well with each other. Many people have renounced their memberships in the CCP organizations. Weili has also identified areas that she needed to work on to improve her xinxing, such as ridding herself of her attachments to zealotry, looking down on others, and resentment.
In 2013, several CCP agents went to the market and slandered Dafa to interfere with practitioners' efforts to clarify the facts about the practice. Thinking of how they needed to validate the Fa as Dafa practitioners, Weili shared her understandings about the situation, and more practitioners went to the market each week to put up banners and play audio recordings of the Nine Commentaries on the Communist Party. They also obtained a permit for group exercises.
In the end, the CCP agents left. One of them gave Weili and other practitioners a thumbs up, "What you do is indeed righteous!" Weili is very thankful for Master Li's compassionate help through the years.
A Special Trip to India
Winnie Mi, a practitioner from New Zealand's capital city of Wellington, said she often talks with people she comes across about Falun Dafa and shares the physical and spiritual benefits she has received from the practice.
"For a while, I lived with an Indian girl, whose family later came here for a vacation. After another practitioner and I told them about Falun Dafa, the mother learned the exercises from me and invited me to take a trip to India," she recalled.
Because of her tight budget, Winnie had a long debate about whether she should make the trip. She did provide the mother with Indian practitioners' contact information, but her roommate's mother insisted that she go there.
"Thinking this could be a hint from Master for me to tell more people about Dafa, I decided to go," she said. With help from other practitioners, she purchased an airline ticket for a relatively low price and secured a visa for the trip.
She arrived at the airport and obtained her boarding pass. She then learned that the flight had been changed. Then at her stop-over city, the television screen did not display her connecting flight. She finally heard about her new flight from an information booth, but the flight had already started boarding. She eventually boarded the plane and listened to Master's audio lecture throughout the entire flight.
The rest of the trip went very smoothly. Over the course of a week, she taught the mother and her friends—more than 20 of them—the exercises. She also worked with other local practitioners to hold an event to introduce the meditation to local residents. Over the following days, they went to a park in the city center each morning to teach the exercises, and tell people about the practice.
"One woman told me that the region had not seen rain for a long time and drought had plagued the area," explained Winnie, "During those days when we introduced Dafa to people, it rained every day with a breeze, making the dusty city refreshed and rejuvenated." The woman, along with her husband and elderly mother-in-law, all learned the exercises from Winnie.
Making Phone Calls to China
Ms. Huang Huixian began to practice Falun Dafa in 1997 and she has been making phone calls to China for the past six years. The recipients of her calls are primarily police officers, procuratorate staff, court staff, Political and Legal Affairs Committee (PLAC) members, people working for the 610 Office, and people who work in hospitals where Falun Dafa practitioners could become victims of forced organ harvesting.
To help these people accept that Falun Dafa is a good practice, Ms. Huang studies Master Li's teachings well. She is then able to address the recipients' questions and tell them the consequences of siding with the CCP to do bad deeds. She keeps up to date with current events related to China and tells the call recipients about them.
Throughout the years, she has talked with many people who had been involved in persecuting practitioners, ranging from mayors and party secretaries, to directors of police departments, justice bureaus, courts, procuratorates, the PLAC, 610 Office, and other agencies. "But there are still many people who do not know the real story of Falun Dafa and blindly follow the CCP to harm innocent practitioners. That is why we have to do better," she added.
Selflessness and Compassion
Irene has always tried to follow the principles of Truthfulness-Compassion-Forbearance since she began to practice Falun Dafa. She wanted to become more considerate of others. She decided to help maintain a quiet environment during group Fa-study, so she volunteered to take care of the children.
The ages of these children range from 1 to 10, and sometimes more than 10 children are in the group. It may sound easy to keep them together, but it can be very tedious and tiring. "In particular, it requires a lot of patience and wisdom," she explained. With help from Master Li, Irene has worked with other practitioners and they have made significant progress in the past year. The children no longer run around during Fa-study and some of them can now sit well during the meditation, or recite Hong Yin, a collection of poems from Master Li.
Throughout this process, Irene has felt the joy of cultivating toward selflessness. "Only by letting go of ourselves and resentment can we really achieve selflessness and compassion," she said.