Washington DC: Film Letter from Masanjia Screened in Congressional Building
September 25, 2019 | By a Minghui correspondent
(Minghui.org) The documentary film Letter from Masanjia was screened in the Rayburn House Office Building on Capitol Hill, Washington DC on September 20, 2019. Several congressional staffers attended the screening. Director Leon Lee answered questions from the audience via a video conference.
The film tells the story of Sun Yi, a Falun Gong practitioner. To call attention to his and other practitioners' plight he hid a letter in a Halloween decoration that he was forced to make at the Masanjia Labor Camp, in Liaoning Province, China.
In the letter, he described the hardships of being a slave worker in Masanjia and hoped that whoever saw the letter would forward it to an international human rights organization.
After Julie Keith from Oregon opened the box and read the letter she took steps to expose the situation. By this time, Sun Yi had been released from the labor camp for over two years.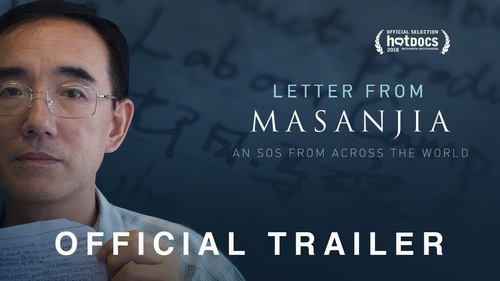 The documentary film, Letter from Masanjia, was screened at Rayburn House September 20, 2019.
Several viewers were moved to tears during the film. During the discussion, one person asked director Leon Lee, "What do you want the audience to learn from the film about China?"
Lee said, "Although China has stated that it has closed its labor camps, no matter how China says its human rights have improved, this documentary is a true story. This is what you cannot see if you go to China for two weeks or even two years.
"More importantly, Sun Yi's story is not just a single case. In China, there are many people who are fighting for their rights. What they need is our concern for them and to help them."
He added, "People ask me, 'What can we do? China seems to be very powerful.' What I personally learned from Sun Yi's story is that sometimes a small move may lead to a big change. Neither Sun Yi nor Julie could imagine the impact their choice would have."
He also raised a question for the audience, "Sun Yi said that he wrote twenty letters asking for help. So where did the other 19 letters go? Maybe someone received one but just discarded it. So if each person who sees this film does what they can, just like Julie, your choice may have a big impact."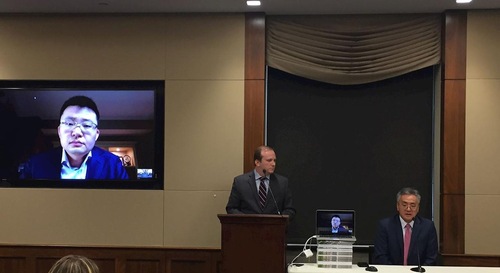 Director Leon Lee (video), moderator Eric Meltzer and Larry Liu spokesperson for the Washington DC Falun Dafa Association, answered questions after the film screening.
Larry Liu, a spokesperson for the Washington DC Falun Dafa Association, said that many people saw this movie and thought it was Sun Yi's story. He felt this was also Julie's story. He feels she's a heroine. She did not give up after failing to get a response from human rights organizations. She contacted reporters from her local media.
Eric Meltzer, the host of the film screening, told the audience that the CCP's means of persecution of Falun Gong practitioners and torture were also used to persecute Uighurs (the ethnic Muslim group in China). The common point is that they all are targets of the CCP's state-sanctioned live organ harvesting.
Traditionally Asian cultures maintain the integrity of a person's remains after death. Because of this there are few organ donors in China or other Asian countries. This calls into question the fact that after the persecution of Falun Gong began, the number of organ transplants in Chinese hospitals increased substantially.
The time to wait for matching organs is just a few weeks to a month. This is because China has carried out the on-demand killing of Falun Gong practitioners and Uighurs.