Cyprus: Falun Dafa Activities Draw Support in Larnaka
Sept. 24, 2019 | By practitioners in Cyprus
(Minghui.org) Practitioners of Falun Dafa gathered in Larnaca on September 15, 2019 to raise awareness about the meditation and the persecution in China.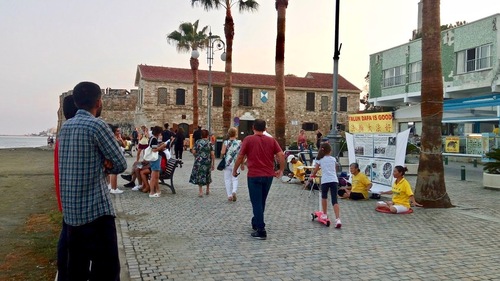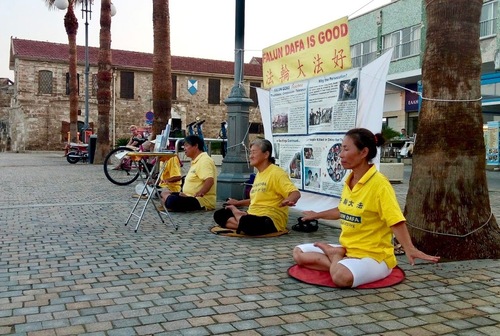 Many people stopped to watch the exercise demonstration, ask questions, and express support.
A Cypriot businessman who lives in London said it is a shame that this peaceful practice is persecuted. He said he sees people practicing similar things in the parks in London and it is good and beneficial.
A middle-aged couple from Nicosia with their two adult daughters were standing for a long time watching the practitioners and waiting to hear more about Falun Gong. The father who is a courier asked to know where he can find someone to teach him the exercises. He then asked how can one reach tranquility in meditation. Practitioners explained how tranquility is reached gradually, becoming deeper with more practice and the process of cultivating one's character.
A couple stood next to the practitioners. The husband told the volunteer that he sensed the strong energy of the practice. When he was informed about the persecution, he and his wife signed the petition to bring Jiang Zemin to justice.
A yoga teacher also wanted to help and signed as well. She said, "I am not looking to learn another method, but I would like to help."
One woman asked how these innocent people could be persecuted in China. She said, "It looks so peaceful. If everyone practiced this, our world would be different today."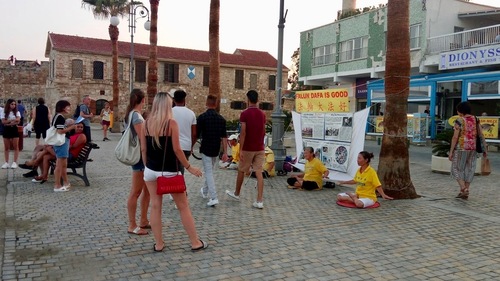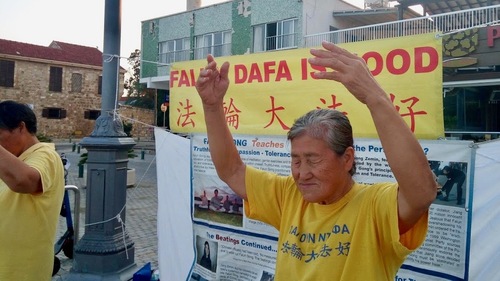 A retired midwife from Nicosia district was also bewildered as to why Falun Gong is persecuted. She was told that the Chinese regime persecutes the Chinese culture and the belief in the divine. The woman found the exercises very good and expressed interest in joining the practice site in Nicosia.
Many local people from Larnaca were interested for the next session of Falun Dafa exercises, which is to be held on the beach next to the medieval castle.