Germany: Falun Dafa Booth Raises Awareness about the Meditation and Persecution in China
Sept. 24, 2019 | By a Falun Dafa practitioner in Germany
Falun Dafa practitioners from Stuttgart and surrounding set up a booth in downtown Stuttgart to raise the awareness of the brutal persecution in China.
Stuttgart is the capital and largest city of the German state of Baden-Württemberg. Several major companies are headquartered in Stuttgart, including Porsche, Bosch, Mercedes-Benz, Daimler AG, and Dinkelacker Beers.
They set up a tent on King Street (Königstraße), a famous pedestrian only street where many shops and eateries attract lots of locals and visitors.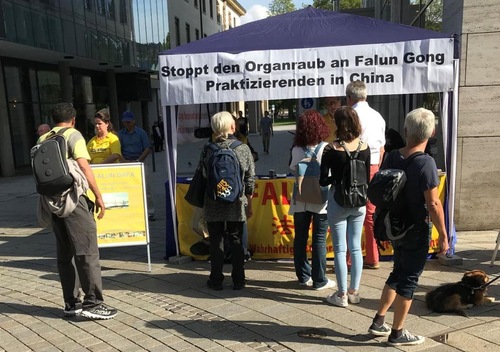 People stop by Falun Dafa booth to learn more about the practice as well as the persecution in China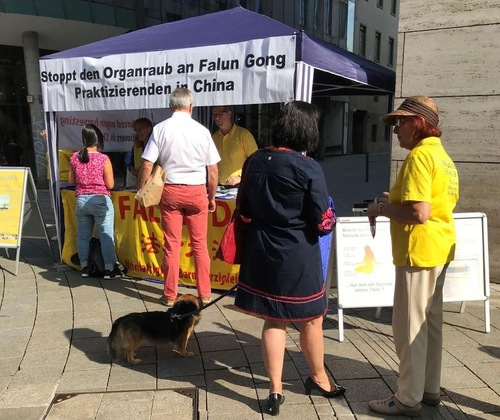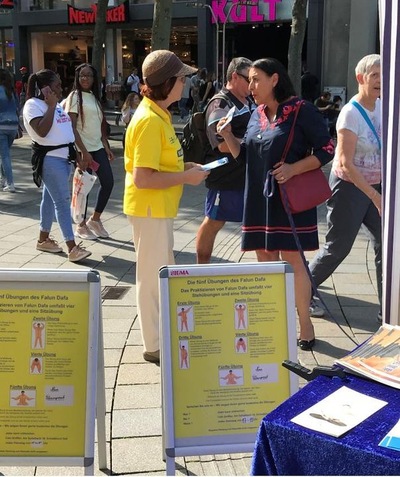 Passersby show interest in Falun Dafa
While a practitioner was talking to a young lady about her experiences of practicing Falun Dafa, the word "meditation" caught the attention of an older lady who was walking by. She stopped and joined the conversation. After hearing that practitioners in China were imprisoned for their belief, and many had their organs removed for sale to transplant patients, she immediately signed a petition condemning the organ harvesting atrocities.
An old couple brought their grandson to the booth. They signed the petition, and said they wanted the boy to learn some facts about the practice, and the persecution, since he is still too young to sign a petition.
A German couple said they knew the Chinese Communist Party had killed many students in Tiananmen Square on June 4, 1989, but they were still shocked to learn that the communist regime has been harvesting organs from Falun Dafa practitioners. The husband commented that he often felt lack of freedom in Germany, but it is still much better than in China. He wished the young generation in China would learn the history and the truth, and recognize the propaganda of the communist regime.
A young woman from Italy talked with practitioners in English and later she shared the information with a young man from Romania. Both of them signed the petition.
Many Chinese came by the tent and accepted informational materials about Falun Dafa and the persecution.
At this event, practitioners collected about 100 signatures and passed out more than 1,000 fliers.