Czech Republic: Rallies and Parade in Prague Call for an End to the Persecution of Falun Dafa in China
September 22, 2019 | By Falun Dafa practitioners in the Czech Republic
(Minghui.org) Falun Dafa practitioners from different parts of the Czech Republic held a rally on September 7, 2019 outside of the presidential residence in Prague. A parade was held after the rally to introduce Falun Dafa to the public and call for an end to the 20-year-long persecution in China.
The parade started at the presidential residence.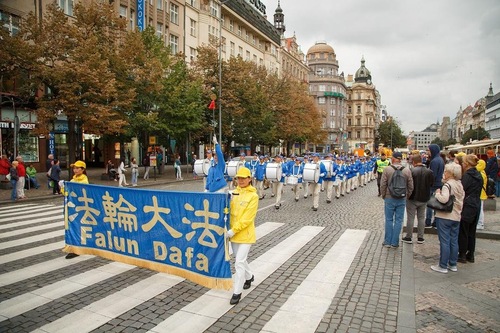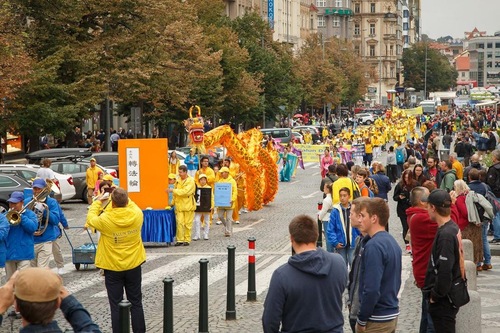 The parade passes through a busy district in Prague.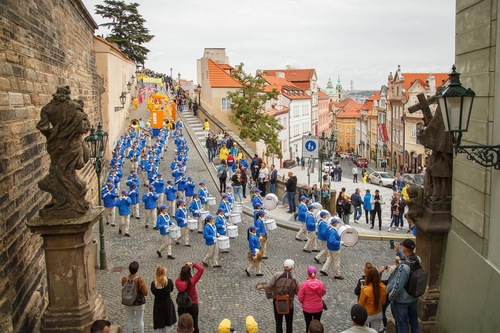 The parade moves towards Charles bridge.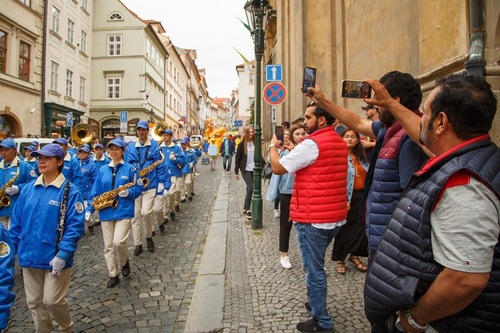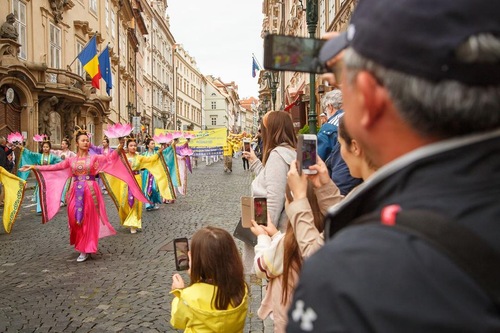 Spectators take photos and videos of the parade.
The Tian Guo Marching Band led the parade and was followed by dragon and lion dancers, heavenly maidens, waist drummers, banners about the spread of Falun Dafa worldwide, and demonstrations of the Dafa exercises.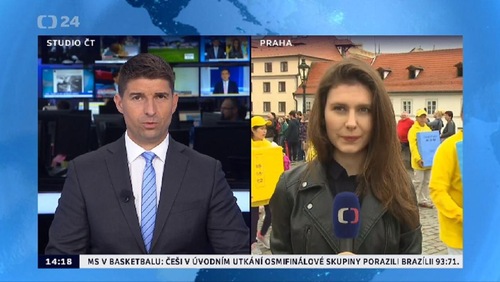 Live broadcast of the parade by CT24 television station
CT24, a national television station, broadcast the parade live. The hosts introduced Falun Dafa as a peaceful practice with origins in ancient Chinese traditions that focus on cultivating one's moral values.
The parade passed through busy city districts, Charles bridge, and ended at the old town square. Practitioners then held a second rally at the old town square and broadcast information in English, Czech, and Chinese about the persecution of Falun Dafa in China, including the state-sanctioned killing of Falun Dafa practitioners in China for organs.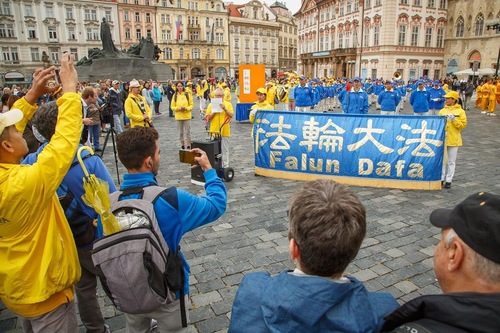 Falun Dafa practitioners held a rally at the old town square
According to Veronika, one of the parade organizers, the activities were held to raise awareness of the human rights atrocities happening in China.
"For 20 years now, the Chinese Communist regime has been torturing Falun Dafa practitioners who follow the principles of Truthfulness-Compassion-Forbearance," she said. "They have been arrested, beaten, and their organs harvested by force and then sold for a profit. We hope to let more people know about this persecution. Let's come together and help stop it."
Local residents and tourists were interested in seeing the exercise demonstrations and the energetic performances of the Tian Guo Marching Band. Many people took fliers about Falun Dafa, while others talked to practitioners about Falun Dafa and the persecution.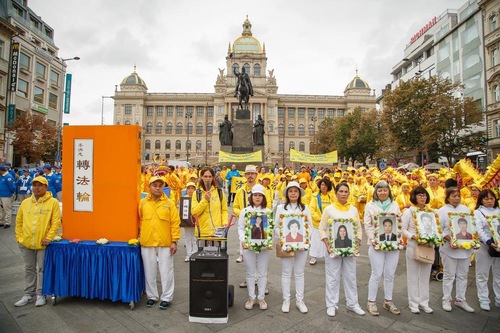 Falun Dafa practitioners hold a rally at Wenceslas Square
The last activity of the day was a third and final rally held at Wenceslas Square, the center of Prague's business district.