India: Introducing Falun Gong at Bangalore Independence Day Flower Show
September 02, 2019 | By a Minghui correspondent in India
(Minghui.org) Practitioners of Falun Gong, also called Falun Dafa, in South India participated in the annual Independence Day flower show in Lalbagh Botanical Garden in Bangalore from August 10 to August 18, 2019.
Almost one million people attended the popular flower show over the course of the week. Practitioners introduced the traditional self-cultivation practice to many of the show attendees and also explained how the Chinese Communist Party (CCP) persecutes innocent practitioners in China.
The Falun Gong booth was in a great location for foot traffic. Practitioners demonstrated the five sets of Falun Gong exercises and distributed introductory flyers. Many people told practitioners that they were just hearing about Falun Gong for the first time. Crowds of people watched the exercise demonstrations and showed great interest in learning the exercises. A number of people bought Falun Gong books.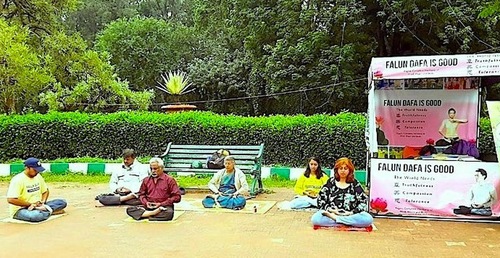 Falun Gong practitioners demonstrate the exercises at the Independence Day Flower Show in Lalbagh Botanical Garden in Bangalore.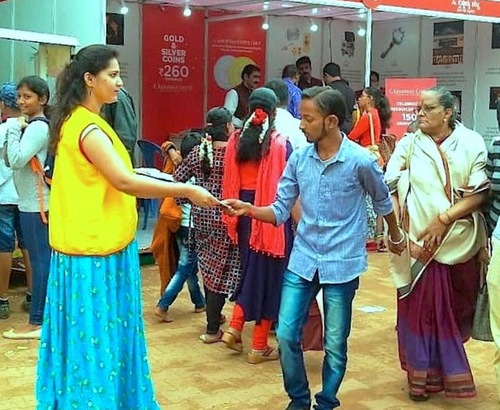 A Falun Gong practitioner distributes introductory flyers.
An ice cream vendor across from the Falun Gong booth was so fascinated by the exercises that he almost forgot about his ice cream. He said he enjoyed watching the exercises and listening to the beautiful exercise music. He asked practitioners for information about where and when they have group exercise sessions and said he planned to go learn the exercises.
Some passersby felt the strong energy of Falun Gong and stopped to watch the exercises. Many people said they were surprised to hear that such a great exercise practice was persecuted by the CCP in China. Many of the flower show attendees said they condemned the CCP's crime of harvesting organs from living Falun Gong practitioners and added that the CCP's evilness was beyond imagination.