Moon Festival Greetings to Master Li from Practitioners in 40 Countries and Regions
(Minghui.org) Practitioners in 40 countries have submitted greetings to Minghui expressing their gratitude to Mr. Li Hongzhi, the founder of Falun Dafa. On this special occasion of the Mid-Autumn Festival (also known as the Moon Festival), they are very thankful for the physical and mental benefits they have derived, along with the positive changes the practice has brought to society.
These places are China, United States, Canada, New Zealand, Japan, Finland, South Korea, Spain, United Kingdom, Germany, Turkey, France, Malaysia, Brazil, Hong Kong, Thailand, Russia, Denmark, Indonesia, Australia, Taiwan, Macao, Sweden, Norway, Czech, Slovakia, Poland, Italy, Ukraine, Romania, Holland, Austria, Ireland, Belgium, Switzerland, Vietnam, Singapore, Iran, Philippine, and United Arab Emirates.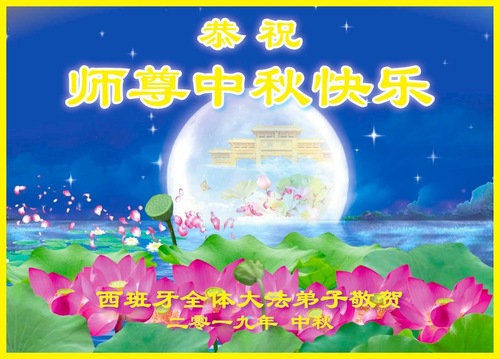 Falun Dafa practitioners in Spain wish Master Li a Happy Moon Festival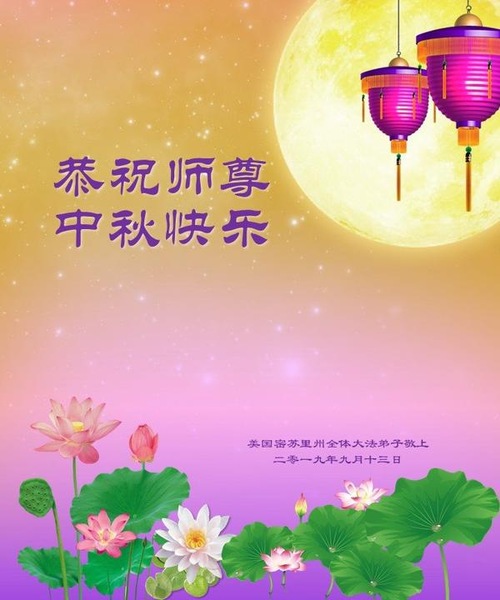 Greetings from practitioners in Missouri, United States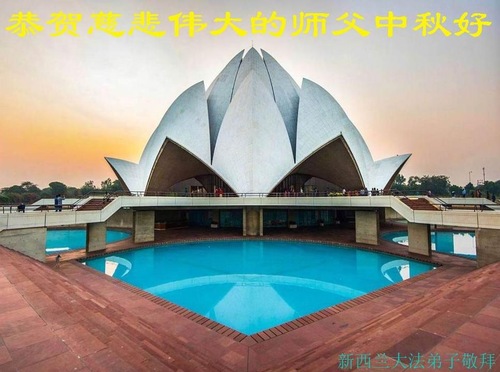 Greetings from practitioners in New Zealand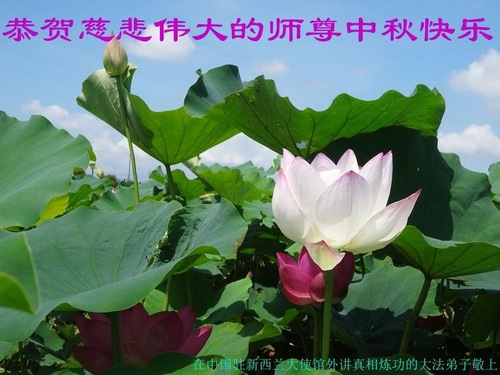 "Wish Master Li a Happy Moon Festival!" wrote practitioners who often go to the Chinese Embassy to tell people about Falun Dafa and debunk the hate propaganda from the Chinese Communist Party (CCP)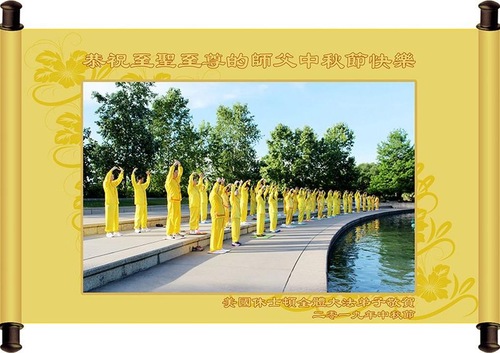 Greetings received from Falun Dafa practitioners in Houston, Texas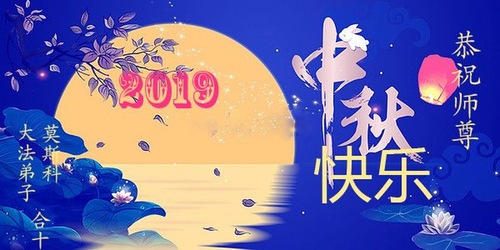 "We are very thankful for the compassionate salvation from Master Li," wrote practitioners from Moscow, Russia, "You have suffered so much for us and our gratitude is beyond words."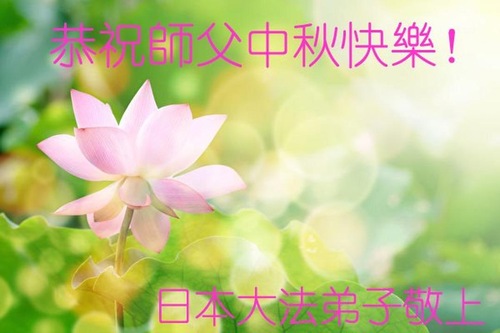 Japanese practitioners wish Master Li a Happy Moon Festival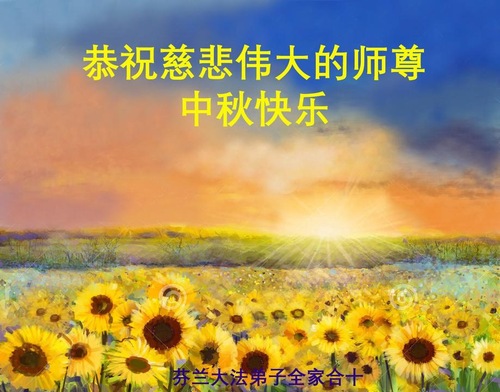 Practitioners in Finland said they are indebted to Master Li's sacrifice and compassion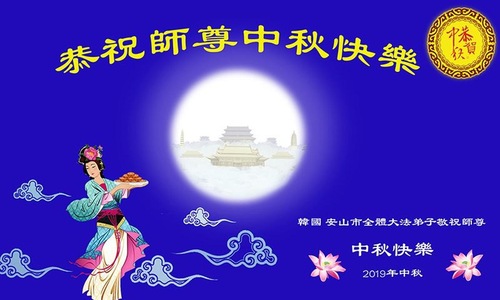 Greetings from Falun Dafa practitioners in Anshan, a city near Seoul, South Korea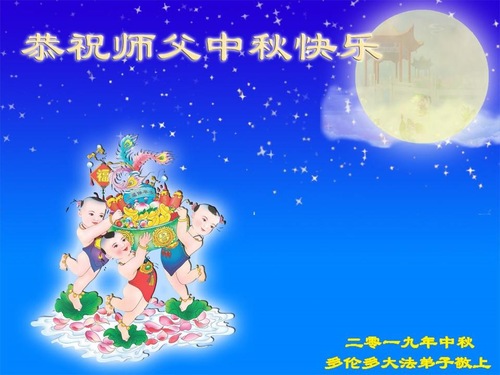 Toronto practitioners wish Master Li a Happy Moon Festival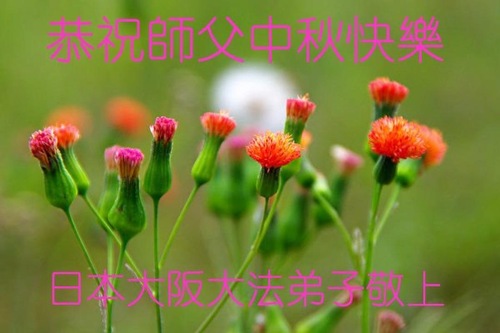 Practitioners in Osaka will improve themselves based on the principles of Truthfulness-Compassion-Forbearance and help Master save sentient beings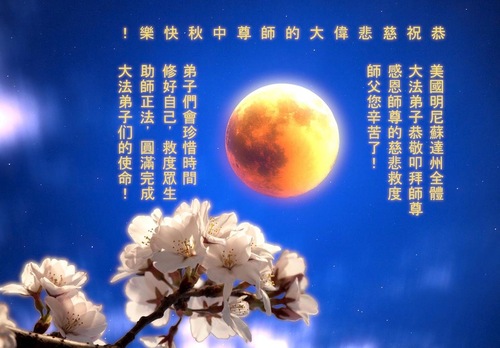 Practitioners in Minnesota, United States, will make the best use of their time to align with Falun Dafa principles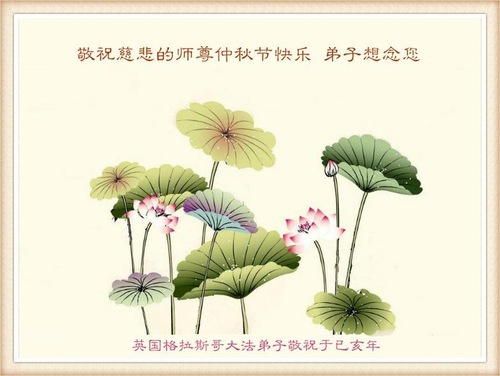 Falun Dafa practitioners in Glasgow, Scotland, miss Master Li very much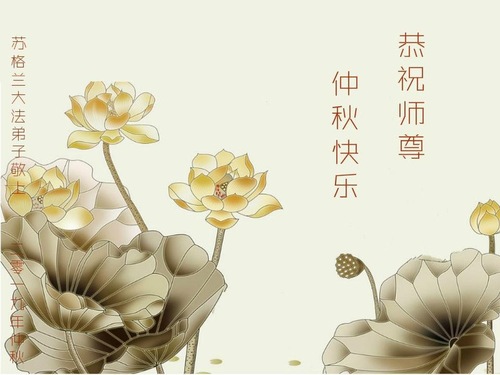 Another greeting from practitioners in Scotland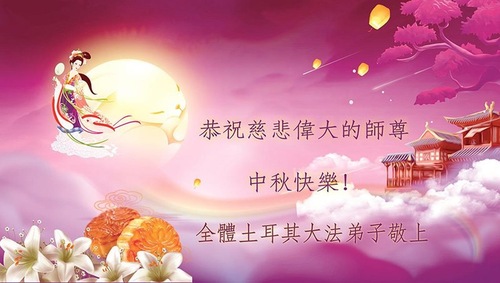 Greetings from practitioners in Turkey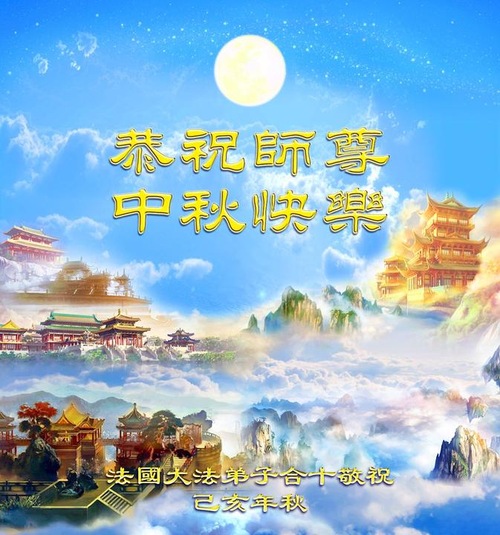 Practitioners in France contributed a poem titled "Gratitude in the Autumn",High in sky the moon is clear and bright,just like blessings brought everywhere by Falun Dafa;Happy and rejoiced for salvation towards a better future,people from around the globe are grateful for Master's nurturing."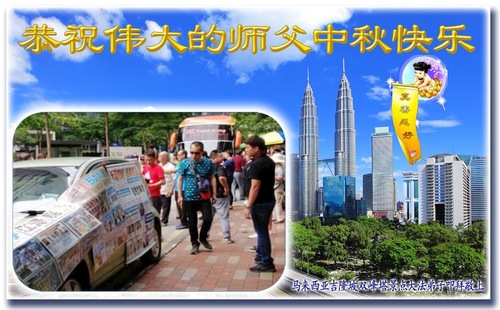 Greetings submitted by practitioners who often go to Petronas Twin Towers touring site in Kuala Lumpur, Malaysia, to tell tourists about Falun Dafa
Practitioners in Saipan wish Master Li a Happy Moon Festival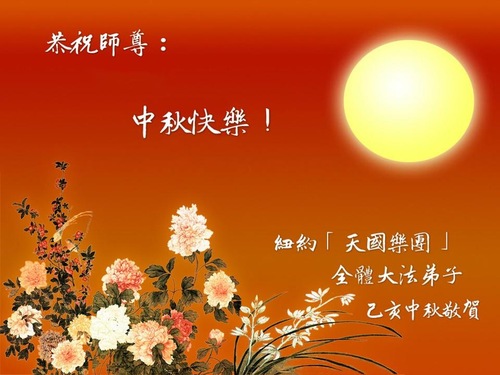 Greetings from practitioners in Tian Guo Marching Band in New York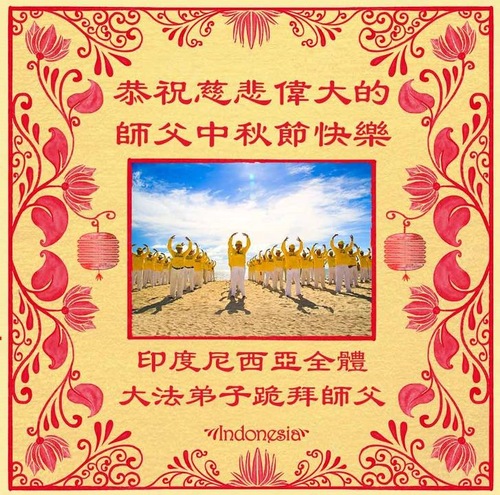 Falun Dafa practitioners from Indonesia submitted a greeting, "We have walked a long way in cultivation practice. We are very thankful and will do better in following the principles of Truthfulness-Compassion-Forbearance."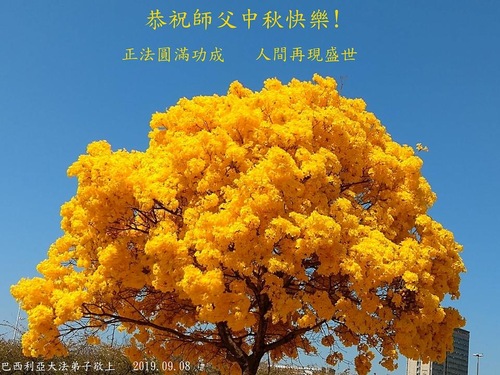 Greetings from Brasilia, the capital city of Brazil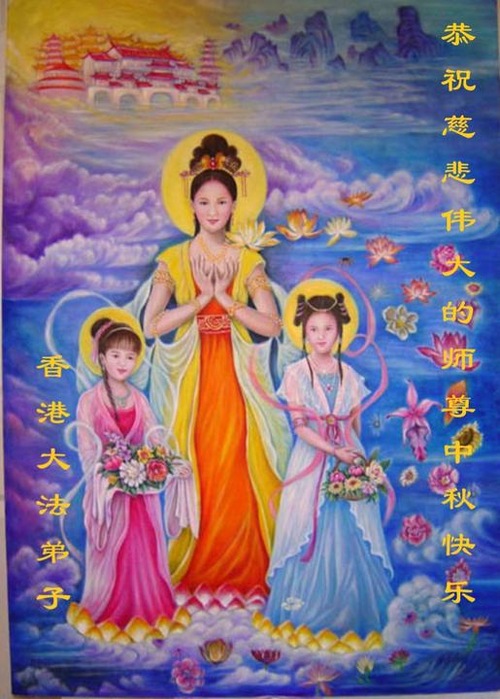 "Master Li, we all wish you a Happy Moon Festival," wrote practitioners in Hong Kong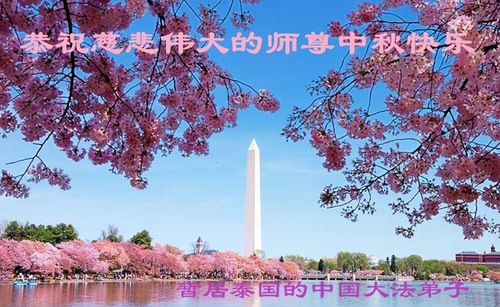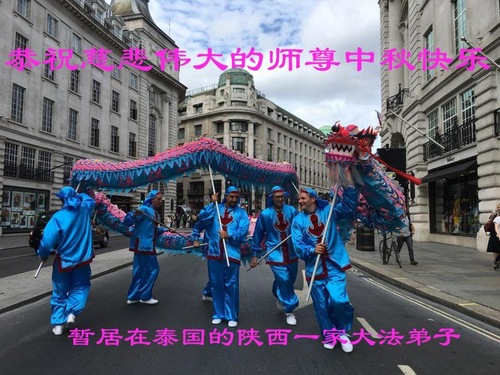 Falun Dafa practitioners in Thailand submitted two greetings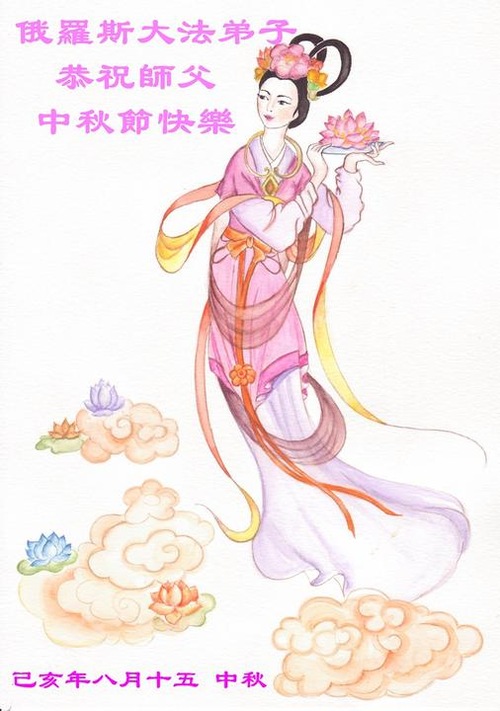 Another greeting from practitioners in Russia, "We hope more people could learn the real story of Falun Dafa and benefit from the practice."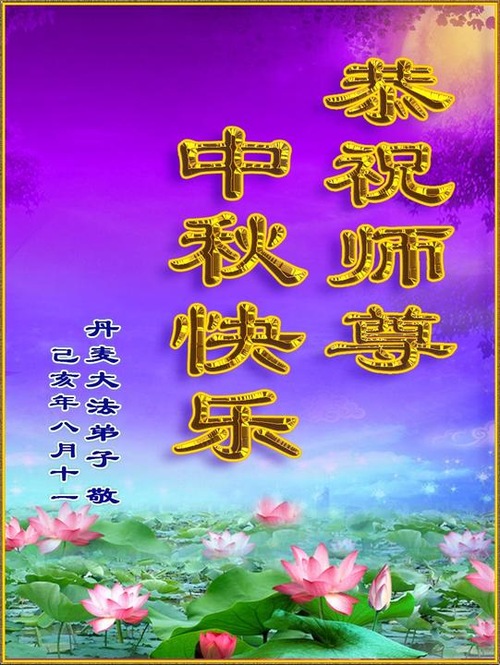 Greetings from Falun Dafa practitioners in Denmark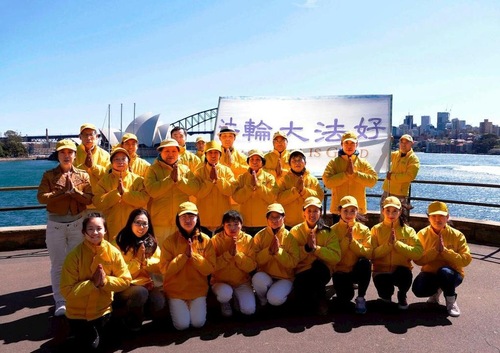 "We always miss you very much during the holidaysfor the great teachings uplift mind and body;Studying the Fa principles and saving people compassionately,are what we are doing at the tourist sites."
Submitted by Falun Dafa practitioners who often go to tourist sites in Sydney, Australia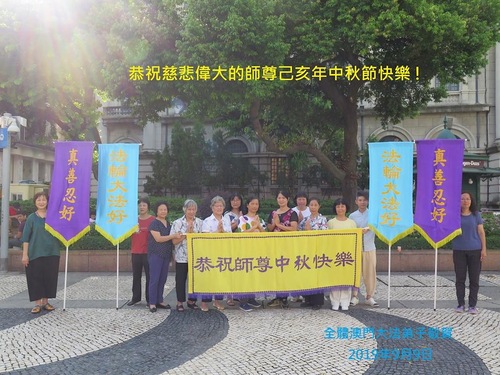 All Falun Dafa practitioners in Macao want to thank Master Li for everything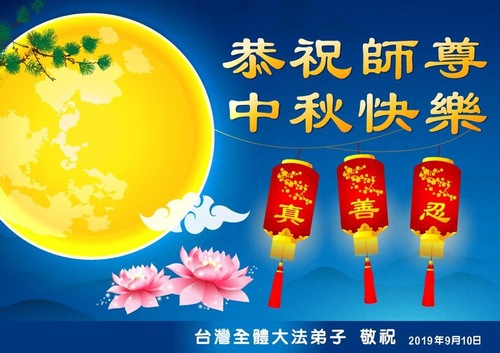 Greetings from practitioners in Taiwan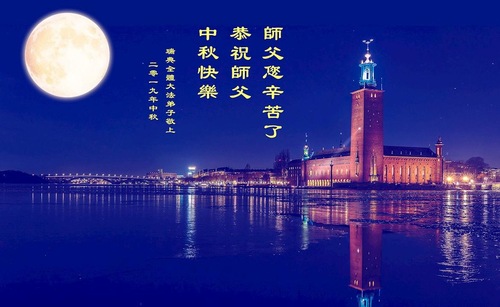 "Thank you Master Li for your sacrifice and compassion in saving us," wrote greetings from Sweden

Practitioners in Norway are grateful for the guidance in life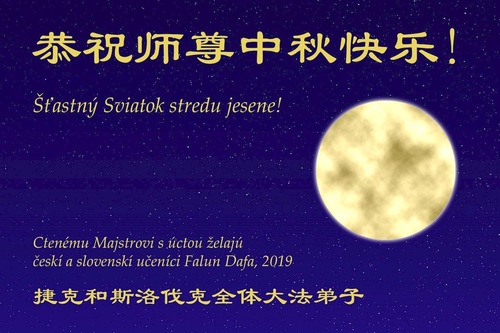 "Stastny Sviatok stredu jesene" (Happy Moon Festival!) wrote practitioners in Slovakia
Greetings from Falun Dafa practitioners in Poland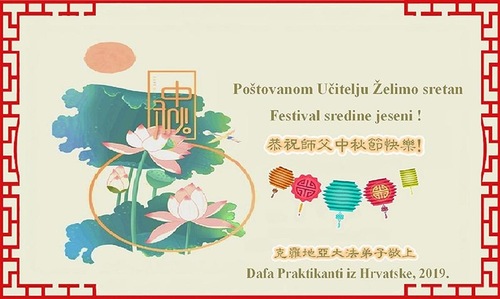 "Poštovanom Ueitelju Želimo sretan Festival sredine jeseni!" (Dear Master, We wish you a happy Mid-Autumn Festival!), wrote practitioners from Croatia
Practitioners in Romania send greetings to Master Li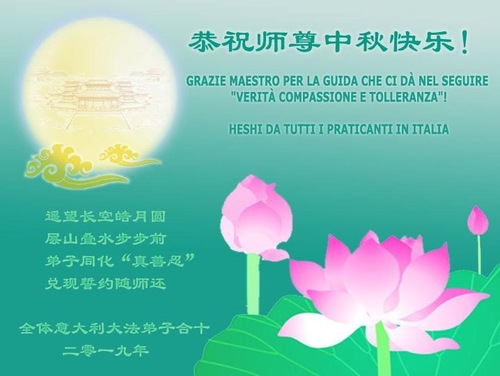 Greetings from Falun Dafa practitioners in Italy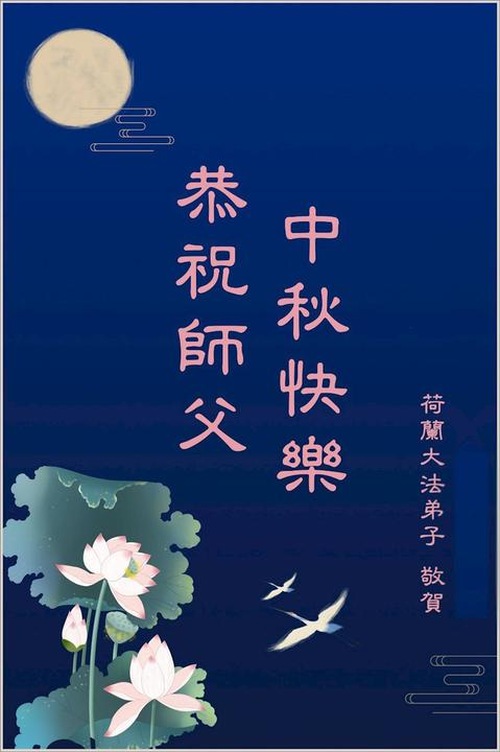 "Thank you, Master Li, for everything," wrote practitioners in Austria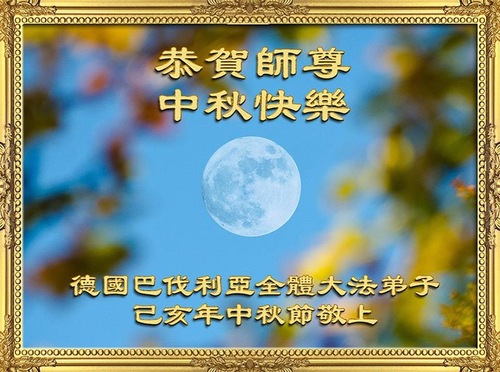 Practitioners in Bavaria, Germany, wish Master Li a Happy Moon Festival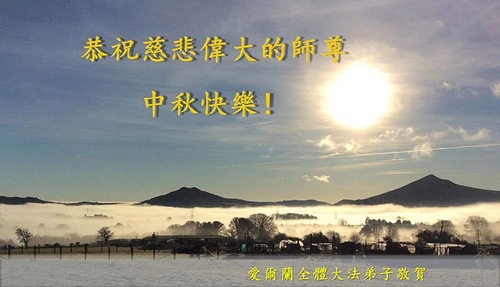 Greetings from Falun Dafa practitioners in Ireland
Practitioners in Belgium send seasonal greetings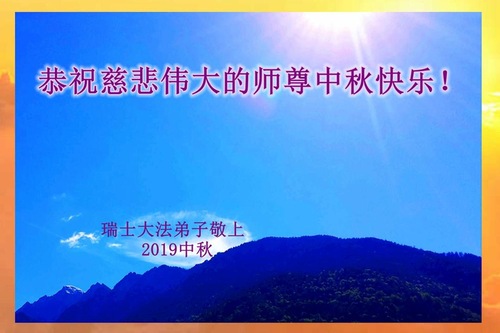 Falun Dafa practitioners in Switzerland thank Master Li for all the blessings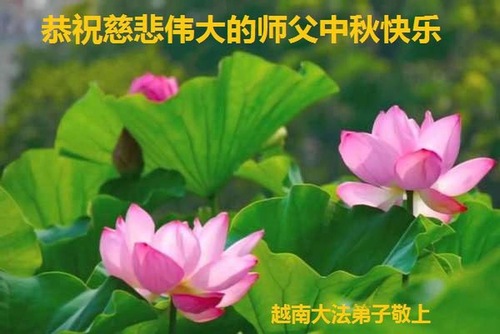 Vietnamese practitioners are grateful for Master Li's salvation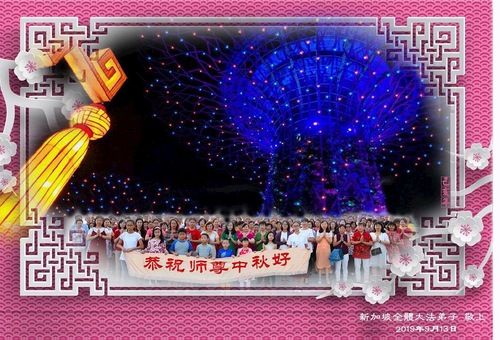 Greetings from practitioners in Singapore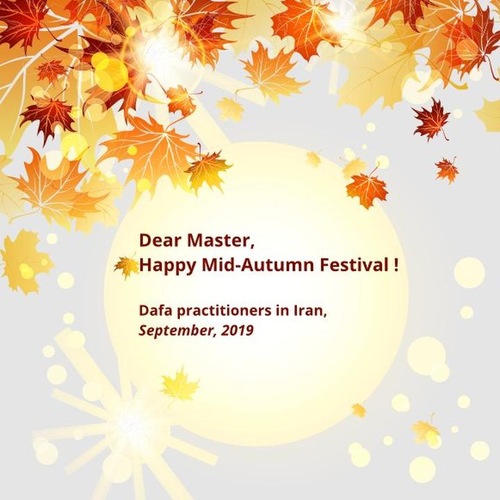 Falun Dafa practitioners in Iran thank Master Li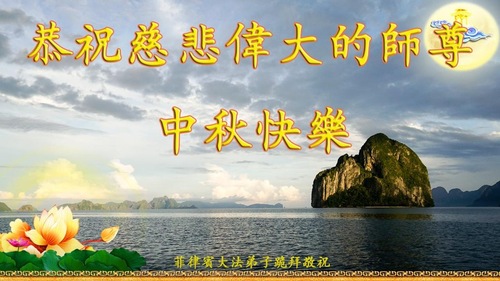 Greetings from practitioners in the Philippines
"Dear Master Li, please accept our most sincere gratitude for your compassion in saving us and the rest of sentient beings. We wish you a Happy Moon Festival!" wrote practitioners in Dubai, United Arab Emirates