Falun Dafa Practitioners in Education Wish Master Li a Happy Mid-Autumn Festival
September 12, 2019 | By a Minghui correspondent
(Minghui.org) "I was so fortunate to have had the opportunity to be introduced to Falun Dafa. Thank you, Master, for everything you've done for me! I can only repay you by cultivating myself more diligently and sharing the beauty of Dafa with more people," wrote a Falun Dafa practitioner in his greeting to wish Master Li a Happy Mid-Autumn Festival.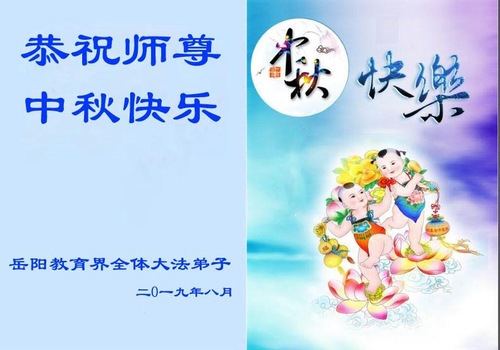 As the Mid-Autumn Festival draws near, Falun Dafa practitioners around the world are sending their sincerest greetings to Minghui.org to express their gratitude for the practice and to wish Master Li, the founder of the practice, a happy holiday.
They vowed to cherish the time and everything they have and to cultivate themselves diligently.
This article is a collection of greetings received from practitioners in education from the following regions:
BeijingTianjinChangchun City, Jilin ProvinceFuyang City, Anhui ProvinceYueyang City, Hunan ProvinceDazhou City and Chengdu City, Sichuan ProvinceQinhuangdao City and Shijiazhuang City, Hebei ProvinceQingdao City, Laiyang City, Penglai City, and Weifang City Shandong Province
As well as:Jiangxi Engineering Vocational CollegeChinese Academy of Sciences