Toronto, Canada: People Learn about Falun Gong at Korean Harvest Festival
September 01, 2019 | By a Falun Gong practitioner in Toronto
(Minghui.org) Falun Gong practitioners were invited to participate in the annual Korean Harvest Festival August 24-25, 2019. The event was held on Mel Lastman Square in front of North York City Hall, Toronto, Canada.
According to the organizer, the event attracted around 35,000 people. Many stopped by the Falun Gong stand to get more information and to learn the exercises.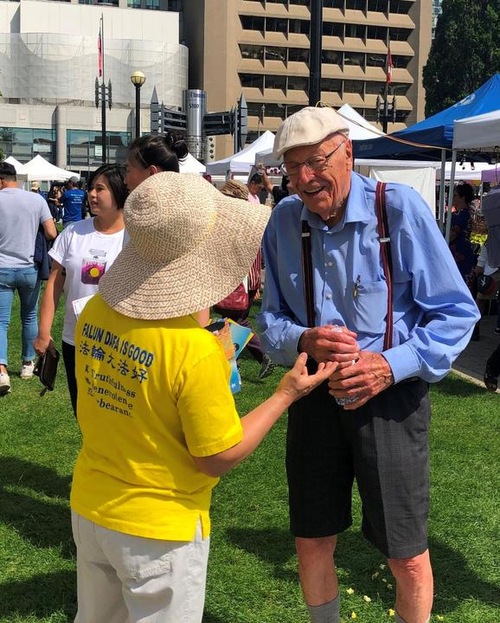 People learn about Falun Gong during the Korean Harvest Festival held August 24-25.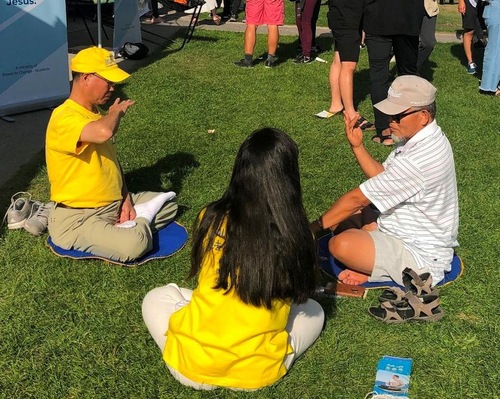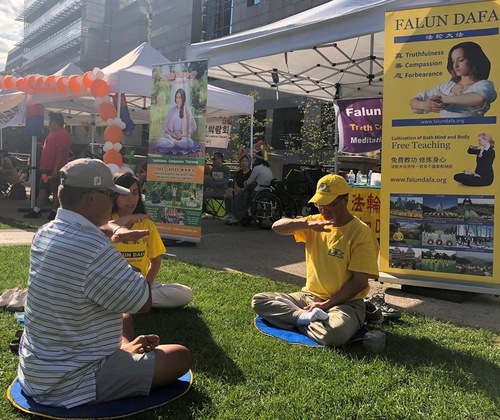 People learn Falun Gong meditation.
"I Felt Strong Energy"
Karen, a local resident
Karen stood quietly in front of the stand and watched practitioners meditate. When one asked if she wanted to give it a try, she happily agreed. She meditated for 20 minutes and then learned the first four sets of exercises. Afterwards, she said, "I felt strong energy, especially when I changed my hand position. The energy was very strong." Before she left, Karen signed up for a free instructional workshop.
Entire Family Learns the Exercises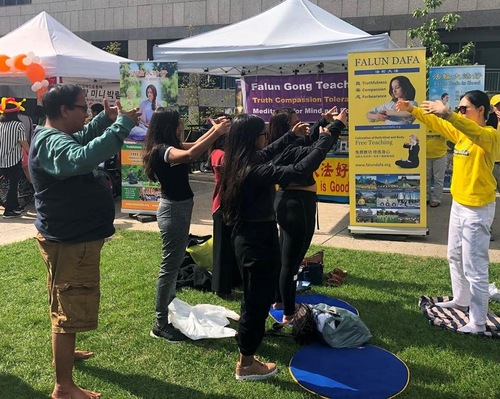 Michael, his wife and four daughters learn the five sets of exercises.
Michael, his wife and four daughters stopped by the practitioners' stand. One daughter said she wanted to learn the exercises, so the entire family learned the five sets of exercises. Michael said he felt great and wanted to learn more about the practice.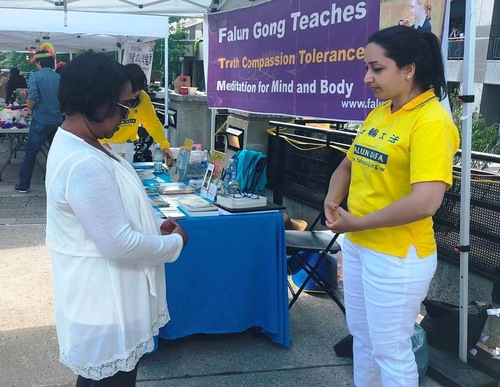 Jasmine said she felt refreshed after she did the exercises. She signed up for the nine-day workshop.
Company Owner: "I Support Falun Dafa!"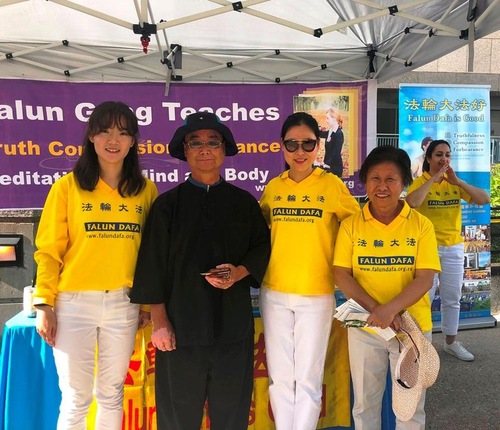 Mr. Park (second from left) said he supports Falun Gong.
Mr. Park is a Korean company owner. He said he knows how kind and selfless practitioners are and said, "I'm very supportive of Dafa!"
He said that after noticing the practitioners standing for long hours on the hot day, he decided to buy some cold drinks for them.
Chinese Immigrants Learn About Falun Gong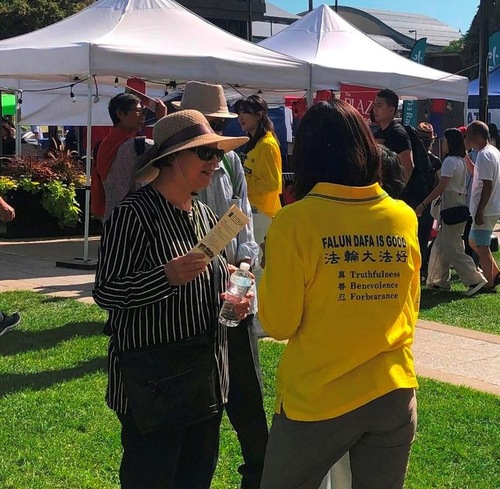 Chinese immigrants learn about Falun Gong.
A Chinese couple who had immigrated to Canada went to the Falun Gong stand to get information about the practice. The wife asked, "Are there any exercise sites near our home? I'd like to learn."
A tall, middle-aged Chinese man and his mother did not accept a flyer when they passed by the stand twice. Just as practitioners were preparing to leave at the end of the event, he returned to the stand and said, "Give me a leaflet. I'm curious and I want to learn more about Falun Gong and why so many people practice this."
He talked about how the Chinese Communist Party (CCP) persecutes practitioners and said that he knows the CCP has killed a huge number of people. "It covers up its crimes. Otherwise, it would have collapsed long ago," he said.
"I Want to Do Something for You"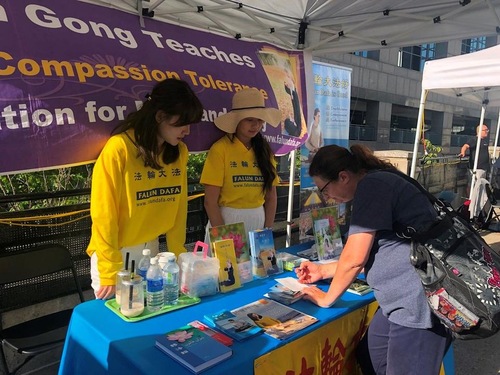 Damiana signs the petition calling for an end of the persecution.
Damiana was drawn by the practitioners' exercise demonstration. She walked over to the stand and took a leaflet. After she learned that the CCP is persecutes practitioners in China and even harvests organs from them, she said indignantly, "This is a crime! If we allow any country to do this, other countries will follow. We must stop it. Tell me what I can do for you. I want to do something for you now."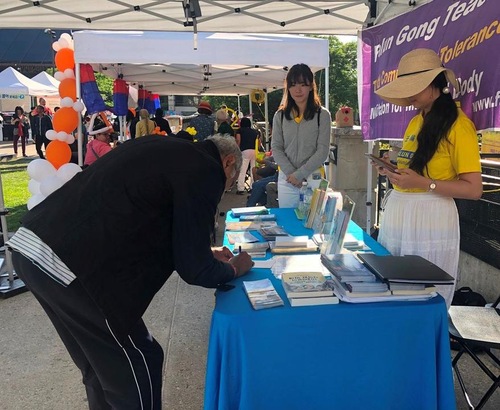 A man signs a petition urging the Canadian government to help stop the persecution of Falun Gong in China.