New Zealand: Falun Gong Practitioners Ask the Government to Deny Visas to Human Rights Violators
(Minghui.org) Laura Walters, a senior reporter at Newsroom, a New Zealand-based online news publication, wrote an article on July 19, 2019, about a rally held by Falun Gong practitioners in Wellington marking the 20th anniversary of the Chinese Communist Party's (CCP) persecution of the group.
The article highlighted an open letter written by practitioners appealing to the New Zealand Prime Minister to stand up to China.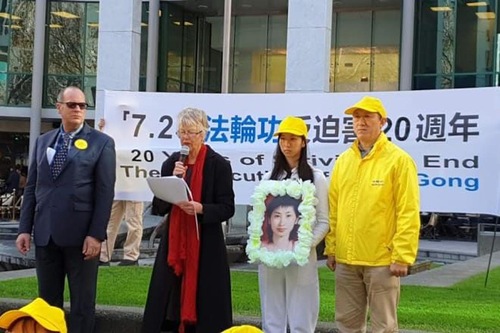 Falun Gong practitioner Guohua Huang (right) and his daughter have presented an open letter to New Zealand Prime Minister Jacinda Ardern, asking the New Zealand Government to condemn China's treatment of all religious groups.
The Newsroom article said that earlier in July, New Zealand had signed an open letter condemning the treatment of Uighurs in Xianjiang for the first time. "But other groups, including Falun Gong, are asking for the condemnation of the CCP's persecution of all religious groups," Walters' article stated.
"Last month, London's Independent Tribunal Into Forced Organ Harvesting of Prisoners of Conscience in China, also known as the China Tribunal, heard evidence from medical experts, human rights investigators and alleged victims over a six-month period. The tribunal concluded that China was a "criminal state," and there was proof beyond reasonable doubt that it had committed crimes against humanity and organ harvesting," she continued.
The article cited passages of the open letter to the New Zealand Prime Minister written by Falun Gong practitioner Guohua Huang. The letter was read aloud during the rally in Wellington and described some of the ways that Huang and his late wife were unjustly treated for practicing Falun Gong:
"The CCP spared no effort in persecuting us. From July 1999, my wife and I were arrested and put in detention repeatedly. In labor camps and prisons, we were beaten, intimidated and tortured."
Huang's 30-year-old wife Zhixiang Luo died while detained in China in 2002. She was three months pregnant with their second child at the time of her death.
Walters wrote, "In the letter to Jacinda Ardern, Huang appealed to Ardern as a mother – sharing the story of his daughter Kaixin, who grew up without knowing her mother."
"Huang told Newsroom, via a translator, he wanted the New Zealand Government to take specific action against China's persecution of religious groups, including denying or restricting New Zealand visas for officials or authorities who were involved in any intimidation, persecution or detention of Falun Gong practitioners in China or in New Zealand," Walters wrote.
"I believe that you and your parliamentary colleagues have always upheld the international values of protecting human rights. I am also sure that you will show the New Zealand public that New Zealand can validate these values despite the fact that the CCP constantly uses their economic power to attempt to destroy these values," Walters wrote, citing Huang's letter.
Huang and his daughter Kaixin delivered the open letter to the New Zealand Government on Wednesday, July 17, 2019.
Walters concluded the article: "Falun Gong members will also mark the 20 years of persecution in a protest in Auckland, New Zealand, on Saturday. They are supported by other inter-faith groups, including some of New Zealand's Christian community."