San Francisco: Practitioners Demonstrate and Teach the Falun Dafa Exercises
August 30, 2019 | By Luo Yi, Minghui correspondent in San Francisco, USA
(Minghui.org) Falun Dafa practitioners from Northern California and a number of cities in the Western United States performed the Falun Dafa exercises and raised awareness about the persecution of this cultivation practice in front of the Ferry Building in San Francisco on August 24, 2019. Many tourists stopped to watch the exercises, and were interested to know more about Falun Dafa. Some learned the exercises, and many experienced the power of this practice.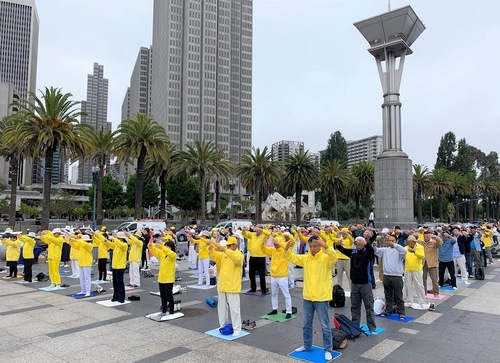 http://www.minghui.org/mh/article_images/2019-8-24-san-francisco-group-practice-san_04.jpg Practitioners doing the Falun Dafa exercises in front of the Ferry Building
Interest in Learning the Falun Dafa Exercises
Practitioners did the exercises on the square in front of the Ferry Building beginning at 9:00 a.m., displaying the peacefulness and beauty of the practice.
Barry and his wife Gesselle from Richmond said that they wanted to learn more about Falun Dafa months ago, but did not find an opportunity. They were told by a local practitioner that practitioners were going to do the exercises in front of the Ferry Building, as well as give free instructions. They did not miss the opportunity that day.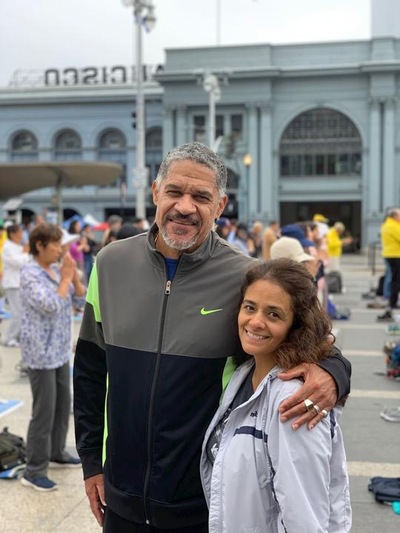 Barry and his wife
Barry used to be employed at Barclays Bank as a researcher. He experienced quite a lot of pressure on the job, and relied on jogging to release the stressful pressure and keep fit. But, he came down with a sports injury from the jogging, and had to quit it. He also realized that sports alone could not alleviate the mental pressure at a fundamental level. Thus, he had been searching for a method to alleviate the imbalance in his body.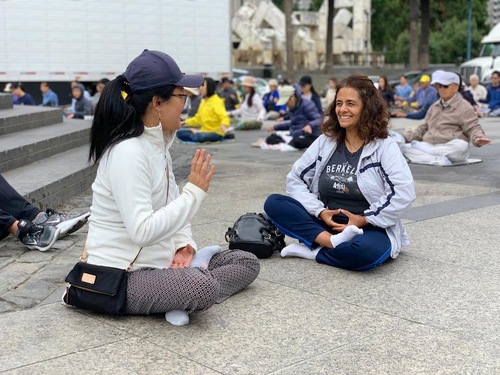 Gesselle learning the Falun Dafa exercises
A practitioner explained that Falun Dafa is a practice of mind and body. Barry and Giselle were told that to attain results, it was not only important to do the exercises, but also to study the Dafa books, which helps to help elevate one's mind and heart nature.
They learned the five-sets of exercises. After talking to practitioners, they were more determined to learn Falun Dafa, and expressed that they would continue learning and practicing it.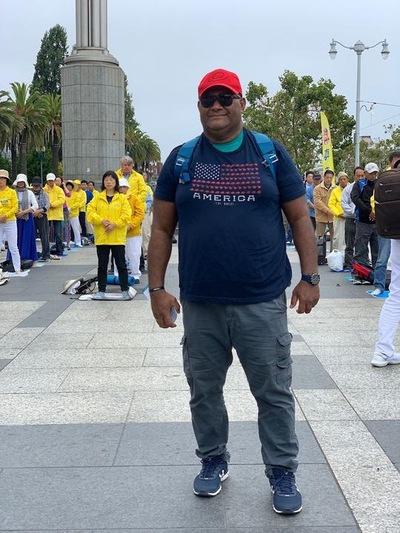 Paul from Oceania, Fiji, watched practitioners doing the exercises, and was informed about the persecution
Paul, a tourist from Oceania, Fiji, was visiting San Francisco. He was curious and stopped to watch practitioners doing the exercises. A practitioner told him about Falun Dafa and the persecution by the Chinese Communist Party (CCP). Paul agreed when he was told that the communist regime is not only harming the Chinese people, but also people in other countries.