Secretary General of Amnesty International Canada: The Persecution of Falun Gong Should Not Have Happened
August 03, 2019 | By a Minghui correspondent
(Minghui.org) Alex Neve, the Secretary General of Amnesty International Canada, spoke at a rally held by Falun Gong practitioners on July 18, 2019. During his speech he sharply criticized the ongoing 20-year-long persecution and said that human rights violations needed to be on the table during any trade talks with China.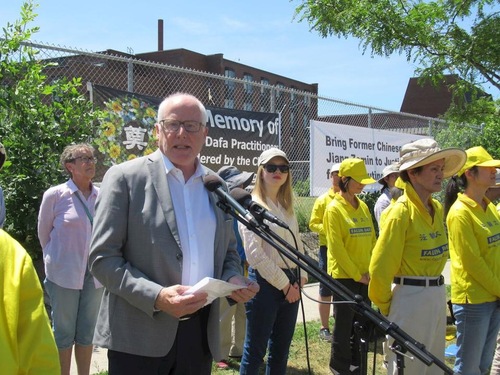 Alex Neve, the Secretary General of Amnesty International Canada, called for an end to the 20-year-long persecution during the peaceful rally held on July 18, 2019.
Time to End the Persecution
Neve said, "The crackdown in China against practitioners of Falun Gong is a pretty astounding passage of time. For two whole decades now, every single day, Falun Gong practitioners from China are experiencing very serious human rights violations, unlawful arrests, illegal imprisonment, well-spread torture, and so many deaths.
"We have lost count of how many people have died in Chinese detention for 20 full years. So it's very important to be here in front of the Chinese embassy, today, in solidarity with Falun Gong practitioners here in Canada, to echo the demand that the persecution has to end."
Canada Should Place Human Rights at the Forefront
Neve said, "There are many factors that Canada is balancing in navigating the strings that now exist between Beijing and Ottawa. But certainly, today, we reiterate that it's very important that human rights need to be at the forefront of everything in the Canada-China relationship.
"Certainly this anniversary would remind Canada to pay very close attention to what happens to Falun Gong practitioners in general, but in particular the many Falun Gong prisoners who are either Canadian citizens or have very close connections to Canadian citizens. They need to be very high on the list on the Canadian priorities."
Regarding the Canada-China relationship and trade often taking precedence over human rights concerns, he said, "I think it's absolutely imperative that this trade-off comes to an end. Instead, Canada pursues a trade relationship with China that includes human rights considerations at every single step. It would mean that we are using all openings and all opportunities to leverage human rights concerns, including when trade is on the table."
Regarding the CCP's harassment of Falun Gong practitioners in Canada, he said, "In both direct and insidious ways, Chinese officials or agents somehow aligned with the Chinese government.
"Or even Canadian organizations who are relying on sponsorship or relationship with the Chinese government take action that violates human rights here in Canada, through intimidation, harassment, and infringements of the right to the freedom of expression, and through threats that are extended to family members back in China."
He said it was time for the Canadian government to really get a handle on this concern. He said, "Canada needs to take advantage of all opportunities to raise this issue, both behind closed doors and publicly with the China government.
"More importantly, Canada needs to work very closely with other countries because only if there is a concerted group of many countries raising this with China will we see some progress."
Praise for Falun Gong Practitioners Perseverance
Mr. Neve praised practitioners' perseverance and said, "I think that's very inspiring even on this sad day."
He reiterated that Amnesty International would continue to demand that the persecution come to an end: "We will continue with that for as long as it takes."
He said he respected Falun Gong practitioners, "To me, it is incredible to see how after 20 years of unrelenting violence, threats, vilification, imprisonment, torture, death and custody, Falun Gong practitioners and their families have not given up.
"They have not gone away. They have made it very clear that they will not. They know what their rights are. They stand up for their rights, the rights of their loved ones, the rights of other practitioners."