Manhattan: New York City Residents Learn Falun Dafa Exercises at Summer Street Festival
August 29, 2019 | By a Falun Dafa practitioner in New York City
(Minghui.org) Falun Dafa practitioners were invited to participate in the New York City Summer Streets event, and teach people the exercises at Foley Square adjacent to Civic Center and City Hall, for two consecutive weekends.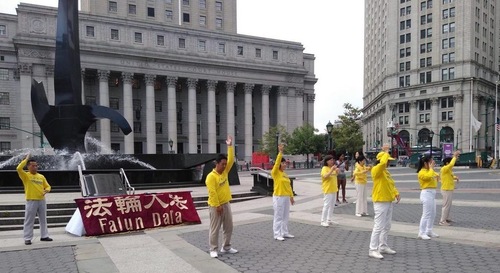 Exercise demonstration by Falun Dafa practitioners at Foley Square on August 10 and 17, 2019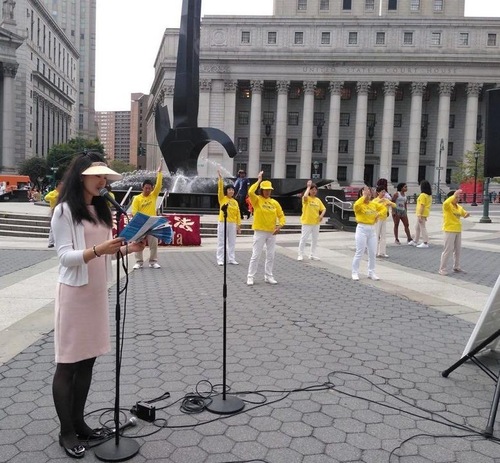 A practitioner presents background information about Falun Dafa while the group performs the exercise movements.
Arranged by the city's Department of Transportation for the 12th time, the 7-mile-long Park Avenue between Brooklyn Bridge and Central Park was closed from 7 a.m. to 1 p.m. on August 3, 10, and 17. This event is an initiative to promote fitness, biking, dancing, and other outdoor activities. Close to 300,000 people attended the event last year.
Tents and sound equipment were already provided by the host as practitioners arrived at 8 a.m. on August 10 and 17. The exercise demonstration attracted lots of pedestrians. Some talked with practitioners, some accepted fliers, and some followed along to learn the exercise movements.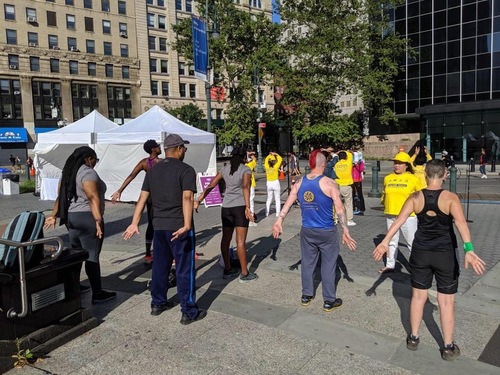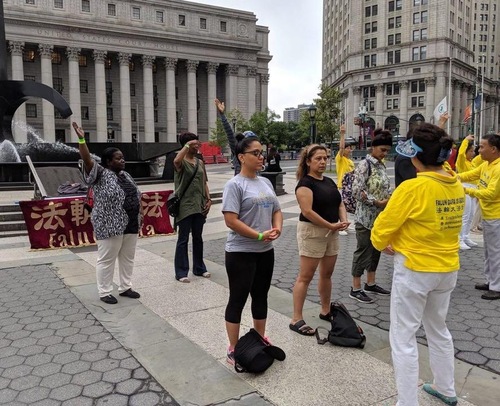 Pedestrians learn the Falun Gong exercises
During breaks, a voice recording played on a loud speaker explained that Falun Dafa is a meditation system based on the principles of Truthfulness-Compassion-Forbearance and other background information.
Marissa Lazar, a coordinator of the event, wrote the group thanking practitioners for their contribution. She wrote, "We are so glad for your huge success, and we look forward to collaborating again."