Poland: Introducing Falun Dafa in Lublin and Raising Awareness of the Persecution in China
August 28, 2019 | By a Falun Dafa practitioner in Poland
(Minghui.org) Lublin is a historical city in eastern Poland. It was the largest trade post between Poland and Lithuania in the 15th and 16th century. The Union of Lublin was signed on July 1, 1569, which established the Polish-Lithuanian Commonwealth.
This year, Lublin celebrated the 450th anniversary of signing the union, and held a 3-day event. Polish Falun Dafa (also called Falun Gong) practitioners participated in the event to introduce the practice to local residents during the weekend of August 17-18, 2019.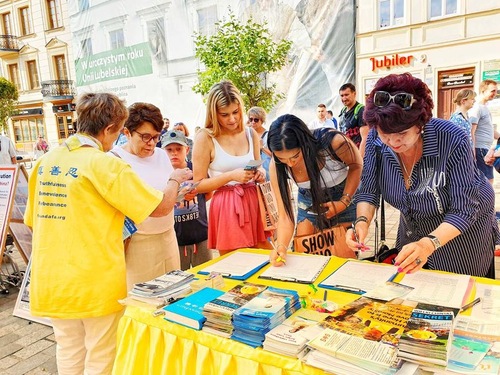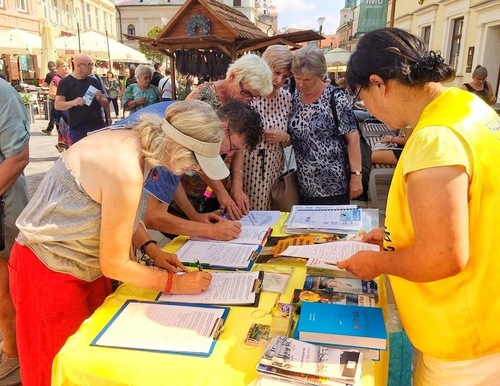 Signing a petition to end the persecution of Falun Gong in China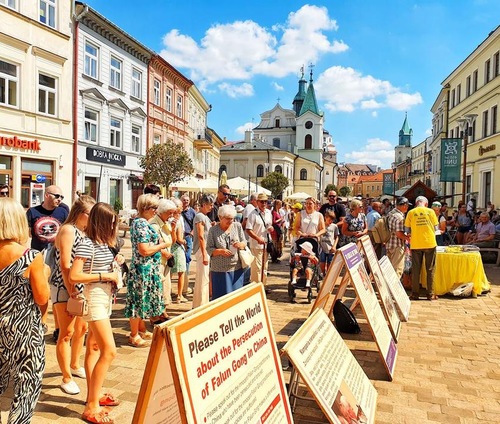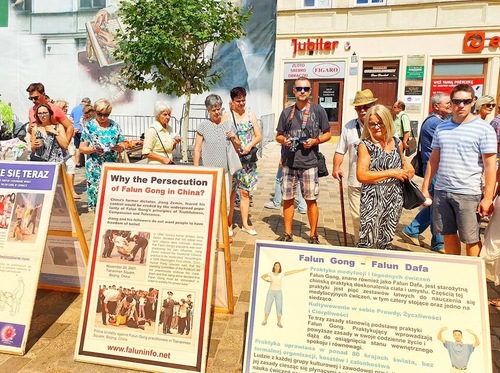 Passersby read the display boards introducing Falun Gong, and exposing the persecution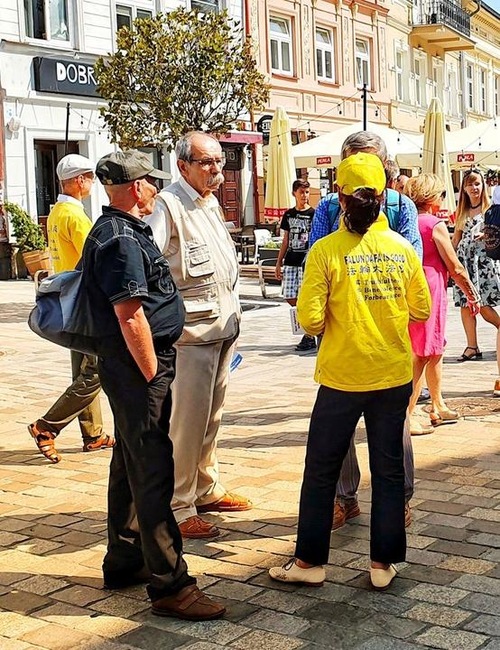 Passersby talk to Falun Dafa practitioners
Experiencing a Strong Energy Field
Many people took photos and videos of the Falun Dafa exercise demonstration, and expressed their interest in learning the practice. Some bought books, and others left their phone numbers to be informed of the next class.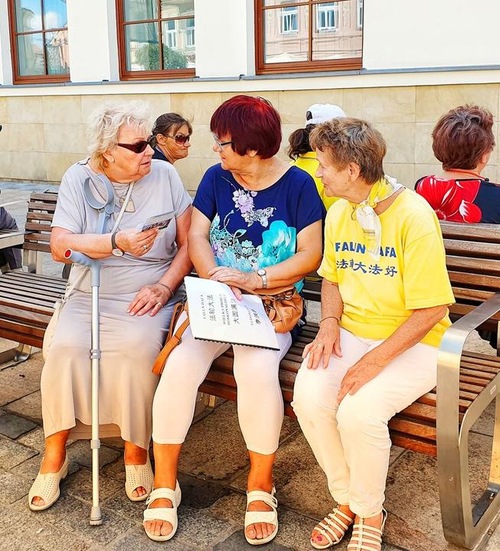 Ewa (middle) experienced a strong energy field when practitioners demonstrated the exercises
Ewa and Ms. Katarzyna shared that they will learn the Falun Gong exercises together.
"My entire body was sore and feeling pain for years," recounted Ewa. "I am almost accustomed to it. But, my soreness disappeared yesterday when I was watching the exercise demonstration. I could feel a strong energy field. Therefore, I returned today to get an introduction to this cultivation practice."
She continued, "I also bought the book Falun Dafa – The Great Way of Spiritual Perfection, once I saw that Katarzyna had bought one. I was lucky, as it was the last one."
She had signed the petition opposing the persecution, and said it was unbelievable that the communist regime continues to persecute Falun Dafa, and has persecuted peaceful people for so long.
Searching for Many Years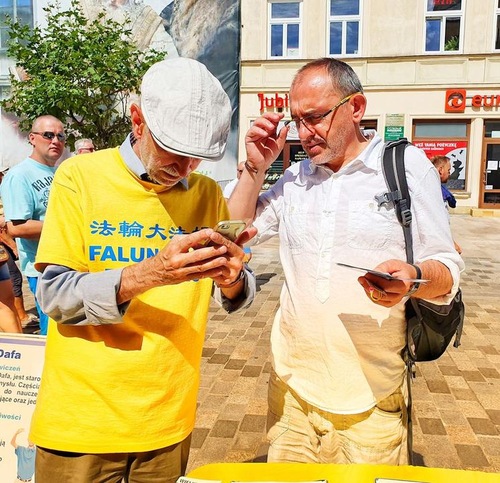 Grzegorz had been searching for a practice that relieves stress for years
Mr. Grzegorz had practiced Tai-chi many years ago, yet felt the practice still missed something, but he could not put his finger on it. When he found out that someone was demonstrating Falun Dafa to pedestrians, he hurried there.
"Yes, this is it," he said. "This is what I have been looking for. This is my phone number. I want to register for the class. Please notify me of the date and time!"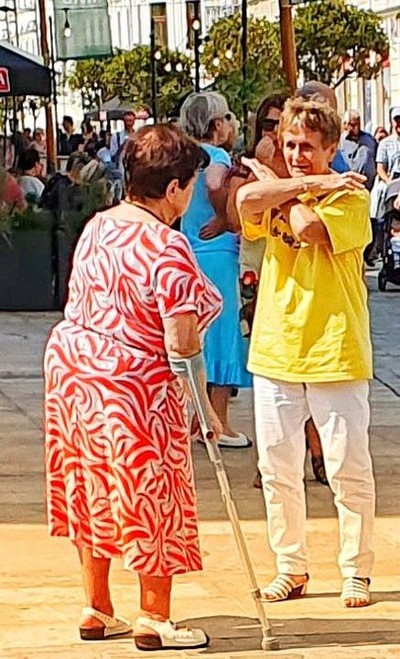 Podgórska is learning the Dafa exercises
Proud to Sign the Petition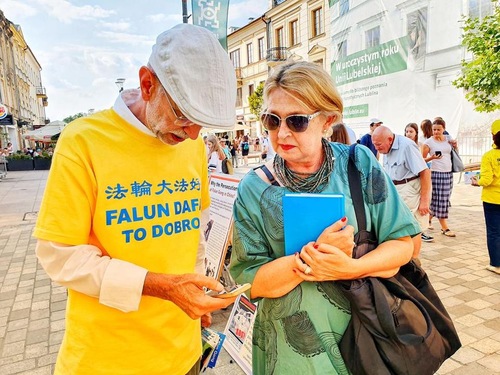 Ms. Danuta wants to learn Falun Dafa
Ms. Danuta is interested in traditional culture. The Falun Dafa demonstration and exercise music connected with her. She bought Zhuan Falun, the main book of Falun Dafa. She gave her phone number to a practitioner and asked to be notified of the date and time of the next class.
She said, "I signed the petition – I support Falun Dafa!"
10,000 Brochures Caught People's Attention
Practitioners passed out more than 10,000 fliers about the practice and the persecution in China. Many people were shocked after reading about the torture committed by the communist regime. People signed a petition addressed to the Prime Minister of Poland, as well as the speakers of the senate and the house.
Many people said to practitioners after they signed the petition."You are doing great, hang in there! We support you. This activity is very important. We respect you. Bless you!"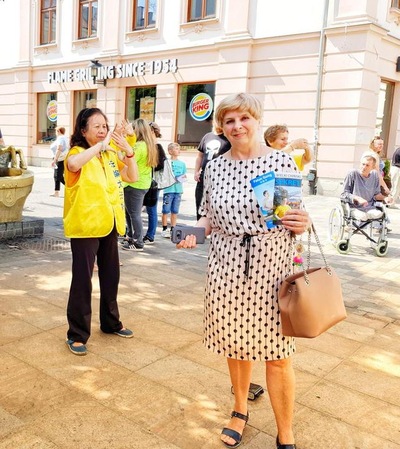 Anna condemns the Chinese Communist Party for persecuting Falun Dafa
Reporter Witnessing Falun Gong Persecution 20 Years Ago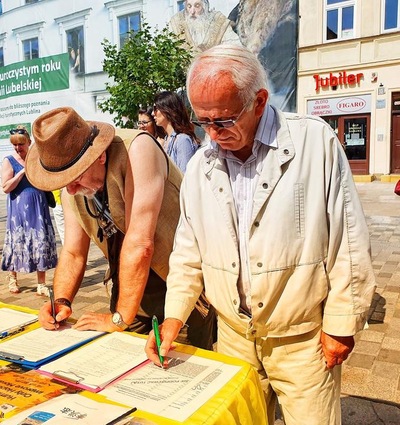 Mr. Kazimier, a retired reporter, signed the petition
Kazimier was a reporter working for a Polish media in Beijing in 1999.
"That summer 20 years ago," he said, "I was there when the communists were arresting Falun Dafa people on Tiananmen Square. I took some photos. A police officer ran toward me. To protect the photos, I switched my camera with my friend."
He was interrogated for more than one-and-a-half hours in a police station before he was released, and said, "My article was published in Lublin's newspaper. I am a witness of Falun Dafa being persecuted."
"I have been paying attention to the matter for the past 20 years. I respect that Falun Dafa never gave up, and persisted to tell the truth. I respect and support Falun Dafa very much. I believe the persecutors will be brought to justice."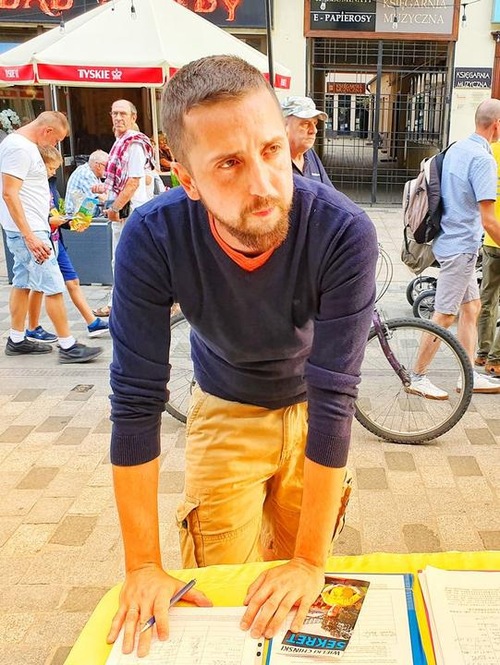 Andrzy, an anchor at a local TV station
Andrzy wants to make a program about Falun Dafa, especially about the forced organ harvesting from prisoners of conscience, and the recent affairs in Hong Kong.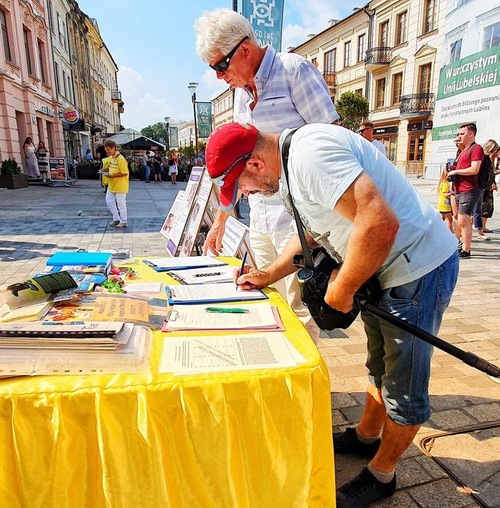 Sekowskai signing a petition
Sekowski will post the videos he took to his YouTube account. He wants people to see the beauty of Falun Dafa, and the evil nature of the Chinese Communist Party.