Belgium: Introducing Falun Gong in Downtown Brussels
August 25, 2019 | By a Minghui correspondent in Brussels
(Minghui.org) Falun Gong practitioners in Belgium held activities in downtown Brussels on Saturday August 17, 2019 to introduce the cultivation practice and raise awareness about the ongoing persecution in China. Many passersby stopped to watch the Falun Gong exercise demonstration, read the informational displays, and ask questions about the persecution. A number of people expressed appreciation and support for practitioners' efforts to expose and end the persecution.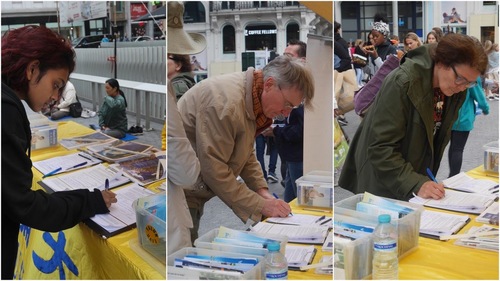 Passersby in downtown Brussels sign the petition to oppose the harvesting of organs from living Falun Gong practitioners.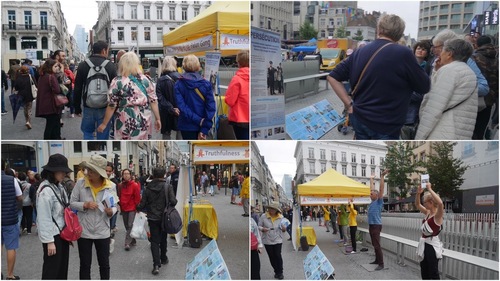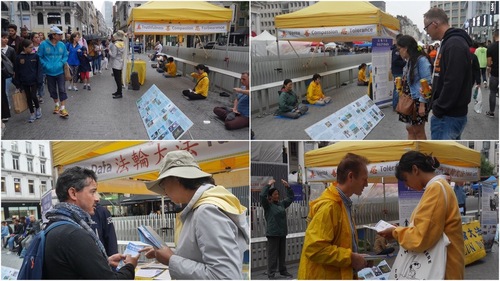 Practitioners answer questions about Falun Gong.
Thanking Practitioners for Fighting for Humanity
Thomson and his wife signed the petition to oppose the Chinese Communist regime's state-sanctioned harvesting organs from living Falun Gong practitioners. He knew about the persecution through similar events he'd seen in Brussels and Washington D.C. He also saw a Shen Yun performance in Paris in which there was a dance scene concerning Falun Gong. He said that the Shen Yun performance left him with a lasting impression of the peaceful meditation practice.
Thomson said that he is heartbroken to hear about the 20-year-long suppression of Falun Gong in China. He feels that unlike other prisoners who are arrested for committing crimes, Falun Gong practitioners are good people and should not be detained in prison. He expressed concern for the plight of Chinese citizens, as he believes that the communist regime might use brutal means to crush anyone who opposes them. He thanked Falun Gong practitioners for their persistent efforts in resisting the persecution. He said, "You are not fighting for yourself. You are fighting for humanity."
Voices of Support from the Public
Valentina is a woman from Ukraine, a former Communist country. She believes that the communist regime is definitely capable of organ harvesting from Falun Gong practitioners, and selling them for economic profit. She signed the petition to stop this atrocity.
A middle-aged Belgian woman walked up to a practitioner to learn more about Falun Gong. When told about the brutal persecution happening in China, she asked what she could do to help stop it. She signed the petition to show her support and said, "People should know more about what is happening in the world. We must seek the truth in order to be free people." Before leaving, she accepted informational materials about the cultivation practice and the persecution.
Mehgi browsed through the materials on the Falun Gong table. He signed the petition to stop organ harvesting. Then he shared that four years ago he'd had a serious stomach illness and learned the Falun Gong exercises in Brussels. He said he felt wonderful doing the exercises, but at the time, he was unable to continue practicing Falun Gong. He has since recovered from his illness and wants to take up the exercises again.