Toronto, Canada: Falun Gong Practitioners Raise Awareness of the Persecution in China
August 23, 2019 | By Minghui correspondent station in Toronto
(Minghui.org) Falun Gong practitioners in Toronto held an activity in the city's downtown area to raise awareness of the Chinese Communist Party's (CCP) persecution on August 17, 2019. They held banners at 27 intersections and told passersby about the CCP's 20-year-long persecution. Many pedestrians accepted their flyers and signed a petition protesting the persecution.
This event was planned and organized by a group of younger practitioners. In the early years of the persecution, they were still children. They have now grown up and have started to shoulder the responsibility of raising awareness to help mitigate the persecution in China.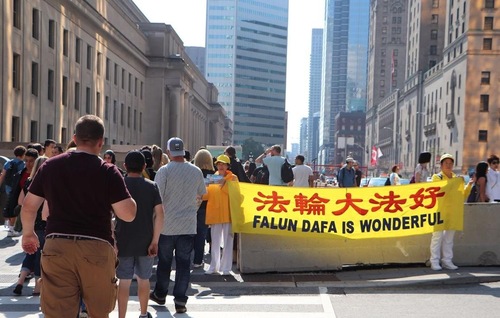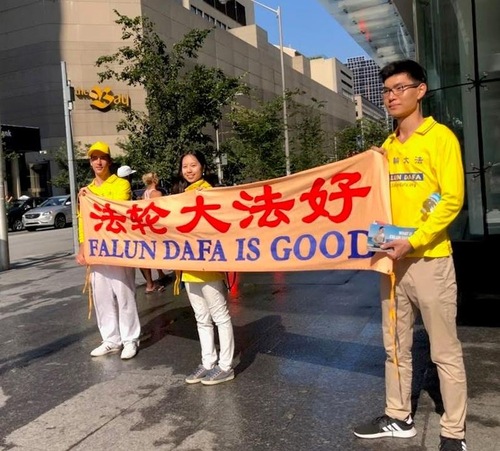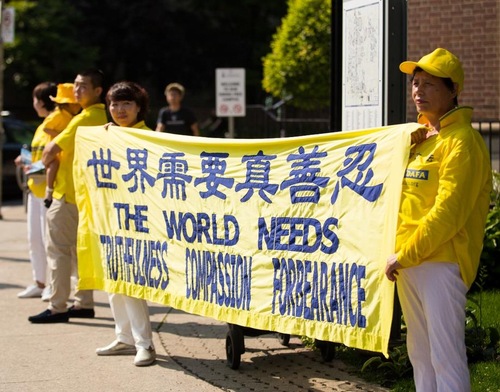 Young Falun Gong practitioners hold banners in downtown Toronto.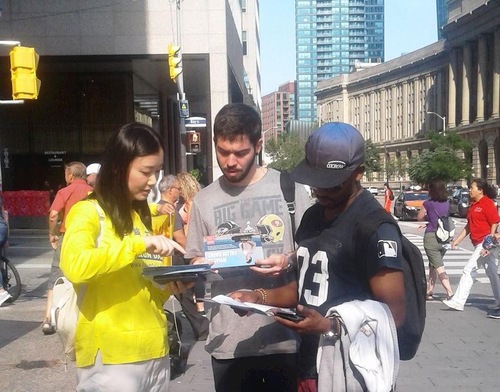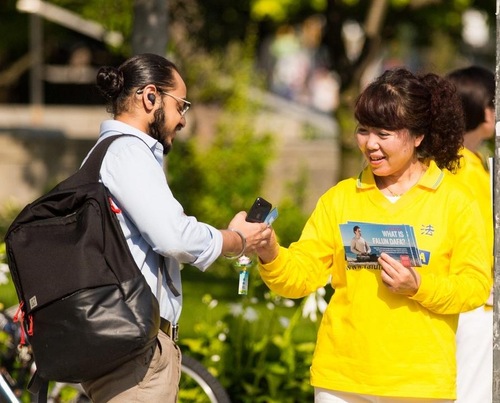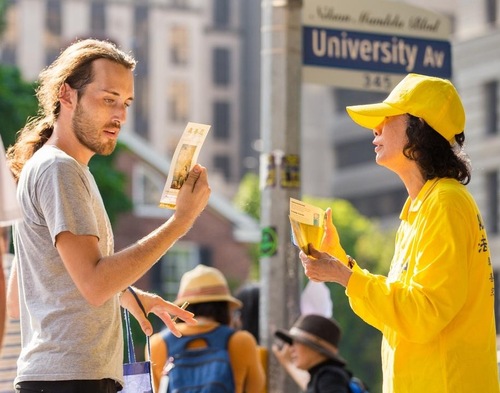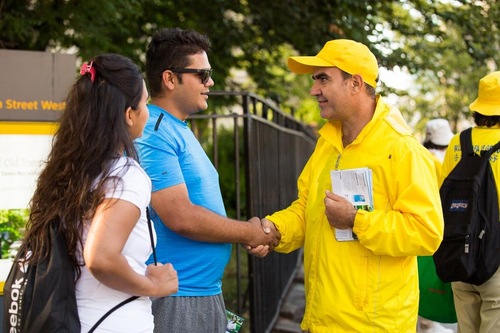 Falun Gong practitioners talk with passersby about the persecution.
'I Support Falun Gong Practitioners' Efforts of Protesting the Persecution'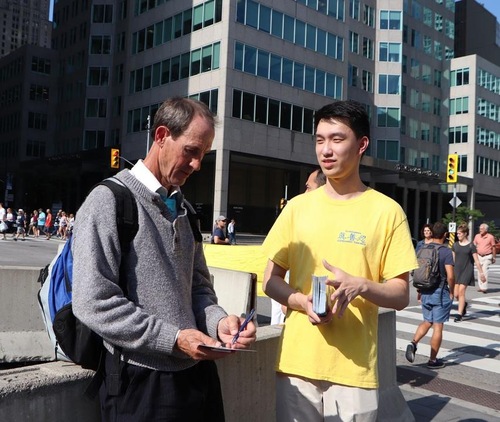 Kevin Stalls signs a postcard calling for an end to the persecution
Kevin Stalls is a Canadian who now works in Australia. He talked with a practitioner for nearly one hour. "I heard about Falun Gong over 10 years ago," he said. "At that time, two Canadian lawyers [human rights lawyer David Matas and former MP and former Secretary of State for Asia-Pacific David Kilgour] released a report about their independent investigation of the CCP's live organ harvesting from Falun Gong practitioners. I know this very well and have been supporting the practitioners' protesting the persecution."
He said he also knew about Miss World Canada Anastasia Lin, who was refused a visa to China to participate in the Miss World pageant because she had spoken out against China's human rights abuses.
Stalls commended the event to raise awareness of the persecution and signed a postcard addressed to the Canadian Minister of Foreign Affairs that calls on him to help stop the persecution.
When it rained during the event, many pedestrians paused to take shelter. Two Chinese students paused to listen to a practitioner's explanation. They expressed appreciation after the practitioner helped them renounce their memberships in the Chinese Communist Youth League and the Young Pioneers. One of the students said, "We will ask our family members in China to quit their membership in the CCP and its affiliated organizations."
'The CCP is like the Nazis'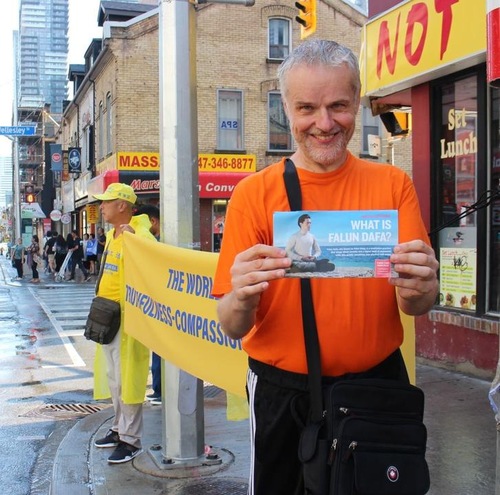 Michael supports practitioners' efforts against the persecution.
Michael took a flyer from a practitioner and said, "I heard of Falun Gong and the persecution in China." He then asked the practitioner, "Why are Falun Gong practitioners imprisoned?"
A practitioner explained that one of his family members was arrested for distributing flyers on the street in China, just like what the young practitioners were doing in Toronto. The family member was then incarcerated in a forced labor camp.
Michael was appalled, "Unbelievable! Is this like Nazi Germany and the Fascism in Japan during World War II?! But this is 2019, the 21st Century. It is hard to believe that such things occur now in the world."
He said that everyone should have freedom of belief and the regime should not interfere. He said he supported practitioners' protest against the persecution.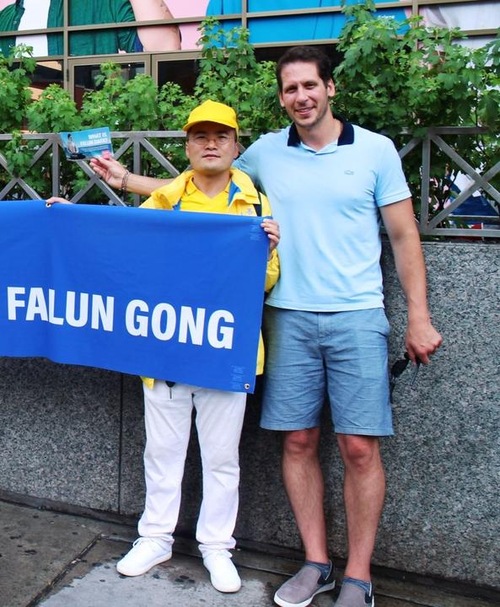 Bryan supports practitioners efforts to protest the persecution.
UK Tourist: Falun Gong Practitioners Should Have Freedom of Belief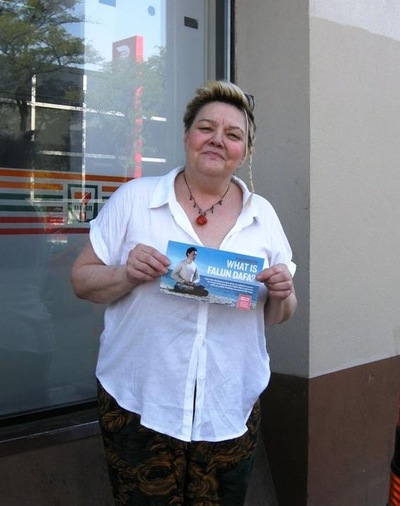 Rosemarie Lawrence, a tourist from the UK, said Falun Gong practitioners should have freedom of belief.
Rosemarie Lawrence, a tourist from the UK, was passing by and paused to tell practitioners: "I watched an introduction of Falun Gong on TV. I know this is a good practice. But in China, the CCP discriminates and persecutes Falun Gong practitioners."
She continued, "Falun Gong practitioners should have freedom of belief. They should not be discriminated against and persecuted."