Introducing Falun Dafa in Several Cities in Eastern France
August 22, 2019 | By a Minghui correspondent in France
(Minghui.org) Falun Dafa practitioners visited twelve cities in the eastern regions of France in early August to introduce the practice and raise awareness of the persecution in China. Many people learned about Falun Dafa and some decided to take up the practice.
Practitioners went to the following cities: Dole, Poligny, Bourg, Chalon-sur-Saône, Louhans, Morteau, Lons le Saunier, Arbois, Besançon , Champagnol and Clairveaux les Lacs. A Falun Dafa information booth was set up in each city. Through display boards and exercise demonstrations, local residents were introduced to the mind and body meditation exercise from China, based on the principles of Truthfulness-Compassion, Forbearance.
Local Residents Keen to Learn the Exercises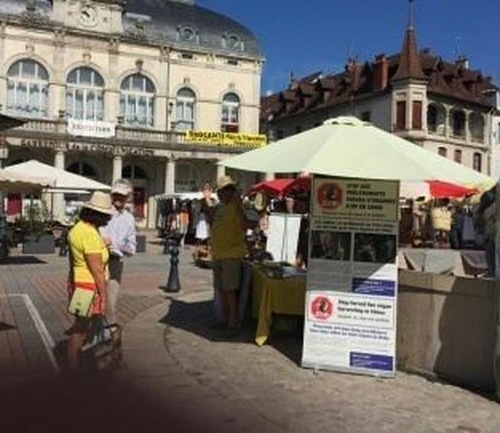 Falun Dafa information booth at Lons le Saunier.
Ms. David spoke to practitioners at the booth in Lons le Saunier. She has had several major incidents at work and observed, "Nowadays many people lack honesty. I'm glad to meet you today. I feel comfortable being with you. I did not plan to pass by today so I think this meeting did not happen by chance." She asked where she could learn the exercises and hoped to start practicing as soon as possible. Before leaving she signed the petition calling for an end to the persecution.
Another passerby carefully read the information about the organ harvesting, and remarked that he hadn't heard about this before. He said he agrees with the principles of Falun Dafa and hoped to find a local practice site. He added that he would tell his friends about Falun Dafa.
Residents Show Support
Practitioners held an event to introduce Falun Dafa to local residents in the city of Besançon.
A woman stopped at the Falun Dafa booth in Besançon. After she read the information about the state-sanctioned organ harvesting, she said, "Now I understand what's happening. A few Chinese Communist Party officials are committing these crimes against humanity in pursuit of monetary gain. The regime cannot last much longer."
Another woman, who is Catholic, said that she agrees with the principles of Falun Dafa. She said that one's heart is the most important.
Many people who signed the guest book shared the same concern: the Chinese government's repression of Falun Dafa practitioners is unbelievably cruel. They were shocked at the brutality of the persecution.