Chinese in Australia Praise Falun Gong after Watching the Movie Coming for You
August 02, 2019 | By a Minghui correspondent in Australia
Chinese in Australia Praise Falun Gong after Watching the Movie Coming for You
(Minghui.org) The movie Coming for You, produced by NTD and New Realm Studios, was screened for the public in Sydney, Queensland, and Canberra from late June to early July 2019. The movie was highly praised by the audience.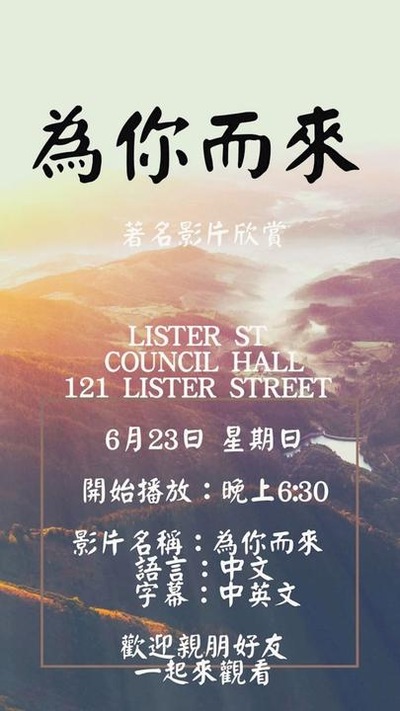 Chinese language poster for the movie Coming for You in Queensland
Following Master to the Human World
The three hour-long movie depicted Falun Gong (also called Falun Dafa) practitioners' journey of self-cultivation, resistance to the Chinese Communist Party's (CCP) persecution and clarifying the truth about Falun Dafa. Their stories were told in a straightforward but tight-connected style, which kept the audience engaged. The audience praised the movie for being filled with positive spirit-lifting energy. Some people said, "Falun Gong is great! The movie is great! We would like to see more movies like this!"
The story began when five divine beings in the heavens were getting worried about sentient beings upon seeing the waves of bad karma in the Three Realms. A Master Buddha was leading a group of divine beings to save sentient beings and they happened to pass them. The five divine beings were willing to take off their crowns, and follow the Master Buddha to the Three Realms, while hoping to save sentient beings from danger. They promised to remind each other about their goal and to never get lost in the worldly illusion.
After the five divine beings descended to the world, their original characters were buried. As they struggled for fame, fortune and sentiments, they forgot about their initial goal. Fortunately, before going on their mission, a possible problem was predicted. For this, they were given the opportunity to encounter Falun Dafa in the human world through clever arrangements – their divine nature was awakened.
The main characters in the movie are a young man and woman – Liu Dawei and his wife, in Northeast China. The Liu family's cultivation was based on the Falun Dafa spiritual practice, which reflected that of thousands of Falun Dafa practitioners' extraordinary self-cultivation journeys during their day-to-day lives.
Audience Reaction: Former Police Officer Admires Falun Gong
The Civic Theater Hurstville, in Sydney, was packed on the afternoon of Sunday, June 30. All the 200 seats had been booked ahead of time. A middle-aged Chinese couple who used to work in the police department said, "It's a great movie and it's a true story. We like it so much! We learned about Falun Gong when we were in China. We admire Falun Gong. They are nice people." Both the husband and wife learned about the evil nature of the CCP and quit all communist organizations. They reserved the movie tickets as soon as they heard about the screening.
Mr. Zhang, who used to be a security guard in a Chinese airport, truly felt Falun Gong had brought people excellent health. He said to Falun Gong practitioner Ms. Man after watching the movie, "Falun Gong is great! Could you loan me the book Zhuan Falun? I would like to learn more about Falun Gong."
"Falun Gong Is an Uplifting Self-Cultivation"
Lola and Leo are a young couple who grew up in Sydney, and said that the movie had an uplifting effect on their minds. They found the motivation to improve themselves after watching the movie.
Lola said, "I have heard about Falun Gong before, but the movie showed me that Falun Gong is truly an uplifting self-cultivation. I have a deeper understanding of it now. I know why people have chosen to practice Falun Gong and how they cultivate themselves. I can't accept the way the [CCP's] government has labeled it as illegal."
Lola added, "I'm open to different ideas. The movie has uplifted me. It has strengthened my motivation to improve myself. Every nation needs more good people. What Falun Gong teaches is great. The main character used to be bad, but Falun Gong has turned him into a very good person and brought about his compassionate nature. Falun Gong has indeed helped people return to their original nature. It's an uplifting self-cultivation."
Christian: "Falun Gong Is Great! It Has Guided People to Paddle Upstream"
Lola's husband Leo is a Christian. He said, "I have heard about Falun Gong. I know it has improved the health of many people when it was introduced. It also taught people to cultivate their hearts. Because of its great effect and fast spread, the CCP was afraid of its popularity and their labeling of Falun Gong isn't right. It treats the issue as political and persecutes people under fabricated charges."
He continued, "The Chinese government doesn't allow such a large number of people to hold ideas different from its own. It's simply unhappy and uncomfortable to see it, so it launched the persecution. The people in China are deprived of the true story, so many people have misunderstandings about Falun Gong. It's because they don't know the truth. The Party has indoctrinated selfishness into people's mind. Promoting Truthfulness, Compassion and Forbearance is great for China. I hope to see Falun Gong spread these values more. I think Falun Gong is marvelous! It has led people to swim upstream."
Queensland Audience Sees True History in Movie
Si Ling, a young man who recently came to Australia from China, watched the movie with his friends. He said, "The movie is so realistic and touching! I understand the peaceful appeal more clearly. They were detained in a stadium in Beijing, just how it was shown in the movie. I have learned more about what has happened to Falun Gong from the movie.
"I see Coming for You has dual meanings. First, they come for the people of the world. The Falun Gong group has endured a lot of hardship to spread the truth in China. I really admire their courage. Secondly, they come for their true belief. The movie has a candid recount of history and showed the admirable qualities and cultivation practice of Falun Gong.
"I have personally heard true examples of people returning to good health after practicing Falun Gong. They are the best proof of its health effects. The movie makes me want to read the book Zhuan Falun."
A Chinese student said the movie had helped him learn about Falun Gong from a positive perspective. He asked for introductory Dafa materials and the Nine Commentaries on the Communist Party.