Human Rights Worker in Switzerland: "What the Chinese Regime Has Done to Falun Dafa Practitioners Is Absolutely Intolerable!"
August 15, 2019 | By a Falun Dafa practitioner in Switzerland
(Minghui.org) "What the Chinese regime has done to Falun Dafa practitioners is absolutely intolerable! It violates not only the Chinese constitution, but also mankind's conscience," said a human rights worker from Geneva.
Falun Dafa (also called Falun Gong) practitioners held an information day event in downtown Zurich on August 3, 2019. They distributed fliers, demonstrated the exercises, and collected signatures on a petition to oppose the brutal persecution of Falun Gong.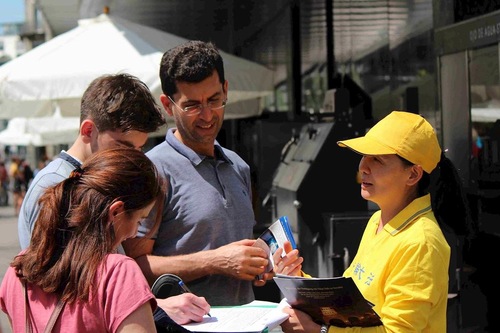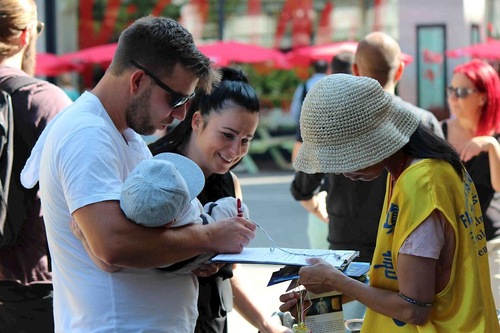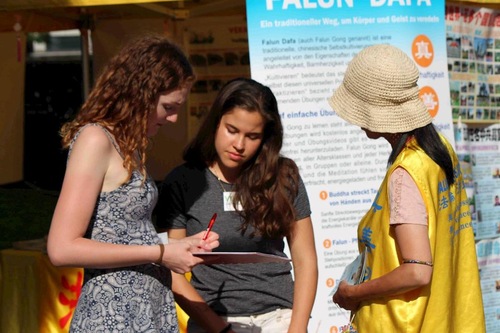 Swiss people sign a petition which condemns the persecution of Falun Gong in China.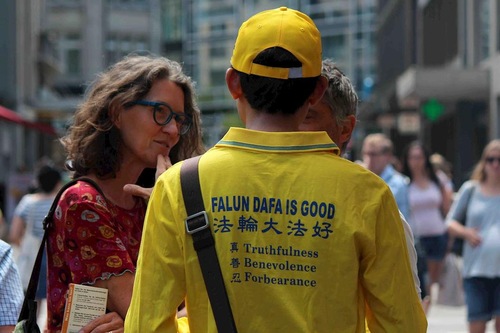 Many people stopped to learn more about the exercises and the persecution.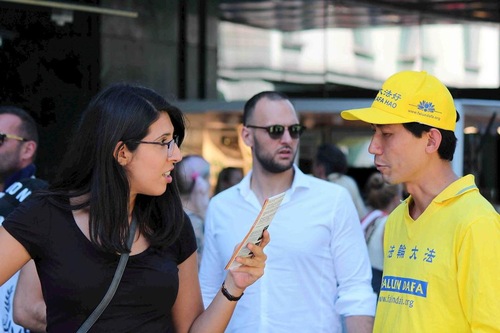 People were shocked to learn that the Chinese regime is forcefully taking vital organs from practitioners and selling them.
A human rights worker from Geneva said she signed the petition to express her support for Falun Gong. She said, "I believe it's not just me, many people support Falun Gong. This is also my message to the communist regime, 'What you are doing is wrong and you won't accomplish your goal.' Because the more you oppress people, more people will sign the petition to oppose this persecution."
She said the forced organ harvesting crime was unimaginable to people of conscience. "Silence is not a solution. We need to publicize this so that more people can become aware of what the regime is doing," she said.
Falun Dafa practitioners' display boards and exercise demonstration caught the attention of many passersby. They read the display boards which had information about Falun Gong activities around the world. Many people were shocked to learn the Chinese regime is systematically harvesting organs from prisoners of conscience with majority of them Falun Gong practitioners, and they signed the petition to oppose the persecution.
Trerrisa, who works in human resources, signed the petition and said, "I wish I could do more to help. It's good to inform people. The more people that know about this the greater the impact."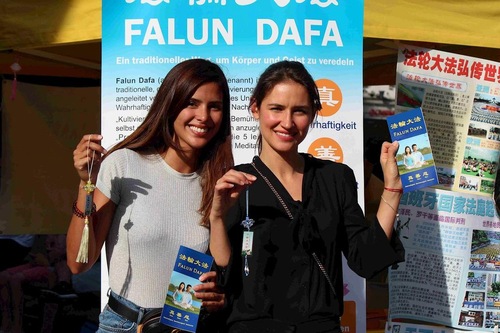 Paula (right), a store owner, and her friend. Paula said the petition against organ harvesting supports justice.
Paula, a store owner, and her friend stopped at the booth that afternoon. They signed the petition and said that they supported justice. "I am happy I can help and let (Chinese people) have more justice," Paula said, "Forced organ harvesting is very evil and should have never happened."
Practitioners also held an information day event in Chur City in east Switzerland.