Introducing Falun Gong in Helsingborg, Sweden
August 13, 2019 | By a Falun Gong practitioner in Sweden
(Minghui.org) Falun Gong practitioners in Sweden participated in the annual HX-Festivalen on the seashore of Helsingborg August 2 and 3, 2019.
A steady stream of people came over to learn the Falun Gong exercises during the two-day festival. Many visitors seemed fascinated with the movements of the traditional Chinese self-cultivation practice, and many said it made them feel comfortable and pleasantly energized.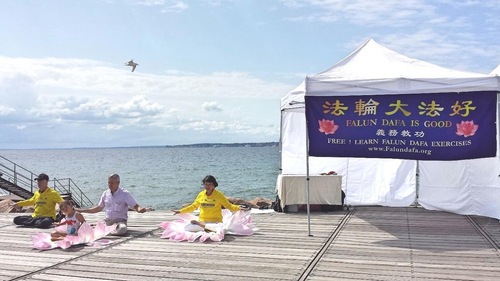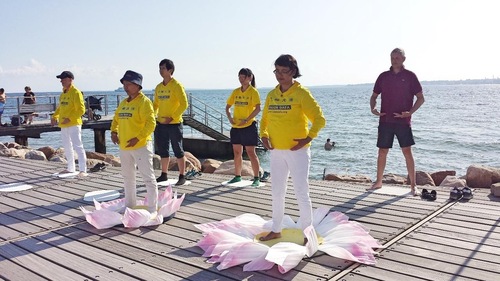 Falun Gong practitioners demonstrate the five Falun Gong exercises.
Some people said they had heard about Falun Gong a long time ago and now wanted to learn. Many people in their 20s and 30s became very interested and wanted to join the weekly group exercises. About 50 people, both young and old, learned the exercises during the two-day festival.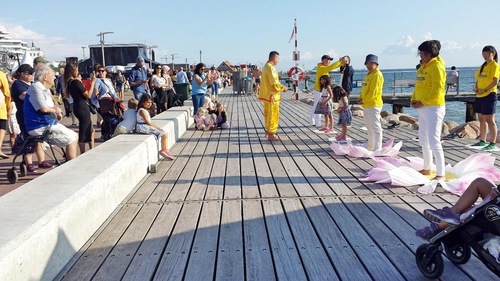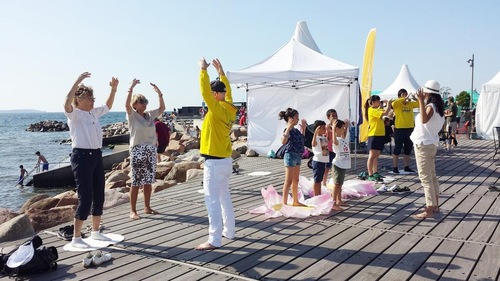 HX-Festivalen attendees learn the Falun Gong exercises.
People watched practitioners do the exercises and took pictures. A number of them asked for more information about Falun Gong, and some followed along with the exercise movements from a distance.
One of the organizers of the event said she was happy that Falun Gong was part of the festival every year. She thanked practitioners for organizing their part of the event so well.