Introducing Falun Gong in Helsingborg, Sweden
August 13, 2019 | By a Falun Gong practitioner in Sweden
(Minghui.org) Falun Gong practitioners in Sweden participated in the annual HX-Festivalen on the seashore of Helsingborg August 2-3, 2019.
Helsingborg is an ancient Swedish city with a history of almost 1000 years at a strategically important point geographically and economically, with Denmark two miles away on the other side of the narrow strait of Oresund.
A steady stream of people came over to learn the Falun Gong exercises during the two-day festival. Many visitors seemed fascinated with the movements of the traditional Chinese self-cultivation practice, and many said it made them feel comfortable and pleasantly energized.
Just like last year the weather and temperature were again perfect and people from all walks of life and many countries came to join the festivities. The atmosphere was relaxed and many people observed us from a distance while we were exercising.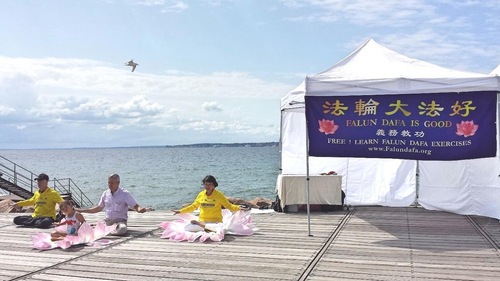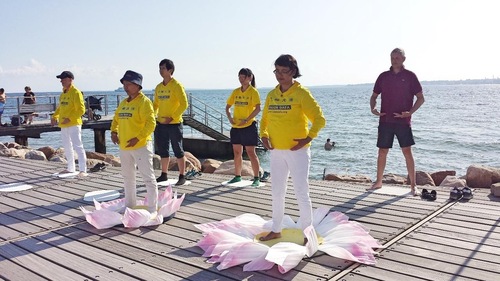 Falun Gong practitioners demonstrate the five Falun Gong exercises.
Some people said they had heard about Falun Gong a long time ago and now wanted to learn it. Many people in their 20s and 30s became very interested and wanted to join the weekly group exercises. About 50 people, both young and old, learned the exercises during the two-day festival.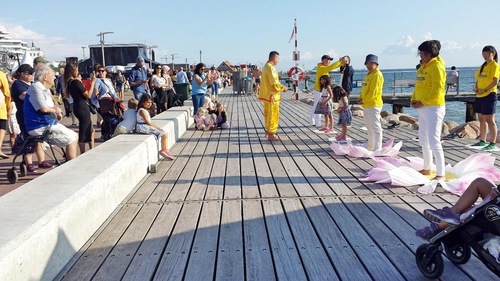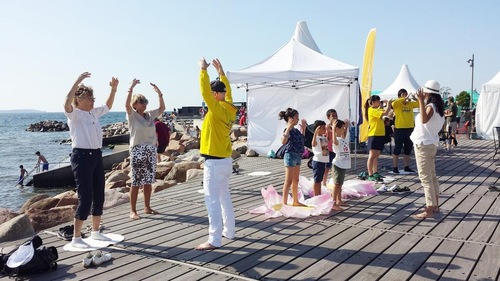 HX-Festivalen attendees learn the Falun Gong exercises.
People watched practitioners do the exercises and took pictures. A number of them asked for more information about Falun Gong, and some followed along with the exercise movements from a distance.
The stories of people trying the exercises and talking to practitioners about the beauty and the benefits of Falun Dafa are too many to recount. For example, during the first day a young man stayed the whole day with us and participated in all the exercises and talked to us at length. He said that he had just suffered from a sudden bout of stress and that staying with us at our booth was like medicine for his soul.
On the second day there was a lady who runs a local exercise studio. After she tried a few exercises she became very excited and said that she had never felt such great and positive effects on her body. She said that she will come next weekend to learn the full set of exercises and that there might be opportunities to teach her students.
One of the organizers of the event said she was happy that Falun Gong was part of the festival every year. She thanked practitioners for organizing their part of the event so well.