Minnesota: Falun Dafa at the Dragon Boat Festival – Largest Asian Cultural Activity in Minnesota
August 01, 2019 | By a Falun Dafa practitioner from Minnesota
(Minghui.org) The Dragon Boat Festival on Lake Phalen in St. Paul, Minnesota took place on July 13-14, 2019. The festival celebrates Asian culture in the Minneapolis/St. Paul area, and features dragon boat races, martial arts demonstrations, and a Chinese dragon dance. Falun Dafa practitioners in Minnesota participated in the event for the 14th consecutive year.
Practitioners demonstrated the Falun Dafa exercises during the event, handed out informational fliers and handmade lotus flowers, and also raised awareness about the 20-year long persecution of the practice in China. Visitors to the Falun Dafa booth also learned how to fold origami lotus flowers.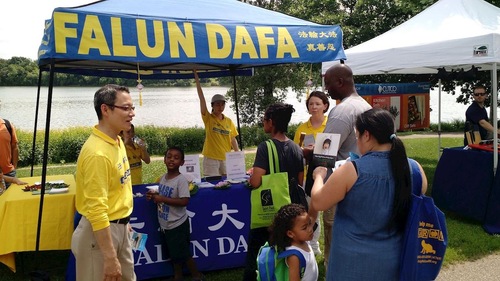 People stop at the Falun Dafa booth to learn the facts about the cultivation practice.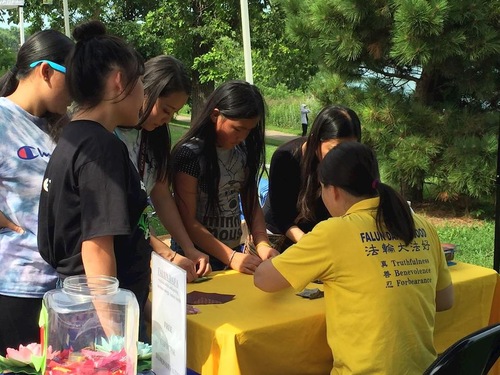 Young people learn to fold origami lotus flowers.
A group of visiting Chinese students stopped to hear what practitioners had to say. They asked a practitioner how she felt when practicing the exercises, and how many people around the world were practicing. One of the students took pictures of the booth and another took some Chinese language materials.
A Caucasian man who came to learn about Falun Dafa explained how his Chinese wife was reluctant to speak on certain issues such as Tibet, June 4th, or the persecution of Falun Dafa. A practitioner explained to him how Chinese people in mainland China are taught an incorrect version of these events and learn to avoid such topics. The gentleman took a copy of the Nine Commentaries on the Communist Party and said he would give it to his wife.
One older Chinese woman who was initially against Falun Dafa, talked with two practitioners for a period of time, and ended up reversing her understanding of the practice. She was surprised to learn that both practitioners graduated from top Chinese universities. This fact alone seemed to influence her change of heart.
A Chinese man brought his wife and child to learn how to fold origami lotus flowers. While waiting, a practitioner talked to him and explained several events related to the persecution of Falun Dafa, including the peaceful appeal at Zhongnanhai on April 25, 1999, the Self-immolation hoax that the Communist Party used to defame Falun Dafa, and the importance of withdrawing from the Chinese Communist Party (CCP).
Practitioners attending this year's Dragon Boat Festival were encouraged because the Chinese visitors were more open to learn about Falun Dafa, and the persecution of Falun Dafa in China, more so than in past years. Although the Party applies pressure on Chinese people to avoid any discussion about Falun Dafa, many said that they were aware of the persecution and some expressed sympathy.