Falun Dafa Warmly Received in Montreal Canada Day Parade
(Minghui.org) The Montreal Canada Day Parade was held on July 1, 2019 as part of the city's annual celebrations marking Canada's birthday. Tens of thousands of spectators lined the streets to watch the popular parade, which consisted of more than 60 entries representing various ethnic groups. The Falun Dafa practitioners' entry was highly praised for its beauty and peaceful message of Truthfulness-Compassion-Forbearance.
Falun Dafa practitioners in the Montreal Canada Day Parade on July 1, 2019
Headed by the Tian Guo Marching Band, the Falun Dafa procession consisted of an exercise demonstration team and a flag team. Several parade attendees commented that the band's music was powerful and resonant. Spectators cheered and praised the Falun Dafa group for their music, costumes and positive message.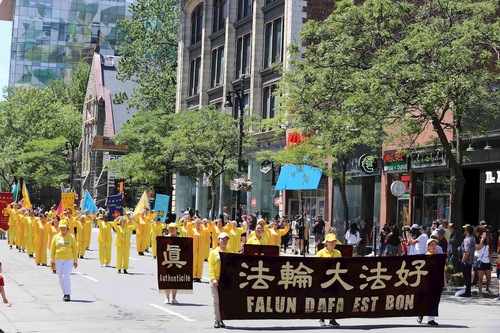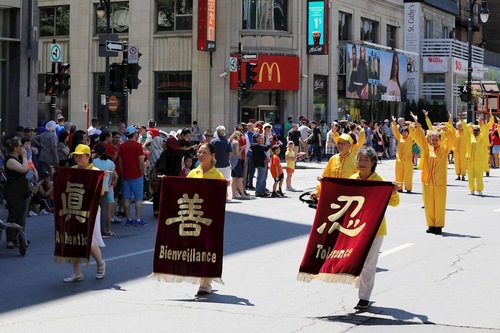 Several spectators praised the practitioners' entry as, "Spectacular, powerful and touching."
"It's the Most Beautiful Music I Have Ever Heard!"
Ms. Catherine Polcsak, one of the parade organizers, said of the Tian Guo Marching Band, "It's the most beautiful music I have ever heard!" She said she was impressed with the band's discipline and colorful costumes. "I'm so proud and happy they're here!" she added.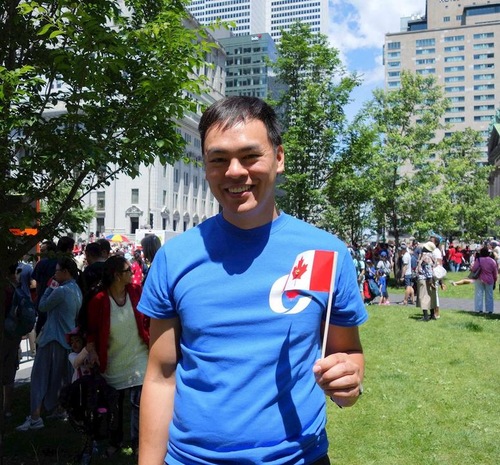 Mr. Glen Hoa, Conservative Party candidate for Brossard and Saint-Lambert
Mr. Glen Hoa, Conservative Party candidate for Brossard and Saint-Lambert, said that he was impressed by the Tian Guo Marching Band.
Mr. Hoa especially praised the group's discipline, powerful music, and ability to play Chinese-style music combined with Western instruments.
Chinese Praise Falun Dafa: "Spectacular and Peaceful!"
Several Chinese people attended the day's events and said the Falun Dafa entry was "powerful," "spectacular," and "gorgeous." They also liked the practitioners' traditional costumes. Some said they were very touched by Falun Dafa.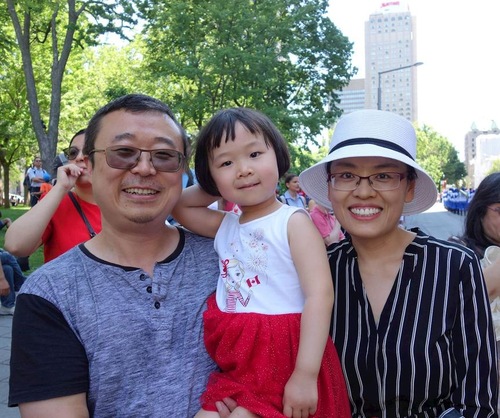 Mr. Zhang and his family
Mr. Zhang and his family said the Falun Dafa group was spectacular and practitioners were very peaceful. "They are the largest group in the parade and look very benevolent!" said Mr. Zhang.
Mr. Zhao, another Chinese immigrant, said this was his first time seeing the Canada Day Parade. "The spirit of Falun Dafa in the parade exactly displays Truthfulness, Compassion and Forbearance! It's the most impressive and largest group and has the neatest movements!"
"They Are Absolutely Gorgeous!"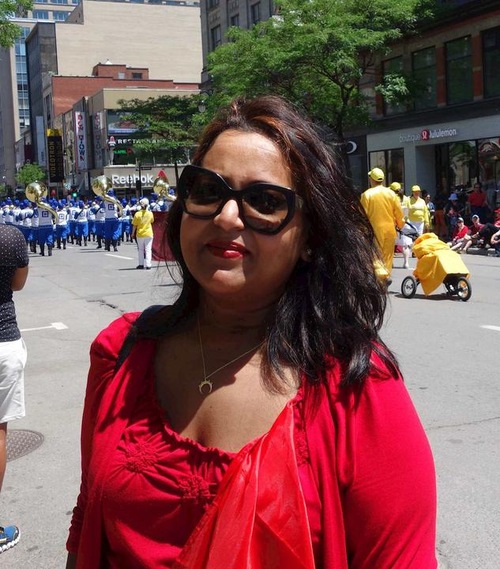 Ms. Einna Khan
Ms. Einna Khan said, "They're absolutely gorgeous! I've taken many photos of them over the years." She said she has seen the Canada Day Parade for 20 years and that the Falun Dafa entry is always the most beautiful.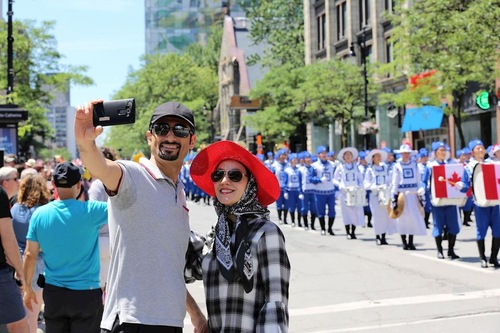 Zeinab and her husband take a picture in front of the Falun Dafa procession.
As soon as she saw the Falun Dafa entry, Zeinab took out her phone and began taking photos. She said, "I like the Falun Dafa group because they are filled with harmony. Their music is superb! It was a great experience!"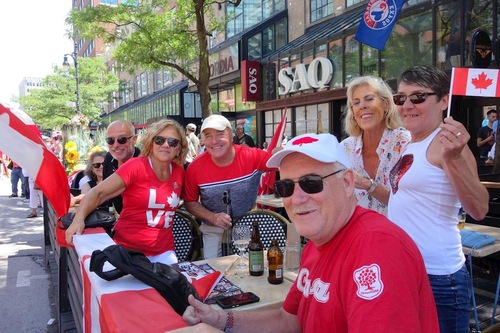 Kathy (first from left) and her friend said that the Tian Guo Marching Band was the best band they had ever heard.
All content published on this website is copyrighted by Minghui.org. Minghui will produce compilations of its online content regularly and on special occasions.