Falun Gong Welcomed at 2019 Canada Day Parade
July 04, 2019 | By a Falun Gong practitioner in Vancouver, Canada
(Minghui.org) Falun Gong practitioners participated in the 2019 Canada Day Parade in the city of Richmond, British Columbia on July 1. An estimated 100,000 spectators watched this year's parade, which consisted of about 100 groups.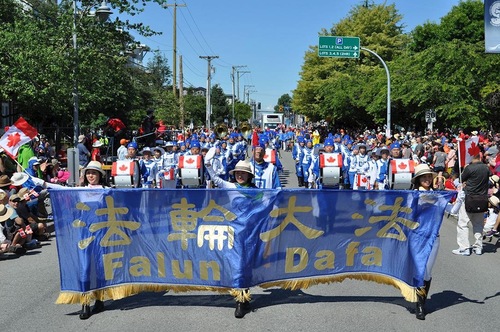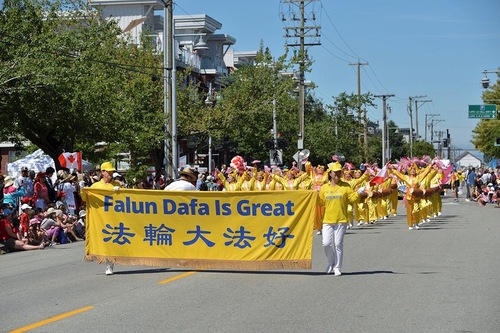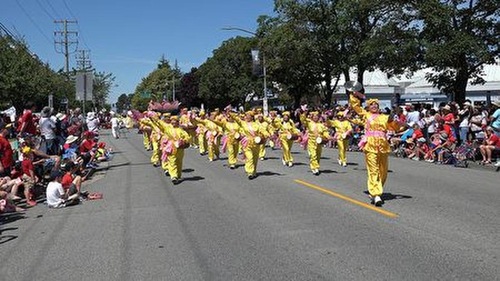 Falun Gong's procession in the Canada Day Parade, held on July 1, 2019 in Richmond.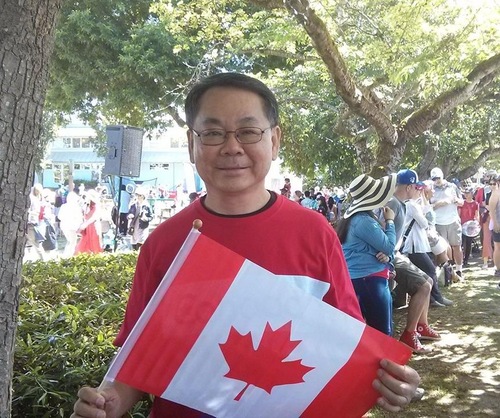 Richmond City Councillor Chak Kwong Au welcomes the participation of Falun Gong practitioners.
It was a sunny day and local residents had placed their chairs along the parade route ahead of time. Falun Gong has participated in this parade for the past several years and local spectators are becoming familiar with this traditional mind-body practice from China.
City Councilor Chak Kwong Au of Richmond said that it is wonderful that everyone is able to celebrate Canada Day. What is more important to him, however, was that the parade brings people of different ethnicities and different cultural backgrounds together.
Chak believes that it is a good thing that Falun Gong practitioners participate in the event so that people can see diversity in the community. He also said that Canada is a free country and one that welcomes people of different cultures, religions and beliefs. He feels that that it is the beauty of Canada.
The Falun Gong procession was welcomed by the crowds. Amy Lu from China has watched the parade for years and was very impressed by the Falun Gong practitioners's different presentations. She said that the Tian Guo Marching Band "looks highly spirited and valiant."
The band members wore their blue uniforms with the Chinese character for "music" on the back. Behind the Tian Guo Band were the Waist Drummers in their golden suits. The drumming really invigorated the atmosphere. Amy said that Falun Gong's performance was "great, very good!"