UK: Public Learn Falun Gong During International Yoga Day
July 03, 2019 | By a Falun Gong practitioner in the UK
(Minghui.org) Falun Gong practitioners were invited to participate in the 2019 International Yoga Day held at the Archbishop Lanfranc Academy, Croydon, UK on June 23, 2019. Croydon is located south of London.
Practitioners demonstrated the exercises during the event which was held from 10 a.m. to 2 p.m. Two screens played Master Li teaching the exercises. Over 70 yoga enthusiasts learned the Falun Gong exercises.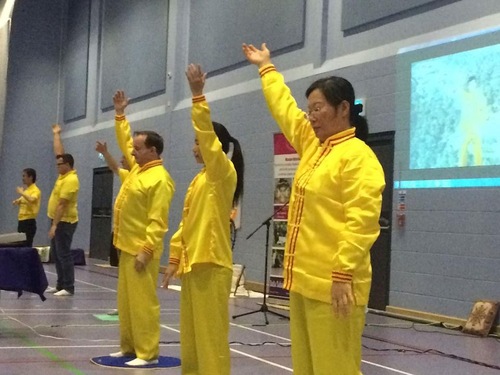 Practitioners demonstrate the Falun Gong exercises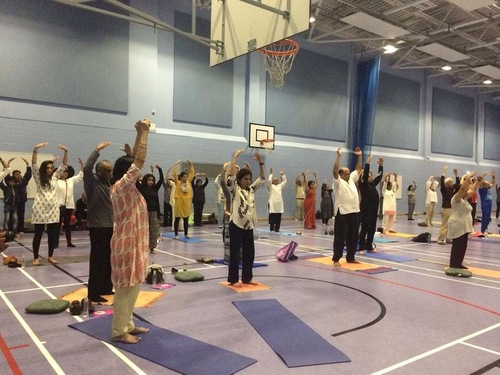 Festival attendees learn the Falun Gong exercises
Yoga Instructor: "You Are the Best!"
Yoga instructor Fiona was excited after watching the demonstration and talked with practitioners. She said, "I noticed that each of you smiled and your hand gestures were beautiful when you demonstrated the exercises. You were full of energy!"
"I felt strong energy when I followed along and did your hand gestures. I was fortunate to stay as I planned to leave in the middle of the session. But something urged me to stay. Frankly speaking, you are the best in today's event."
Fiona is from Malaysia and said she believed she was predestined to meet Falun Gong practitioners that day. She said she would introduce Falun Gong to her friends.
Fiona said she was seeking spirituality and had traveled to the Himalayas. She said, "The Nepalese people are happy even though they have few material things. Here, we have so much, but it seems we are unhappy.
"I liked yoga, focused on it, and began to teach it. I noticed your legs are flexible when you meditate." She said she was very interested in learning Falun Gong and wrote down a practitioner's contact information.
"Can You Come Regularly to Teach the Exercises?"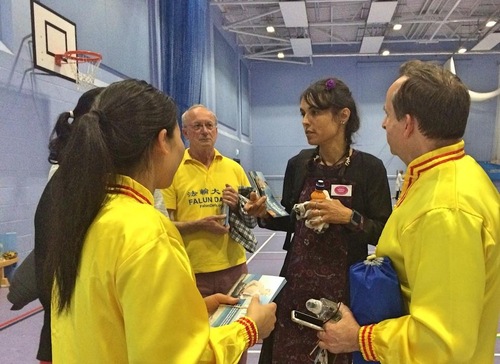 A yoga instructor invites practitioners to return and teach the Falun Gong exercises.
Another yoga instructor said, "I like your hand gestures, which are unique and refreshing." As she spoke she imitated the gestures. She invited practitioners to come and teach people the Falun Gong exercises.