San Francisco, Houston and Seattle: Rallies Mark Twentieth Anniversary of Protesting the Persecution
July 22, 2019 | By Minghui correspondents in San Francisco and Houston, and a Falun Gong practitioner in Seattle
(Minghui.org) Falun Gong practitioners across the world organized peaceful rallies to mark the 20th anniversary of protesting the Chinese Communist Party's (CCP) persecution. The CCP, as ordered by Jiang Zemin, former head of the communist regime, launched the brutal persecution of Falun Gong practitioners on July 20, 1999. Falun Gong is a peaceful mind-body cultivation practice based on the principles of Truthfulness, Compassion, and Forbearance.
An article on the Minghui website has confirmed the deaths of thousands of Falun Gong practitioners due to the persecution over the past 20 years. However, the actual number is suspected to be much higher. More have been imprisoned and tortured for their faith. There is concrete evidence that the CCP is an active participant in the harvesting of organs from detained practitioners, who are murdered to supply the organ transplant industry.
Following are reports from rallies in San Francisco, Houston, and Seattle.
Rally in San Francisco
Falun Gong practitioners held a rally in front of San Francisco's City Hall on July 16, 2019. They demonstrated the exercises, held a photo exhibition showing how Falun Gong had spread widely across the world, provided information about the ongoing protests against the persecution, and staged reenactments of the CCP's torture of innocent practitioners in China.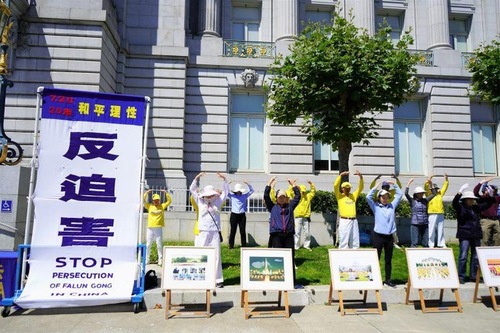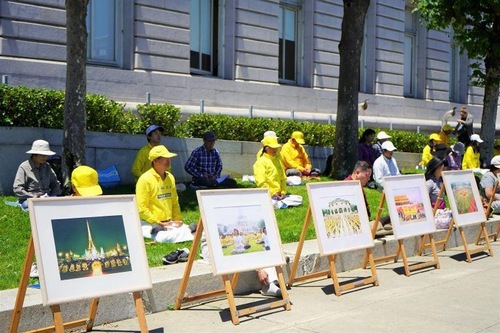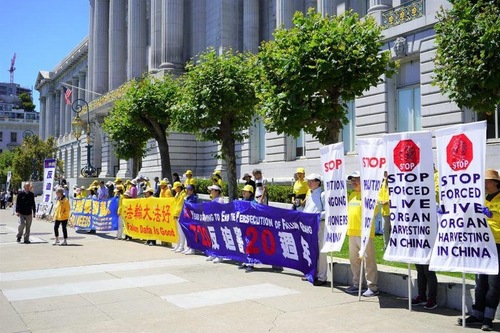 Falun Gong practitioners in San Francisco hold a photo exhibition, as well as reenactments of the CCP's torture of practitioners, to raise awareness of the 20-year persecution in China.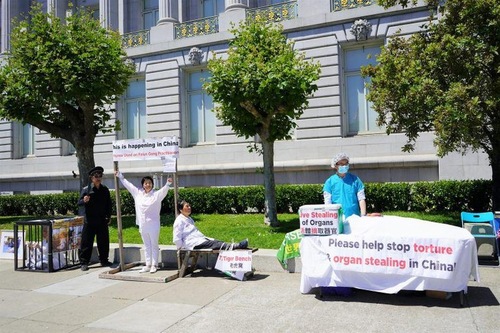 Reenacting the CCP's torture methods used against Falun Gong practitioners in China.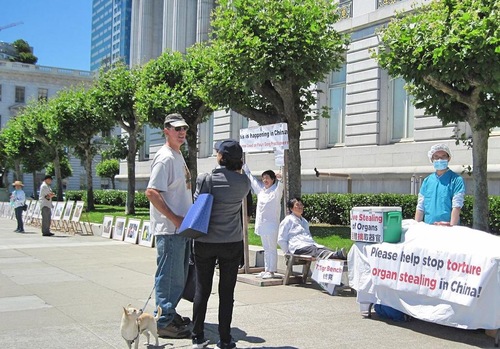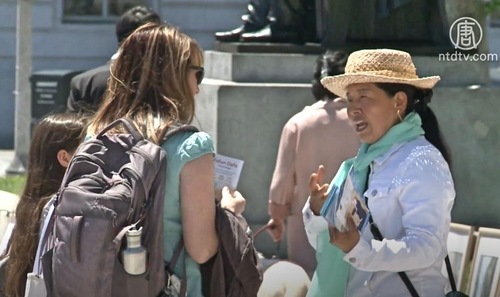 Passers-by pause to learn about Falun Gong.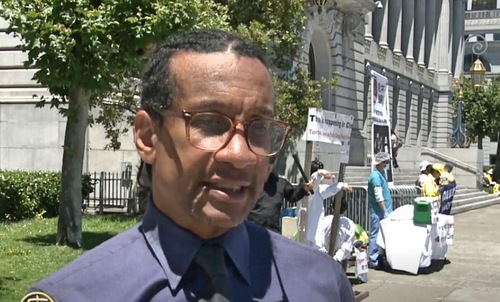 Thomas Rhymes was impressed with the awareness raising event.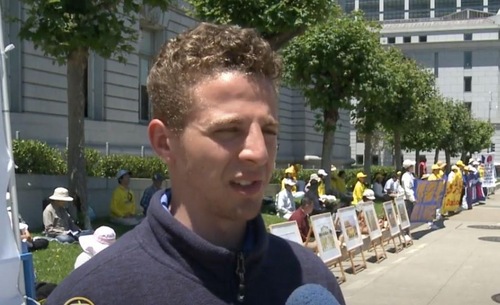 Nabil Saad wishes the event success.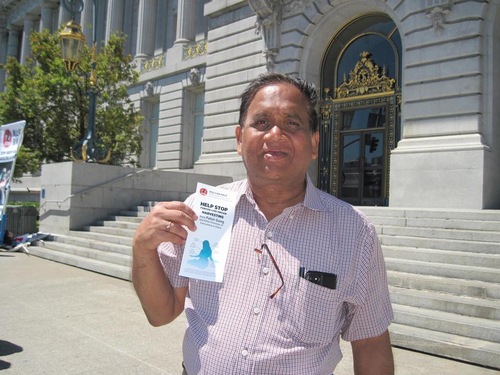 Ashok Kumar Chaudhry, a doctor from India, supports Falun Gong.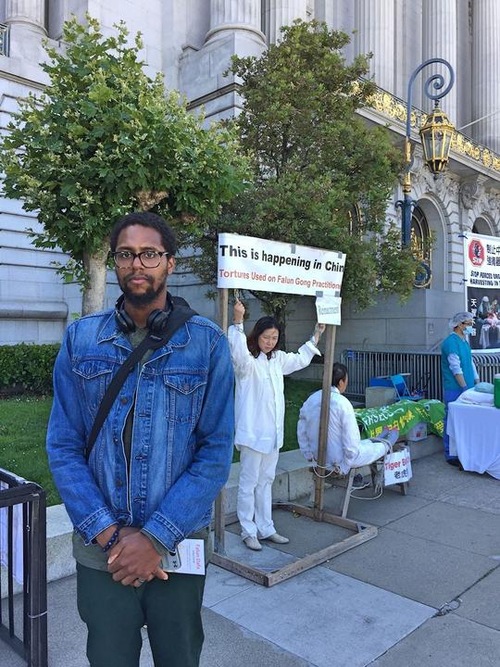 Xavier McDougald, a teacher, learns about the persecution and wishes to spread the facts through his Facebook account.
Rally in Front of the Chinese Consulate in Houston
Falun Gong practitioners held a rally in front of the Chinese Consulate in Houston on July 19, 2019. They condemned the CCP's persecution of Falun Gong and called on the public to help stop it.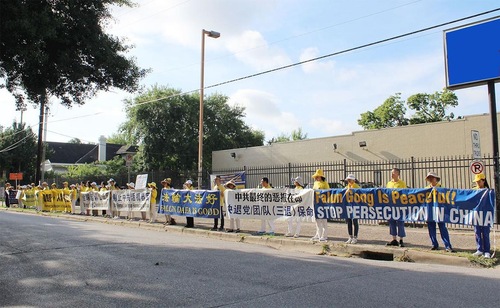 Rally in front of the Chinese Consulate in Houston protesting the persecution.
Experiencing the Horrors of the Persecution
Several practitioners who spoke at the rally narrated their experience of suffering persecution in China.
Ms. Liu from Beijing started practicing Falun Gong in June 1996. She recounted how she was arrested seven times and incarcerated in forced labor camps twice. She was tortured, including being injected with unknown toxic drugs, and deprived of sleep.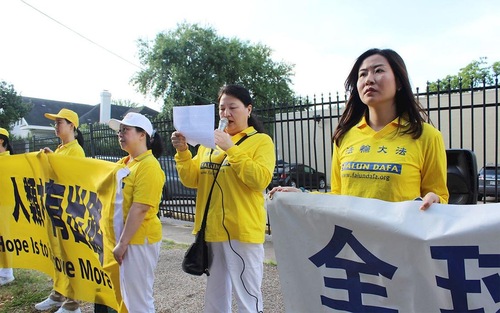 Ms. Liu, a practitioner who experienced persecution in China, speaks at the rally in Houston.
Ms. Liu said, "I was forced to have medical examinations, including blood tests and X-rays. The persecutors drew blood multiple times." She called for an end to the persecution.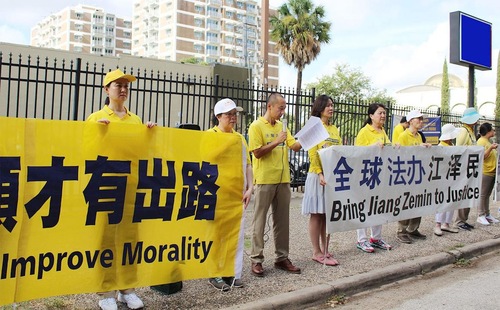 Mr. Jing narrated his suffering in the CCP's persecution.
Mr. Jing from Liaoning Province started practicing Falun Gong in 1996. He said, "My family was torn apart after the CCP launched the persecution. My wife divorced me under pressure. My daughter was one year old at that time. I have not seen her since then. I was arrested in 2004 for practicing Falun Gong and tortured for three days. I was sentenced to a four-year prison term in September 2004."
Mr. Jing recounted the torture he experienced, including being beaten and force-fed with food that had a high concentration of salt. He said, "The CCP's persecution ruined my family and life. They trampled on my basic rights."
Rally in Seattle
Falun Gong practitioners held a rally at Westlake Park, Seattle on July 13, 2019. They put up posters and displayed banners with information about Falun Gong, and demonstrated the exercises. They also distributed fliers to passers-by. Many local residents and tourists paused to watch. Some practitioners also shared their experience of practicing Falun Gong over the past 20 years.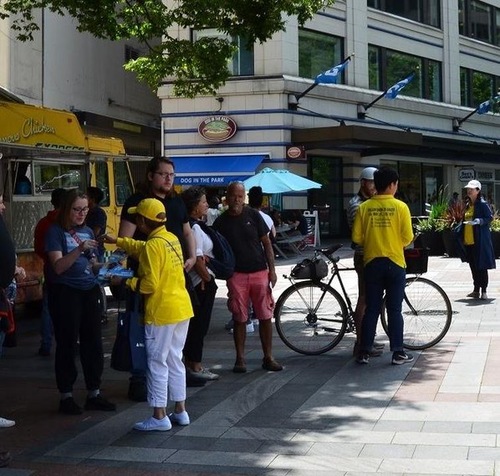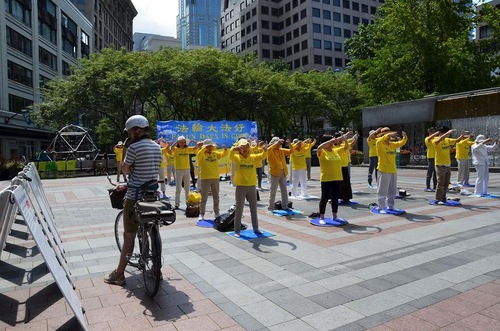 Distributing Falun Gong fliers to passers-by and demonstrating the exercises at the rally in Seattle
Relevant articles in Chinese: Houston, Texas, Seattle, Washington.