Helsinki, Finland: Raising Awareness of the 20-Year-Long Persecution in China
July 22, 2019 | By Falun Gong practitioners in Helsinki
(Minghui.org) Falun Dafa practitioners in Finland held activities in Helsinki from July 10 to 13, 2019. They shared the beauty of Falun Dafa with the public and raised awareness of the 20-year-long persecution in China.
Activities were held in Helsinki's city center, outside the Parliament building, and in front of the Chinese embassy. Practitioners informed the public about the brutal suppression and crimes of forced organ harvesting still taking place in China.
Raising Awareness at the City Center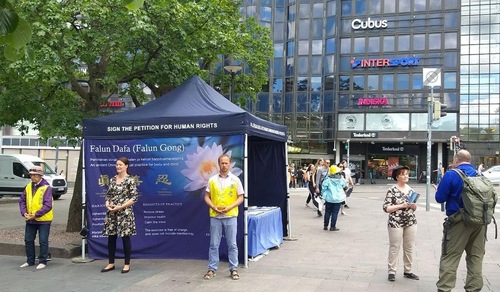 Practitioners hold an activity in Helsinki's city center on July 13, 2019.
Nearly every Saturday, local practitioners gather at Kamppi, a busy district in downtown Helsinki, to raise awareness about the ongoing persecution in China. Many local residents learn about Falun Dafa through these events. On July 13, 2019, practitioners also collected signatures on a petition to stop the atrocities.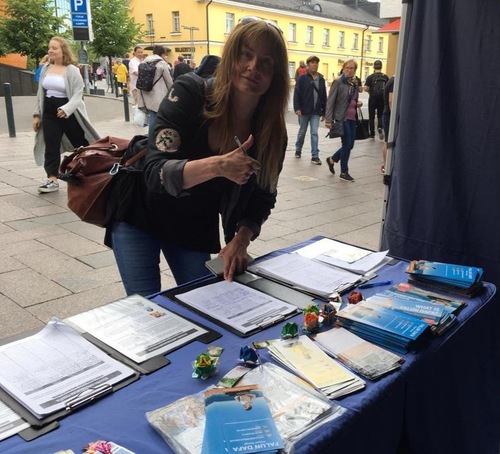 Danita Lindroas signs the petition to stop forced organ harvesting on July 13, 2019.
Danita Lindroas walked straight up to the Falun Gong display and signed the petition calling for an end to the persecution. She said she was shocked to hear about the persecution for the first time several years ago. She thanked practitioners for their persistent efforts in raising awareness. Before leaving, Danita told practitioners that she plans to spread the word about the persecution on Facebook.
Holding Activities Outside the Parliament House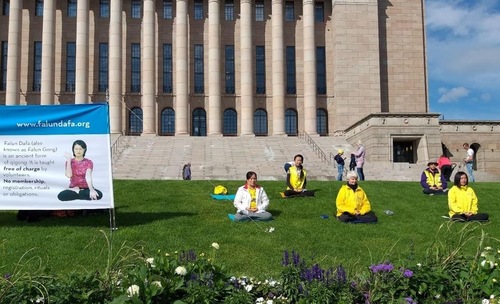 Group exercise outside Finland's Parliament House
After Finland took over the presidency of the Council of the European Union this year, many important EU meetings have been held in the country. During the EU meetings held on July 11 and 12, 2019, practitioners hung banners and did the exercises as a group outside the Parliament House to raise awareness about the ongoing persecution in China.
A man who had previously lived in China for a year told practitioners: "I know a man from the U.S. who went to China for an eye cornea transplant. Who knows where he got his cornea? It is very important to let more people know about forced organ harvesting in China."
Exposing the Brutalities Outside the Chinese Embassy
Falun Dafa practitioners hold peaceful protests outside the Chinese Embassy nearly every weekday afternoon. They do the exercises together and give out information to passersby.
An elderly woman around 80 years old who lives nearby walked up to practitioners on July 10, 2019.
"You are doing something very important," she said. "You are here at the Chinese Embassy rain or shine. A few days ago, there was a news report on an independent court's ruling on organ harvesting. You must let more people know about this. Keep up the good work!"
Peaceful protest outside the Chinese Embassy on July 10, 2019.
Ms Lan, a Falun Dafa practitioner shared that she was imprisoned in China for more than two years for going to Beijing to appeal for Falun Dafa. She said that despite the brutal persecution, a great many practitioners did not waver in their faith.