Student in Paris: Truthfulness-Compassion-Forbearance Are What People Need for Good Physical and Mental Health
July 16, 2019 | By Zhou Wenying, a Minghui correspondent in Paris, France
(Minghui.org) Tourists from around the world flock to the Eiffel Tower in Paris in the summertime. On Human Rights Square right next to the Eiffel Tower every Sunday, Falun Dafa practitioners hold exercise demonstrations and collect signatures on a petition calling for an end to the persecution in China.
On Sunday, July 7, 2019, visitors were drawn by the sight of practitioners doing the Falun Dafa exercises. Some even stopped to learn them then and there, while others took down the addresses of practice sites in Paris. Four and five-year-olds were seen sitting on the ground, copying the exercise positions of the sitting meditation.
People found it shocking that such a beneficial practice that is based on the principles of Truthfulness-Compassion-Forbearance is being brutally suppressed in China and that its practitioners are killed for their organs, which are then sold for profit. Passersby readily signed the petition to show their support for Falun Dafa and to express their opposition to the atrocities being carried out by the Chinese regime.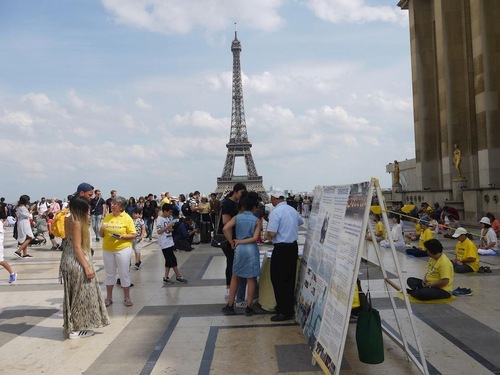 Falun Dafa practitioners demonstrate the exercises and raise awareness about the persecution in China on Human Rights Square next to the Eiffel Tower in Paris on July 7.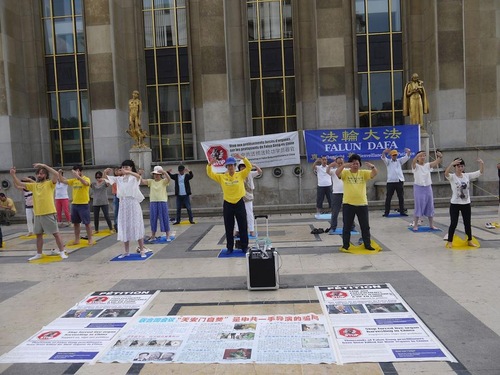 Falun Dafa exercise demonstration on Human Rights Square in Paris on July 7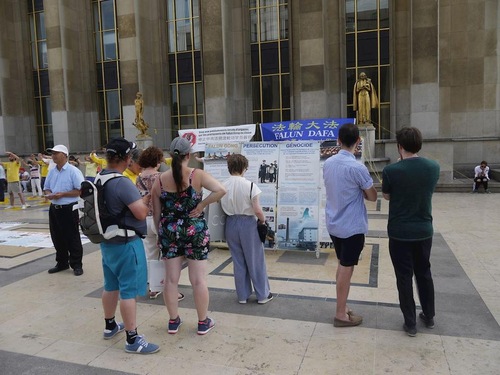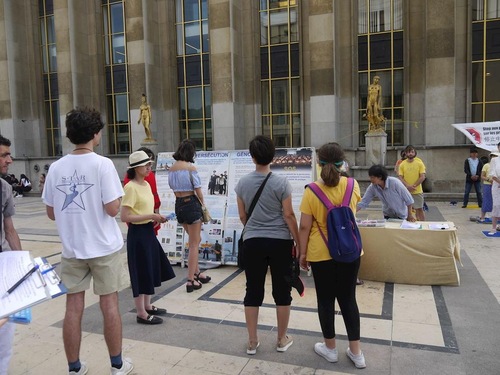 Tourists read the display boards to learn about Falun Dafa.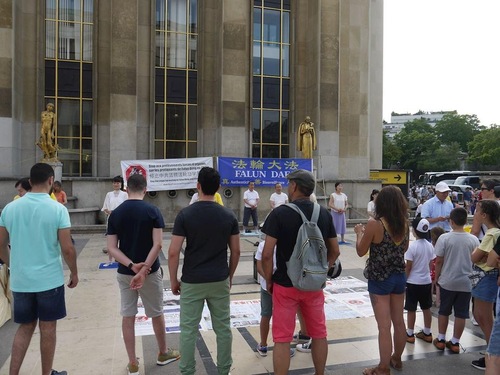 Passersby watch practitioners doing the exercises.
Patrick works in the political sector. He took photos of the information display boards on organ harvesting. "Organ harvesting is so horrifying," he said. "It is just like the Nazis. I don't understand why Europe wants to trade with China. I think China needs to explain what it is doing now and what it has done in the past. Humans deserve respect. This is a basic right. Authoritarian regimes like communist countries are committing crimes against humanity. I'm prepared to fight them."
Paolo Biva, a retired engineer who has worked in France for 30 years, is originally from Italy. He said he traveled to China a dozen times on business and had thought that China was a rather peaceful country. After learning about the persecution of Falun Gong practitioners in China, he realized that what he had seen in China was just for show. He was shocked to learn that the Chinese regime was involved in organ harvesting. "It is horrible to know something like this can happen in today's world," he said.
Manon Ines, a high school student, brought her younger brother and a school friend to Human Rights Square. She signed the petition to stop organ harvesting. "Organ harvesting must be stopped," she said. "I think it is terrible that a woman was tortured for six years just for refusing to give up her belief."
Manon said she thought that the words "Truthfulness-Compassion-Forbearance" were very powerful, that they are what people need for good physical and mental health. She encouraged her brother and her friend to sign the petition, too.
Kemi Yanga and Sandrine Ong are university students. During their summer holidays they have been volunteering with a city government department to provide information to tourists. On a break, they did the five exercises with practitioners. Kemi said she felt that the exercises would be good for her health. Sandrine said they made her feel energized.