San Diego, California: Practitioners Promote Truthfulness-Compassion-Forbearance in Coronado Independence Day Celebration
July 15, 2019 | By Falun Dafa practitioners in San Diego
(Minghui.org) America's 243th Independence Day was celebrated on July 4, 2019. As in communities across the United States, many cities and districts in the San Diego area held celebratory events, including parades and fireworks.
The city of Coronado in San Diego County held a large parade with over 100 organizations participating in the event, attracting around 50,000 spectators. Once again, Falun Dafa practitioners in San Diego took part in this year's parade. They were the only Chinese group in the parade.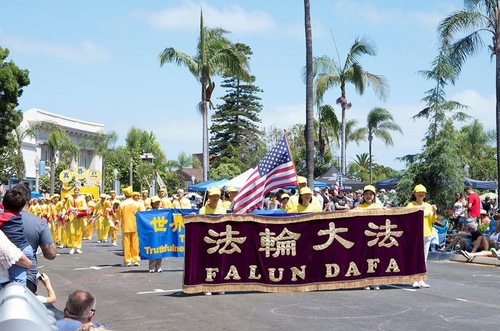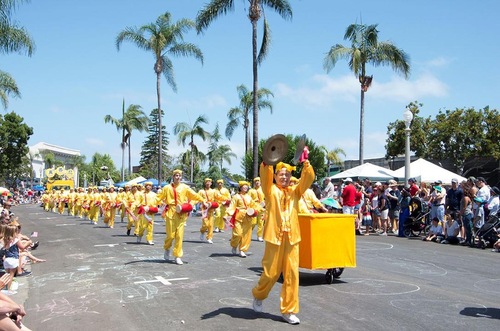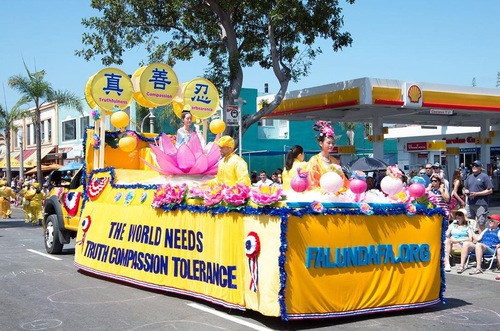 Falun Gong practitioners participate in the 2019 Coronado Independence Day parade.
Spectator Favorite: Falun Dafa Contingent
Practitioners have participated in Coronado's annual parade for many years now. At the head of the Dafa contingent were banners emblazoned with Chinese and English words "Falun Dafa," and "The World Needs Truthfulness, Compassion, Forbearance." Next came the waist drummers dressed in golden costumes. At the end of the contingent was a decorated float.
Oscar Toscano and his wife Anna, residents of Coronado, said that they look for Falun Dafa in the parade every year – their favorite part of the parade. Anna loves the message – Truthfulness, Compassion and Forbearance – promoted by the group, and remarked that this is what the world needs. Oscar said the Falun Dafa contingent is the most wonderful thing he has ever seen in Coronado and he is grateful to practitioners for bringing this peaceful practice to the city.
Ms. Wu, a young Falun Dafa practitioner, designed the float this year. She said that the theme of this year's design is the universal values – Truthfulness, Compassion and Forbearance.
"In today's world where moral values are declining," she said, "I hope the message we promote, and the beautiful colors used in the float, will give spectators a sense of peace, kindness and hope."
Ms. Wu added that the flowers used to decorate the float were designed and made by practitioners.