Woman Beaten Unconscious for Her Faith, Police Arrest Her Instead of Assailant
June 09, 2019 | By a Minghui correspondent in Hebei Province, China
(Minghui.org) Ms. Hang Shizhen was ambushed and viciously beaten on the night of May 12, 2019 when she was hanging up banners bearing messages about Falun Gong, a mind and body improvement system that has been persecuted in China since 1999.
The assailant held Ms. Hang down, sat on her, and violently punched her head. Ms. Hang's head was covered with blood and her face disfigured. She lost four teeth with blood gushing out of her mouth. Her nose was broken and she lost consciousness right away.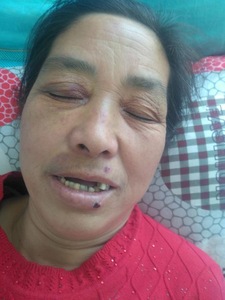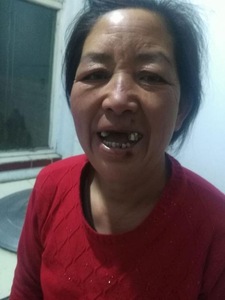 Ms. Hang Shizhen, a resident of Zhangjiakou City, Hebei Province lost four front teeth after being beaten
During the assault, the assailant made a call. Several police cars came shortly afterward. Instead of questioning or arresting the assailant, they took Ms. Hang to Wanquan Town Police Station.
The police attempted to send Ms. Hang to Zhangjiakou Detention Center the next day on May 13, 2019, but after she failed the health exam with hypertension and severe wounds from the beating, they had no choice but to release her.
She fell into a deep sleep upon returning home.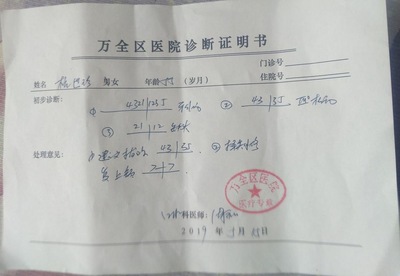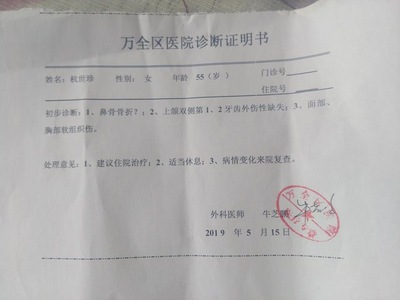 Ms. Hang's medical diagnosis stating that she suffered nose bone fracture, loss of teeth, and soft tissue injuries to her face and chest.
Ms. Hang, 55 years old, was a farmer. She used to be very ill and bedridden. She barely left home and some of her neighbors even believed that she was dead. Her younger sister had to help take care of her. When her husband heard about the miraculous healing power of Falun Gong, he drove her every day to a place to practice with other practitioners. Five days into the practice, she was able to go home on her own. She quickly recovered. Some of her friends and neighbors, after witnessing how quickly she fully recovered, also became practitioners.
She felt compelled to speak out for the practice that renewed her life, but instead became a target of the persecution.