Germany: Parade and Other Activities in Frankfurt Raise Awareness about Falun Dafa
June 06, 2019 | By a Minghui correspondent in Germany
(Minghui.org) Falun Dafa practitioners held a large scale parade and other activities in Frankfurt's city center on June 1, 2019. They raised awareness about the benefits of this cultivation practice and informed people about the persecution of its practitioners in China.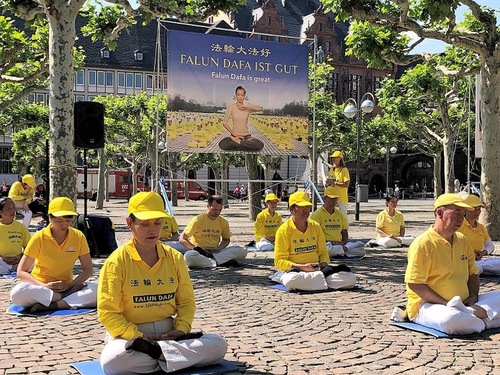 Demonstrating the Falun Dafa exercises
There was a festival on this sunny day. There were many booths set up in the pedestrian area, and the event attracted many tourists. Practitioners set up two booths, displays, and demonstrated the exercises in the city's longest shopping strip.
Practitioners held a parade in the afternoon. Many people including those working in the area and tourists were drawn to the performance by the Tian Guo Marching Band, which led the procession. Spectators accepted information about Falun Dafa from practitioners and took photos. Some even asked where they could learn the exercises.
A team of practitioners in the march carried wreaths bearing photos of practitioners in China who were tortured to death in the persecution.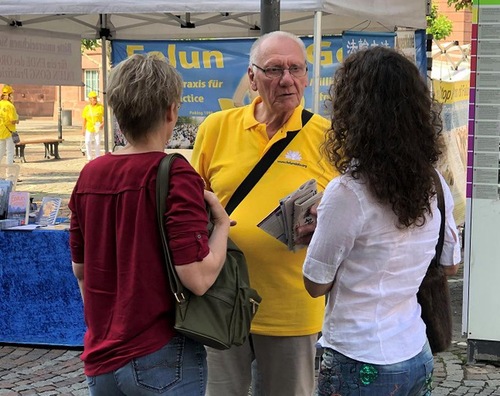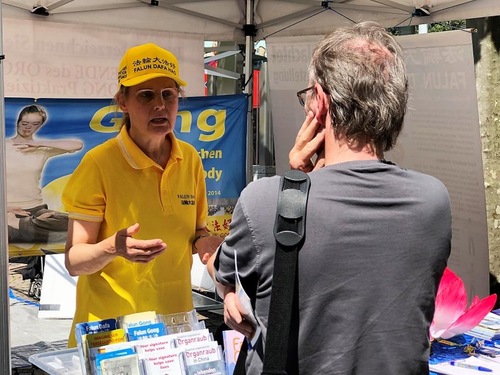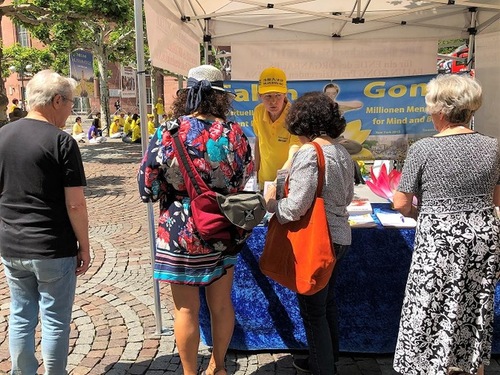 People want to hear more about Falun Dafa
German Member of Parliament Shows Support
The German Member of Parliament, Ms. Bettina M. Wiesmann, sent a letter to practitioners expressing support for the event. She wrote: "My colleagues have been trying to stop the persecution of Falun Gong practitioners for many years. I totally support these efforts and especially have held discussions about issues such as organ trade and repression of minority groups, during public and political meetings. This will increase pressure on China."
She concluded in her letter: "To those who attend this gathering, Falun Gong is a peaceful movement. I support and acknowledge all your efforts."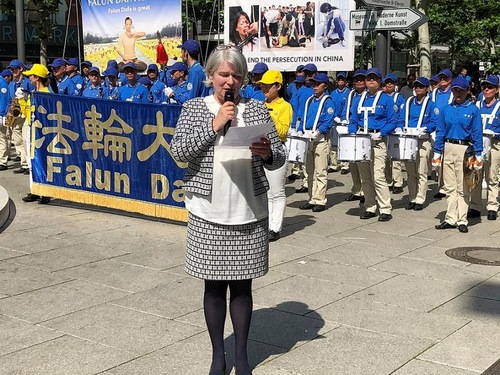 A practitioner reads a letter from a German Member of Parliament
Chinese Tourist: "I'm lucky to meet so many practitioners"
A group of tourists from Sichuan, China got off their bus to watch the Tian Guo Marching Band. A couple in their 50s sat in the shade quietly watching the performance. Practitioners walked up to them and told them about the practice. They were surprised, as this was quite different from the propaganda in China they had heard. The woman agreed to renounce her membership in the Chinese Communist Party (CCP). Before leaving she said that she felt lucky to have met so many practitioners.
German Woman: "I hope more Chinese people will learn the truth about Dafa"
A German woman asked practitioners about the persecution happening in China. She often traveled to China for work and had just returned from a China trip last week. She felt as if she was constantly under surveillance in China and said there was strict internet censorship. She agrees with the teachings of Dafa and believes that only when more people learn the truth will there be change in China. Before parting ways, she asked for software to break through the internet firewall. She wants to help Chinese people learn the truth on her next trip to China.
Visitors Show Support
Two young women from Tibet asked the practitioners for a brochure. They told practitioners they believe Falun Gong can save China and expressed interest in learning the exercises.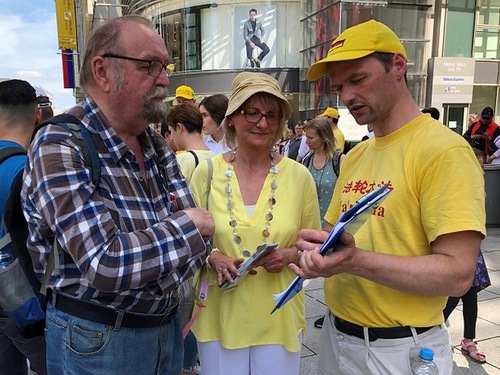 Passersby sign the petition calling for an end to the persecution
Udo, a German man followed the Tian Guo Marching Band, as they marched on the streets for nearly two hours. He said he had heard about the event and came to take a look. He thinks the principles of Falun Dafa are excellent. He said he is one who is not afraid to go against the mainstream in order to uphold good principles and values. To show his support, he signed the petition to stop the persecution in China.